Having trouble finding ways to save money each month?
When it comes to putting money aside in savings, it can be a bit challenging. So, in this article, I share the top 10 realistic ways to save money each month—even on a tight budget.
The reality is that many households are choosing between saving money for a rainy day and covering expenses. And, at the end of the month, they find that they have nothing left to put away. In fact, most American families don't have enough money saved to cover a $1,000 emergency.
If saving money each month is a struggle for you, I'm going to offer my top 10 tips for saving money each month.
Related Posts:
10 Creative to Save Money Each Month
1. Automate your savings
Automatically transferring money in a savings account is one way to ensure that you save money each month.
This is one practice that I leveraged on my own personal finance journey. Automating this transfer before you get paid allows you to save without having to even think about it.
Instead of putting 100% of your paycheck into your checking account, put a percentage (or absolute amount) away in a savings account.
If your employer doesn't have the option of splitting your direct deposit, simply have your bank do it instead. You can set up automatic transfers on your online banking dashboard to happen 1-2 days after you get paid.
2. Use Savings Apps
The next best thing to automating your savings through your bank is with an app.
Acorns is an app that takes the spare change from your purchases and puts it towards your savings and investing goals.
By linking your bank account or credit card, Acorns keeps track of all your purchases and rounds-ups to the nearest dollar. It then saves or invests your spare change.
Though the app does cost, you can sign up for as little as $1 a month. Compared to how much your stand to make from investing over time, I'd say that you'd get your return on investment
The bonus is that you can get $10 when you sign up for Acorns!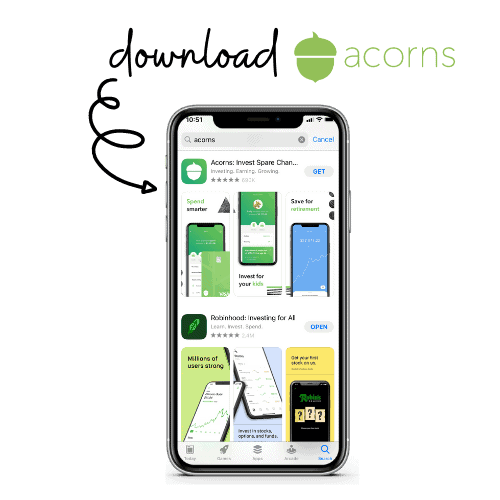 3. Save what you don't spend
Have you ever gone shopping and spent less than you've budgeted, but instead of saving that money, you spent it on something else? If so, you missed out on an easy opportunity to save money.
If you're really intent on saving money, any extra cash is an opportunity to put money aside.
Essentially, you will allocate funds for your expenses within your budget. If you spend less on that expense than what was allocated, you simply save the difference.
Transfer or deposit the difference into your savings account instead of spending it on something else.
Here's what it would look like in your budget:

In order to do this, you will need a budget to plan out how much to allocate. If you're new to creating a budget, then read my post on how to create a family budget.
We personally use a super easy budget template to plan out our spending to see what we can save or put toward debt.
4. Try a savings challenge
Having the discipline to save money can be difficult. That's why making it fun is imperative for you to be successful at it.
Savings challenges can help you do that.
Money-saving challenges are fun ways to save money without stress and pressure. Think of them as games, but the reward is becoming financially secure.
These challenges are great to do with friends who can help hold you accountable for sticking to it.
All you need to do is follow the plan and in the end, you will have reached your saving goals effortlessly.
Check out these 8 savings challenges to try this year. You can also grab my free monthly money-saving chart printable.
5. Progressively reduce your expenses
Each month, look for ways that you can progressively reduce your expenses. This could include reducing your grocery spending by $20 or replacing a $15 lunch out with a homemade meal.
Truebill and Trim are two apps that you can use to help find areas in your spending that you can save on.
Trim
Trim is basically a virtual personal assistant that works to save you money automatically. The app cancels old subscriptions, gives spending alerts, and automatically fights fees.
Truebill
Truebill saves you money on expenses by negotiating your bills. They work to lower your bill by either negotiating a better rate or by getting 1-time credits applied to your account.
6. Shop sales & thrift
There's no need to pay full price for items when you can find them on sale or at a thrift shop.
My favorite apps to use to take advantage of sales are:
I have personally purchased new and once worn name-brand clothing items for a fraction of the cost by thrifting.
Today's thrifting is a bit savvier than the thrift stores of the past.
Though they are still viable options, consider buying directly from sellers on platforms like Facebook Marketplace, Poshmark, or Mercari.
7. Meal plan & prep
Save on groceries by planning out your meals in advance. Doing so makes your grocery runs more efficient and you are less like to spend on things that you don't need
Meal prep helps curb your temptation to make unplanned stops to fast food restaurants. Those quick meals add up in cost and can be avoided.
This is something that we absolutely love. We actually have a menu planner that I keep on our refrigerator and every Thursday I will go in and write down the plan for the week.
You can always go to sites like Pinterest to find recipes that can help you plan your meals for the week. I also like checking out the HelloFresh website to get ideas and to create my grocery list.
If you just don't have the time to meal plan, you can also check out $5 Meal Plan. It's a subscription service that creates meal plans and grocery lists for you!
You can try $5 Meal Plan 14-days for free here.
MY FAVORITE MEAL PREPPING TOOLS
There are a few things that make meal prepping a lot cleaner and easier. Here are a few tools/products that I recommend for meal prepping.
Ziplock Bags – These come in handy when you're portioning out things like snacks or need to store items that will need to be cooked later. I prefer the store brand, but you can choose whatever works for you.
Glass storage containers – After working with a health coach, I tossed my plastic Tupperware. Not only do they stain and deteriorate easily, but they aren't good for your health. Glass is a durable option that makes prepping and clean up easy. Here's the set that I purchased.
Vegetable spiralizer – I use this tool to spiralize my veggies and it's one of my favorite kitchen tools that I'd recommend. It literally takes a few minutes and you have homemade hashbrowns, coleslaw, or whatever else your taste buds desire. We received this one as a wedding gift.
Food processor – Having a food processor is a must-have for chopping up food like salsa or guacamole. It's also great for dicing things like onions. I recommend this particular one because it can do multiple things—including smoothies.
8. REGULATE YOUR UTILITIES
A lot of money can be saved by making slight changes to the way you manage your utilities.
One way that we do this is by setting a schedule for our thermostat.
We use a Nest thermostat and motion sensor light switches to save hundreds of dollars on utilities each year.
9. INVEST IN REUSABLE ITEMS
Did you know that the average person produces nearly 5lbs of waste everyday?
Not only have we seen the adverse effects of this on our environment, but also our pockets.
Think about it… How many packs of disposable plates have you bought in your lifetime? What about paper towels?
Lots.
So as we do better for the ozone layers, let's also save money each month by investing in reusable items like cloth napkins, real china to eat from, and other non-plastic items.
I've already made the leap and invested in these glass food storage containers over plastic Tupperware.
10. USE GIFT CARDS
Don't let those gift cards that you've received for birthdays and Christmas go to waste. Use them to cover monthly expenses or to purchase things that are outside of your budget.
Instead of asking for gifts, be sure to ask for gift cards instead.
Also, take advantage of apps like Swagbucks and Fetch Rewards where you can earn points that redeem for gift cards. You can also redeem your unused hotel and airline reward points for gift cards.
Final thoughts on ways to save money each month
Saving money on a tight budget each month isn't as daunting as you imagine. Try some of these very practical saving tips to see how much you can save each month!