When it comes to creating cherished childhood memories, few things compare to a well-organized sleepover party. Having over slumber party is one of many milestones for kids that they often look forward to.
Who doesn't like being up all night doing fun activities with their best friends?
The laughter, camaraderie, and excitement of staying up past bedtime are experiences that linger in a child's heart for years to come.
But, as a parent, it can be nerve-wracking trying to come up with fun things to keep rowdy young kids occupied. So in this post, I'll be sharing 55 fun sleepover ideas for your child's sleepover.
These fun sleepover games, tips, and other ideas will ensure that your young ones and their close friends have an unforgettable night filled with fun, adventure, and delicious treats!
How To Prepare for Your Kids Sleepover
You'll want to do a little planning before the sleepover to ensure that everything goes smoothly. With that said, there are a few things that you can do to prepare.
Plan for emergencies
It's always a great idea to prepare for emergencies. From little boo-boos to allergic reactions, you want to have a plan in place in case something happens. I recommend getting emergency information from all sleepover guests— including allergies & emergency contact information.
Establish ground rules
Establishing ground rules for the sleepover is a good idea as well. An example is no rough play or accessing certain areas of the house. These rules aren't meant to take away the fun, but to keep everyone safe.
Get your supplies
As you're going through this list of party games, make note of supplies that you'll need to purchase in advance. So plan out your games ahead of time so that you know exactly what supplies you'll need. This includes getting lots of snacks and any ingredients for delicious creations that you may make.
Also, ensure that you have all the essentials covered, from spare blankets to nightlights, to make the sleepover as comfortable as possible.
Take a nap beforehand
Don't expect to get much sleep while you're chaperoning a sleepover. Make sure you're all rested and ready to pull an all-nighter into the next day!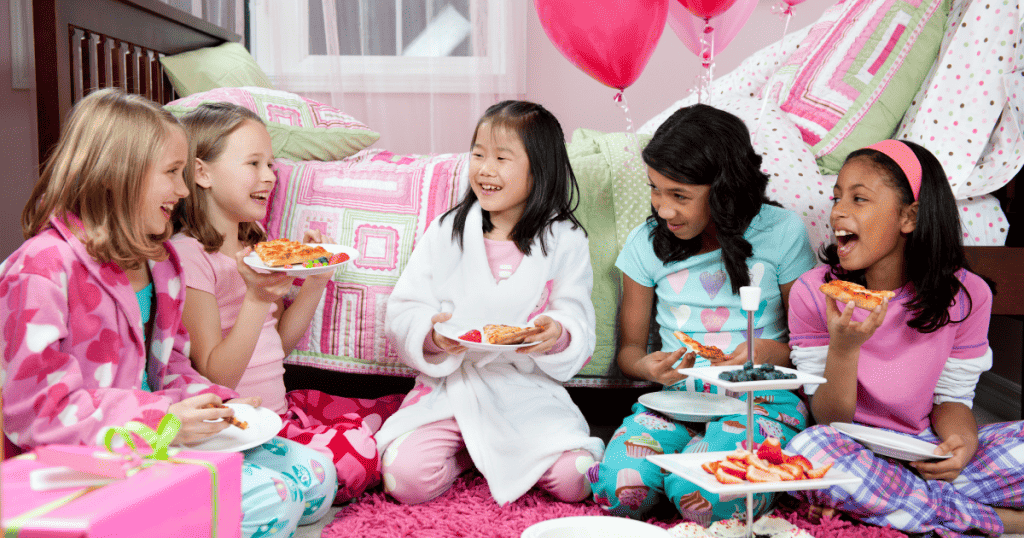 55 Fun Things To Do At A Sleepover For Younger Kids
Now that you know how to prepare for your kid's sleepover, here are some fun ideas to consider! Any of these ideas will that your guests and little ones have a fun time that they'll remember for the years to come.
1. Classic Board Games
Whether it's a fierce game of Checkers or a collaborative round of Scrabble, board games add a touch of timeless entertainment to any sleepover. So grab your favorite board game and let the fun begin! Encourage friendly competition and strategic thinking among the young participants.
2. Card games
A simple game of Uno is a classic game to play at any sleepover. Even if the rules aren't quite followed correctly, it's still a fun game for kids of any age.
3. Movie Marathon Madness
Watching movies is another classic sleepover activity. Simply transform your living room into a mini cinema with a curated selection of age-appropriate movies. Have your kid provide a list of his or her favorite movies that you can cue up for the party.
Create a cozy movie-watching space with blankets and pillows, and let the kids enjoy cinematic adventures into the late hours. Scary movies are more appropriate for older kids.
4. DIY Craft Night
Unleash your little artists' creativity with a craft night. Provide a variety of supplies for painting, drawing, or creating friendship bracelets. This hands-on activity allows them to express themselves and take home a tangible memory.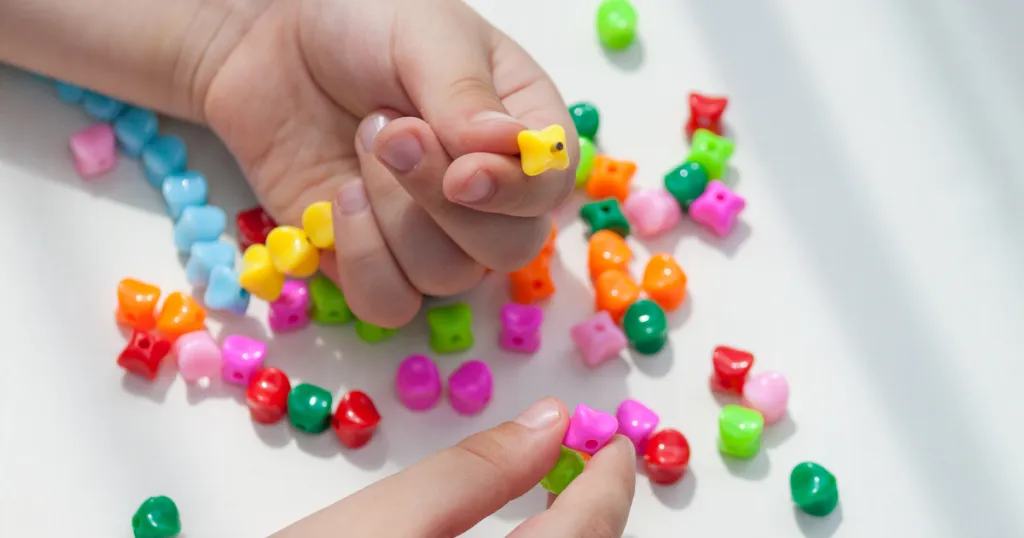 5. Make Jewelry
Provide different colored embroidery floss or beads for kids to create unique jewelry pieces. You can even pick up a jewelry kit specifically for kids. Since there will be small pieces, this may only be appropriate for older kids.
6. Design T-shirts
Purchase plain white T-shirts and provide fabric markers, fabric paint, and stencils for the kids to design their own custom T-shirts. This craft also doubles as a fun party favor to take home.
7. Paint Rocks
You can collect smooth rocks or stones and set up a painting station with acrylic paints. Kids can paint their own designs on the rocks, creating miniature works of art.
8. Origami art
Origami is fascinating. Teach the kids the art of origami, folding a piece of paper into various shapes and animals. Provide origami paper with colorful patterns to make it more engaging.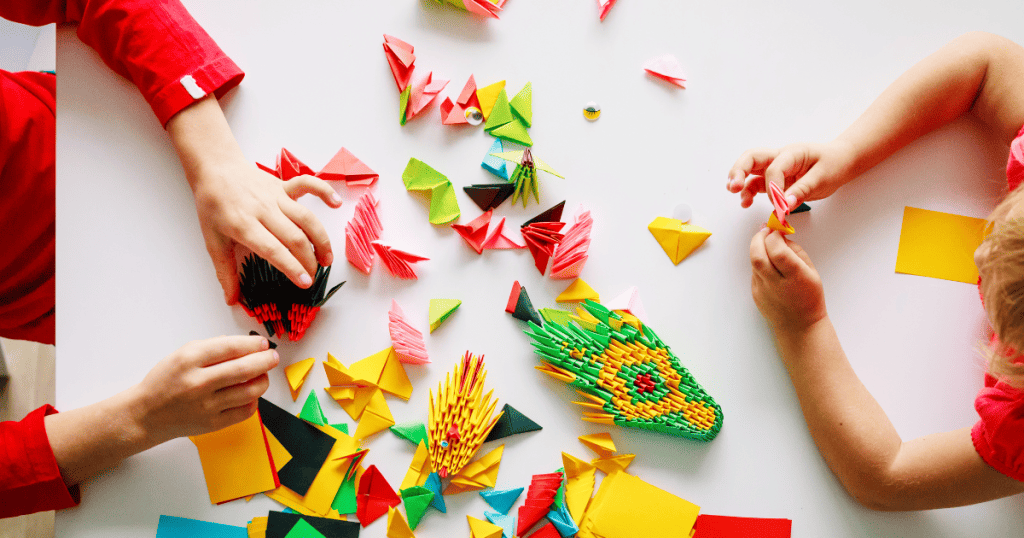 9. Make greeting cards
You can also encourage the kids to create personalized greeting cards for family members or friends. Provide blank cards, markers, stickers, and other embellishments.
10. Decorate Picture Frames
Consider offering plain wooden frames and various decorating supplies like paints, stickers, and glitter. Kids can decorate their frames and insert a picture from the sleepover as a memento.
11. Paper Plate Art
Provide plain paper plates, paints, markers, and craft sticks. Kids can transform paper plates into fun masks with their own imaginative designs.
12. Collage Art
Collect old magazines, newspapers, and colored paper. Kids can cut out images and create collages on poster boards or large sheets of paper.
13. Storytelling Around the Campfire
You don't technically have to have a campfire for this activity. Simply bring the allure of camping indoors with an indoor campfire. Dim the lights and have the kids gather around to take turns sharing fun tales. It's a fantastic way to spark their imaginations and enjoy fun storytelling.
14. Outdoor Camping
Pitch tents, roast marshmallows, and tell campfire stories right in your backyard. It's a perfect blend of adventure and homey comfort that kids adore. This makes for a great fall activity for kids to enjoy!
15. Indoor Camping
Don't have space outdoors? Bring the outdoor adventure inside. Set up tents and sleeping bags while roasting marshmallows in the oven for smores.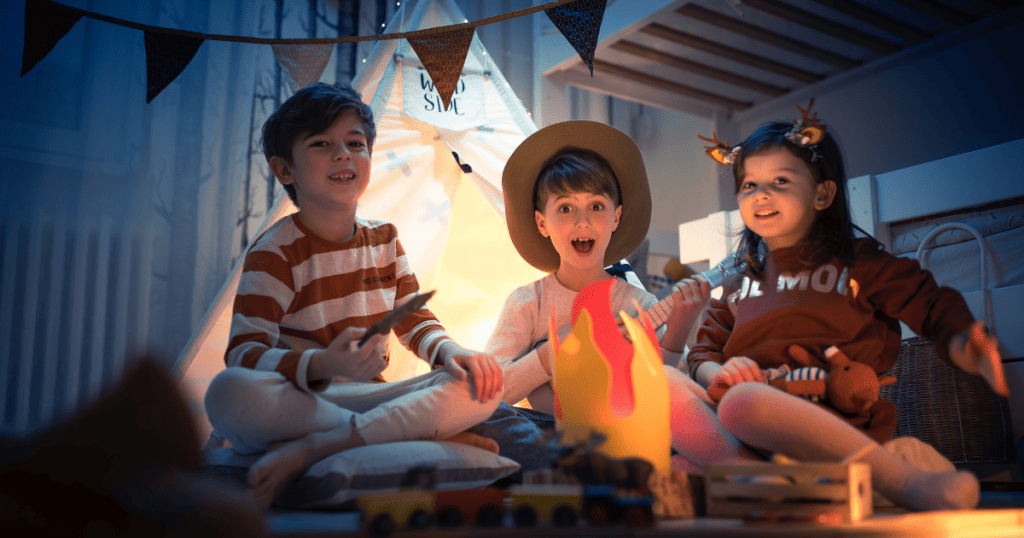 16. Stargazing Night
Lay out blankets and pillows for a night of stargazing. Share the wonders of the night sky, pointing out constellations and planets. You might even catch a shooting star or two! This is a great summer activity for those warm, summer nights!
17. Nature Scavenger Hunt
Send the kids on a scavenger hunt through your backyard or local park. Create a list of items to find or clues to follow, fostering teamwork and outdoor exploration. It's a wonderful way for them to have fun while also learning more about nature.
17. Blanket fort
Pull out the blankets and pillows to set up a blanket fort. You can even get fancy and adorn it with string lights!
18. Superhero Sleepover
Looking for party themes? Have superhero! Let the kids come dressed as their favorite characters. Capes, masks, and a few superhero challenges will make for an action-packed night.
19. Princess and Prince Charming Party
For a touch of royalty, host a princess and prince charming party. Provide tiaras, crowns, and royal attire for a night of elegance and fairy tale fun.
20. Pirate Adventure Night
Ahoy, mateys! Transform your home into a pirate's cove with treasure maps, eye patches, and pirate-themed games. Kids can embark on a treasure hunt to find hidden "booty."
21. Space Explorers' Sleepover
Encourage an interest in outer space by hosting a space-themed sleepover. Set up a "mission control" and plan activities like crafting cardboard spaceships or stargazing.
22. Delicious Treats and Snacks
Indulge them with delectable, delicious sweet treats! Consider baking cookies to bring out their inner baker.
23. Make-Your-Own Pizza Party
Provide a variety of toppings and let the kids design their own mini pizzas. It's a tasty and interactive way to satisfy their appetites.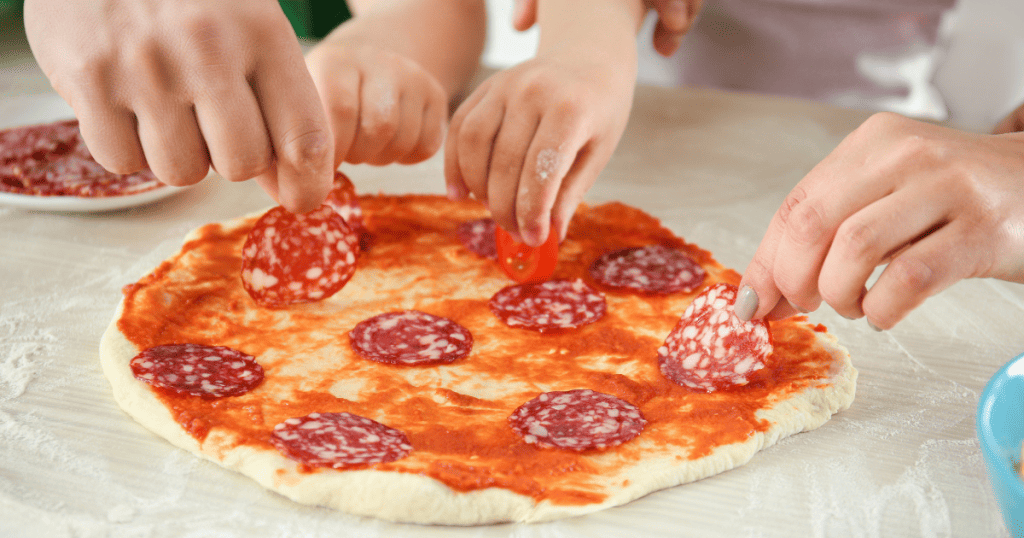 24. Ice Cream Sundae Bar
Set up an ice cream sundae station with a range of ice cream toppings, from chocolate chips to fruit, whipped cream, and sprinkles. Kids can create their dream sundaes.
25. Movie Theater Popcorn Extravaganza
Make movie night complete with freshly popped popcorn. Offer an array of seasonings and flavorings to make it extra special.
26. Decorate Your Own Cupcakes
Baking and decorating cupcakes is a delightful hands-on activity. Provide various toppings and frostings for the young bakers to create their edible masterpieces. It'll be a sweet treat!
27 . Pillow Fight Championship
Set up a designated pillow-fighting area and let the pillow fights commence. Just remember, safety first! So set some ground rules and a time limit. This is a classic sleepover game that you can't pass up!
28. Treasure Hunt Extravaganza
Organize a treasure hunt with clues and hidden "treasures" to discover. It's a thrilling adventure that promotes teamwork and problem-solving.
29. Obstacle Course
Create an indoor or outdoor obstacle course using household items. Challenge the kids to complete it in record time while navigating hurdles and obstacles.
30. Team Relay Challenge
Divide the party into teams. Each team takes turns completing the relay course. One member of each team starts at the starting line and must complete a challenge, then tag their team member, who proceeds to the next challenge until the entire course is completed.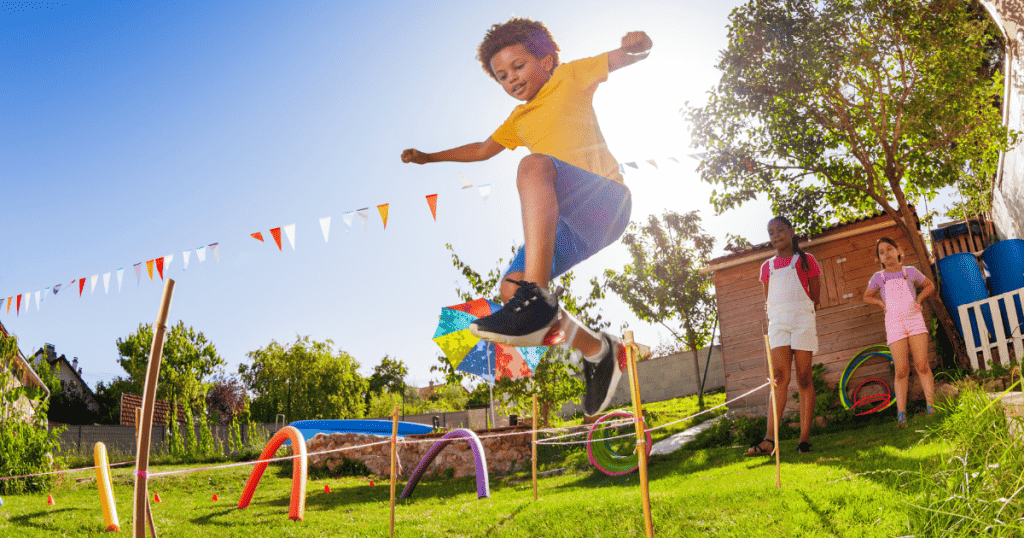 Challenges can include tasks like crawling under a table, hopping on one foot, or balancing a book on their heads. Time each team as they complete the relay course. You can use a stopwatch or a smartphone timer. Give the winning team and cool prize for bragging rights.
31. Musical Chairs with a Twist
Put a spin on the classic game of musical chairs by adding fun challenges or props. It's a lively game that keeps everyone on their toes.
32. DIY Facials
Treat the kids to a spa night with DIY facials and homemade face masks. The perfect activity for little girls.
33. Manicures
Give manicures to the kids. This is always fun when girls sleepover. Provide cucumber slices for their eyes, and let them feel pampered and rejuvenated. Don't forget to buy some nail polish remover just in case!
34. Glamorous Dress-Up Party
Let the kids raid your costume closet or provide dress-up clothes for a glamorous evening. A fashion show can be the grand finale.
35. Create Your Own Bath Bombs
Engage their creative side with a bath bomb-making session. They can choose scents, colors, and shapes to create their own personalized bath bombs.
36. Silly Jokes and Pranks
Share some kid-friendly jokes and pranks that will have everyone in stitches.
37. Funny Photo Booth Challenge
Set up a photo booth with goofy props and costumes for memorable photos and laughs.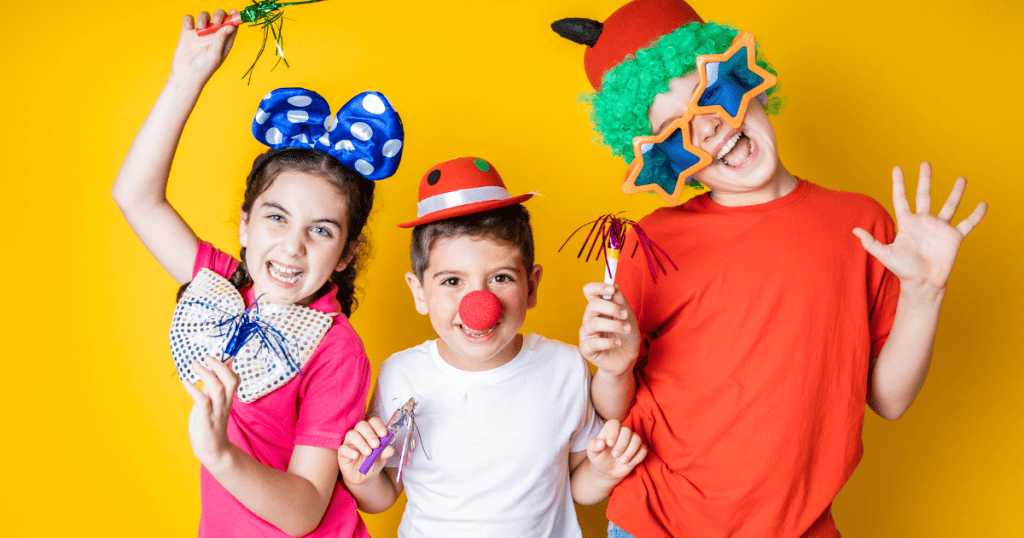 38. Pajama Parade
Have a pajama parade, where kids showcase their comfiest and quirkiest pajamas. Don't forget to capture the moment with photos.
39. Sleepover Fashion Show
Organize a fashion show where kids can strut their stuff in their sleepover attire. It's a fantastic way to boost their confidence and have some fun.
40. Mini Midnight Buffet Setup
Arrange a mini buffet with a variety of snacks, from chips and dip to fruit platters and finger sandwiches. Let them graze throughout the night.
41. Sleepover S'mores
If you have a fire pit, gather 'round for a s'mores session. It's the perfect blend of sweet and crunchy for a late-night treat.
42. Friendship Bracelet Making
Provide supplies for making friendship bracelets. Kids can exchange them as tokens of their sleepover friendship.
43. Pillowcase Decorating
Let creativity run wild by decorating pillowcases with fabric markers or paint. It's a unique and personalized keepsake.
44. Dance contest
What's more fun than a dance party? Grab your speakers, put on their favorite songs, and let the kids have a dance competition with each other.
45. Karaoke
Grab the karaoke machine and have fun singing the latest tunes and some oldies. This is another fun activity that kids of all ages will enjoy.
46. Hot cocoa bar
What's a sleepover without hot cocoa? Set up a hot cocoa bar with whipped cream, marshmallows, peppermint, and more!
47. Glow stick party
Grab some glow sticks, turn off the lights, and have a fun light show!
48. Talent show
Clear the floor and make a stage for a super fun talent show. Let each kid show off what they've got.
49. Video games
Set up a gaming system on the big screen and let them play video games. Make sure that they're age-appropriate and parent-approved!
50. Bingo
Pull out a classic game of Bingo. Have prizes for winners. It's a classic party game that they'll have so much fun playing.
51. Flashlight tag
Let the kids play tag with a twist! Turn off the lights while the person who's "it" searches for everyone with the help of a flashlight.
52. Pin the tail on the donkey
Pin the tail on the donkey isn't just for birthday parties. It's a great sleepover game as well.
53. Twister
Pull out your Twister game and let the kids have fun seeing whose most limber.
54. Piñata
Hang a piñate and let the kids have a go! You can fill it with candy and other kinds of cool treats.
55. Hide & Seek
Another classic game for slumber activities is hide and seek. The best part is there's no equipment or setup required.
56. Pizza Party
You can never go wrong with a pizza party! Order a large pizza and let the kids eat it up!
Favor Ideas For Kids Slumber Party
Favors are a great addition to slumber parties and will take it to the next level. It's the perfect way to give the kids something small to remember the good time that they had. Here are a few great options for favors.
Dental Goodie Bags
As a parting gift, create dental goodie bags for each child. Include a new toothbrush, a small tube of toothpaste, dental floss, and a pamphlet with dental care tips.
Custom Water bottles
Custom water bottles not only make great favors, but they'll eliminate confusion & cleanup with cups. Give each kid a water bottle with their name on it to fill with drinks for the night.
Framed Group Picture
Commemorate the night with a group picture placed in a frame that they decorated. Take a quick picture on your phone. If you have a home printer, you can print it at home. Another option is to have them sent to a local photo center for a quick pickup before your guests leave.
Knick Knack Bags
Get some party bags and throw in some inexpensive knick-knacks from the dollar store! You can even get pre-made bags on Amazon. This can include mini slinkies, yo-yos, stickers, pop-it toys, and more! If your party has a theme, consider filling your bags with theme-related items.
FAQs About Kids Sleepover
What should kids pack for a sleepover?
You'll want to make sure your sleepover guests pack toiletries like a toothbrush and toothpaste. They'll also need a sleeping bag, pajamas & underclothes, a change of clothes, and any comfort items that will make them feel at home.
What do you do at a kids sleepover?
The main objective is for kids to simply have fun! They'll play games and do other fun activities to keep them occupied before falling asleep. You can check out any of the games and activities above for ideas.
How do you make a fun sleepover?
Having fun games planned and sleepover activities available will make for a fun sleepover. Ensure that the kids have everything that they need to play safely and have a great time.
Best sleepover ideas for 8-year-olds?
Each of the games and ideas listed above are appropriate for 8-year-olds!
Ready to host your next sleepover?
Incorporating these sleepover ideas for kids into your next overnight gathering is a surefire way to create lasting memories.
From indoor games to outdoor adventures, themed parties to delicious treats, and crafts to pampering sessions, your child and their friends will embark on an unforgettable journey of fun, laughter, and bonding.
So, go ahead and set the stage for an unforgettable sleepover – the joy and excitement in those young hearts will be well worth it.
Happy sleepover planning!