Are you looking for a way to make extra money for the summer months? If so, I've got 55 summer business ideas that could earn you a lot of money this summer season!
The great thing about this list of business ideas is that you don't have to have much experience or money to start them.
Seasonal businesses are the perfect opportunity to make extra money without the stress of running a full-time business. They are also a great option if you are considering entrepreneurship and you want to try your hand at business.
Ready to start your business? Here are 55 creative business ideas for the summertime whether you're a college student or not!
Also Read: 40 Home based business ideas for moms
55+ Summer business ideas to make extra money
1. Summer camp
Do you remember going to summer camp as a kid? Those are probably some of the best memories that you have from your childhood. You got to play all day and have fun with your friends from school.
Summer camps are a necessity for parents who work when school is out for summer vacation. This means that it is a high-demand business during the summer months. Parents need safe activities to keep their kids busy while school is out.
Running a day summer camp will allow you to provide both educational and physical activities to keep kids learning and active. Of course, you'll need to have a space large enough for tons of kids and activities. You will also need to have the proper insurance, support team, and licenses for this business.
2. Ice cream truck or stand
There's nothing like the sound of an ice cream truck riding around a neighborhood. They all have a distinguishable melody playing that makes you eager and excited to buy ice cream. Ice cream trucks are not only nostalgic, but they are the perfect business ideas for warm weather seasons.
Being mobile allows you to increase your customer base so that you can make more money. It's also quite practical, considering you'll have the air conditioning on a warm summer day.
Nonetheless, buying a truck equipped with a freezer or even modifying one can get expensive. An inexpensive alternative is by setting up an ice cream stand. This can simply be a mobile freezer cart with an umbrella for shade.
You can park your stand at local events or in high-foot-traffic areas in your city. In addition to selling ice cream, you can also sell cold beverages, like water, to passersby.
3. Lemonade stand
Lemonade stands are staple summer business ideas. Though very cliche, they've been around for decades because they work! There's no sense in fixing something that's not broken, right?
Lemonade stands are great for festivals, local fairs, and shows, and to set up at piers and beaches. So take a good look at upcoming events in your area to find opportunities to make sales.
Because lemonade stands come by the dozen during the summer, you'll need a way to separate yourself from the crowd. One way is by offering "spiked" lemonade for adult consumers. Of course, they'll need to show proof of age and you'll also need the proper business license and permits to do so.
4. Food truck
Food trucks have become extremely popular in recent years. People are finding them to be adequate, if not better, alternatives to traditional restaurants.
You can always find food trucks at outdoor events and festivals. However, they've also become popular for birthday parties and even weddings. This means that there is plenty of opportunities for you to enter this market. Food trucks that sell nontraditional or very specific foods tend to draw large crowds—which can mean lots of money.
Having a food truck does require a financial investment. This means that you'll want to save up to purchase or rent one. Nonetheless, it is a great option that provides flexibility for the summer months and beyond!
5. Lawn care services
Lawn maintenance is at its peak during the summer months. Though, for many homeowners, it can be an unwelcome added responsibility after the lull of the winter season.
If lawn maintenance isn't included in their HOA costs, then many homeowners will be looking for someone else to do the work for them. This means that mowing and landscaping services will be in high demand as the temperature starts to warm up.
You can leverage this demand and offer services like lawn mowing, mulching, and general landscaping. All you need is a lawnmower and a few other tools to get going.
Consider offering weekly subscription plans so that you get paid on a regular basis and secure recurring revenue. You can even branch out to commercial properties and apartment communities to handle their yard maintenance each week.
6. Pool cleaning services
With the warm weather, pool usage will be at an all-time high. With that being the case, pool owners, recreational facilities, and hotels will want to ensure that their pools are clean and safe to enjoy.
Running a pool maintenance business is a very low-cost business. You only need a few cleaning supplies to get the job done. Though it sounds simple enough, it's a good idea to take a class in spa and pool operations so that you know exactly what you're doing.
Once you're certified, you'll need to also have the proper insurance for your protection. You're bound to make extra money with this type of business during the summer months
7. Mobile car washing
Car washing is a low start-up and low-overhead business that only requires you to have some safe cleaning products, rags, a bucket, and water.
Although commercial car washes are guaranteed to be full during the summer, your competitive advantage is that you can come to people's homes or any other location so that they don't have to go out. You can add additional services like detailing and waxing to increase your revenue per customer.
8. Italian ice stand
This is definitely one of the best business ideas for the summer. Not only is it low cost, but it is definitely a customer favorite during the summer.
All you need is an ice-shaving machine, ice, cups, and a variety of syrup flavors.
Find a place to set up your shop and leverage social media to market your new business venture. Consider high-traffic locations, like pools, parks, and beaches. More importantly, don't forget to get the proper licensing and permits!
9. Walking tour guide
If you're in a city with lots of tourist attractions and/or history, being a local walking tour guide is a great option for you. All you need to do is brush up on your knowledge of the city's facts and history to lead tour groups across town.
If you're going to lead a walking tour group, it's important that you can physically handle the demand. This is definitely a business that relies heavily on you being physically fit. You should also enjoy talking to people and answering questions.
When you're ready to start, you can register with sites like Tours by Locals as a tour guide in your city for almost anywhere in the world!
10. Pop-up group fitness classes
Though most people commit to getting healthier and fit in January, there are still people who want to continue their health journey during the summer months. What makes the summer unique is that you can offer pop-up group fitness classes outside.
This is another low-cost option since all you need to do is organize your class at a local park or even a beach. You can promote on social media and charge attendees a small registration fee to participate.
Be sure to take the necessary classes to become certified as a fitness instructor to market yourself as one. Once you have the proper credentials, you can also leverage them to offer in-home services to some high-end clients.
11. House cleaning
Springtime is the start of massive cleaning efforts in most households that often extends throughout the summer. For most people, cleaning isn't exactly a task that they want to do. That's why cleaning services continue to exist and thrive.
With people busy traveling and hosting events, they'd be more than happy to pay someone else to do the dirty work. Depending on the square footage and what your clients want to be done, you can easily make $200 or more per home.
For this business, you'll need to have cleaning supplies available for various surfaces and cleaning jobs. You'll also need to be physically able to do a lot of moving and bending to get the job done.
Want to make more money? Hire local college and high school students to help you clean more homes. Although you'll need to pay them, you'll be able to take on more homes and make more money.
12. House & pet sitting
During the summertime, families are busy traveling for summer vacation and visiting loved ones. This means that their homes can often go unattended and without maintenance for weeks on end. Additionally, their pets may be left alone or at a boarding house for long periods of time.
This isn't exactly ideal and it can get costly. That's where house & pet sitting comes in.
House sitters get paid to look after someone's home and pets and take care of maintenance duties while they're away. That's why it's perfect for the summertime when many families are on summer vacation.
Sites like Trusted House Sitters allow you to create a profile to find house-sitting jobs in your area. According to HouseSitters.com, most house sitters charge $25-$45 per day, with some charging more based on responsibility.
13. Pet walking
Even if pet owners aren't traveling during the summer months, they may still be busy with work and other responsibilities. This could mean that they neglect the responsibility of walking their dogs.
If you're a dog owner or dog lover, this is a great problem for you to create a business solution for. In your free time, you can walk dogs in your neighborhood—giving them much-needed exercise and play while helping out their owner.
Sites like Rover.com make it easy for you to connect with other "pawrents" who need someone to check on, walk, feed, or board their dog while they're away. You can earn as much as $40 per day or more based on your area.
The great thing about this business is that you can service more than one client at a time. This means more money in less time!
14. AirBnB Host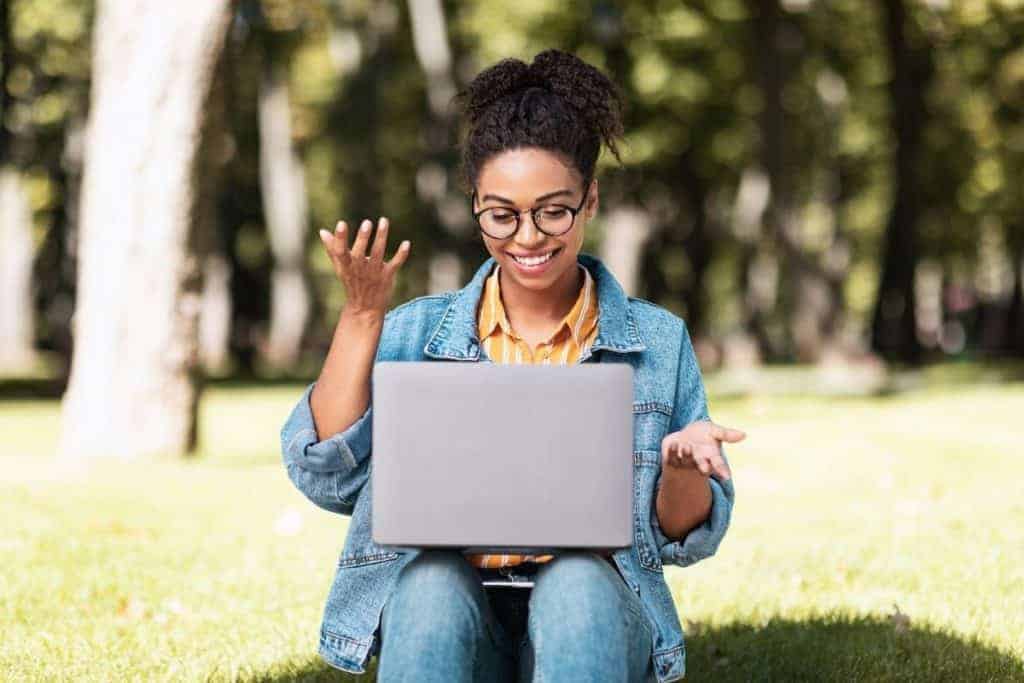 Hotels are no longer the go-to places to stay in most large cities. Instead, travelers have become more accustomed to the idea of using Airbnb for their temporary housing needs. In many cases, they offer more amenities and conveniences than a hotel at a more affordable rate.
If you live in a high tourist city, you can rent out your empty bedroom or whole house to travelers through Airbnb. Of course, you should be comfortable with strangers in your home or rental properties before taking on this business venture.
Make sure you fully understand the ins and out of Airbnb before you jump in. Otherwise, it can be a lucrative business that can even go year-round.
15. Exterior home cleaning
Summer is usually when homeowners make renovations to their homes and do some cleaning and decluttering. This need to get organized isn't just limited to the home's interior though. This includes the exterior of homes as well.
With such a focus on cleaning, summer is a great time to offer services like pressure washing, window washing, and gutter & roof cleaning. These are all tasks that most homeowners don't want to do but know need to get done.
This is another low-cost business option where you'll only need a few supplies to complete your tasks. Because this kind of business may require that you climb ladders and roofs, you'll want to also have the proper safety equipment and insurance.
16. Interior home painting
Interior painting is another task that is popular during the summer months when other home modifications are being done. It's not only a great summer business idea for this reason, but because it's also low cost and doesn't require any special training.
Painting simply requires that you have the right tools—brushes, ladders, tarp, tape, etc.—and some knowledge of how to paint evenly. You can learn some techniques to become more efficient on YouTube and by just practicing.
One way that you can cut down the time it takes to paint so that you can service more clients is by recruiting family members to help. You could also hire college or high school students who want to make some extra money during their summer vacation.
17. Professional photography
Although photography does require some skill, it is something that can be learned. Once you get the hang of it, don't hesitate to start your own photography business.
Family photos are usually in high demand during the warmer months. Around this time, flowers are in full bloom and they make great backdrops for photos. You can offer simple 1-hour or less family photo packages for $100 or more.
You'll want to limit the number of photos that you provide in your packages so that your time spent editing is minimal. Or, you can outsource your editing to a freelancer on sites like Upwork or Fiverr. You'll want to vet them and their work before making it a large part of your business plan.
Weddings will also be popular during this time of year. Hone your skills and branch into the very lucrative wedding photography business.
18. Music lessons
Music lessons are another popular activity for kids during the summer months. If you play a musical instrument or sing, you can easily start a business offering music lessons.
You can teach your students how to play instruments or even give singing lessons from your home. For an additional fee, you can also travel to their home to provide lessons as well. It all depends on what you're comfortable with.
Kids aren't the only ones who want to learn how to play musical instruments or hone their singing skills. Don't limit yourself to kids. Market your business to aspiring adult musicians as well.
19. Party entertainment
Summer is always ladened with kids' birthday parties, BBQs, family reunions, and house gatherings. Some of these soirees will inevitably require entertainment of sorts.
The spectrum of what you can do is endless. You can be a DJ or MC, or even do something as creative as face painting or balloon art. As long as you can keep guests entertained and enjoying their time, your efforts will be well rewarded.
20. Travel agent
As warm weather approaches, there will be an influx of travel across the world. Why not make someone's life easier by planning their travel for them?
Travel agents handle the logistics of booking transportation, accommodations, and excursions for a traveler or group of travelers.
If you're a travel connoisseur and can provide recommendations for various destinations, this is a great opportunity to make some extra money. This can also turn into a year-round business if you continue to get clients throughout the year.
21. Transportation services
You don't have to drive for Uber or Lyft to offer transportation services. You can have your own business with a target market that's catered to larger parties or even senior citizens.
You can assist the elderly by transporting them to grocery stores and other locations. You may also want to consider families who may want transportation for the summer vacation. There are so many opportunities with this business and who you can serve.
Before you start advertising services, make sure that you have the proper licenses and insurance to operate your business.
22. Water taxi services
Beach towns aren't the only areas that will be crowded with tourists during the summer. Larger cities that are housed near water will also draw a crowd. In this case, having another mode of transportation is beneficial.
If you own a boat and live near the water, a water taxi service may be the right small business idea for you. Water taxis offer quick rides for tourists and residents who would rather take the scenic, less congested route.
Of course, you'll want to make sure you have the proper license to operate a boat. It's also a good idea to have insurance as well.
23. Boat tours
Where water taxis are meant to get you from one place to another quickly, boat tours are meant to show off the local scenery. If you own a boat, you can offer boat tours to tourists—giving them another view of the area.
Boat tours are especially popular in areas that have lots of beautiful scenery and sea life, like dolphins, to show off. Think of it as making money from something that you already like to do.
Most boat tour operators have a small kiosk where guests can pay to join a scheduled boat tour. This, of course, would need to be situated by a boat dock for them to load the boat. Consider partnering with local hotels to advertise your services to guests.
24. Boat cleaning
Boats need to be cleaned and maintained to ensure their longevity. But those who own them may not have the time or desire to do their necessary cleaning. Instead, they hire boat cleaning companies to do the work for them.
Offering boat cleaning services is another business opportunity to take advantage of. You can clean and detail boats, offering different packages depending on the boat's size and the cleaning required.
25. Boat rental
Perhaps you own a boat that isn't in use. If that's the case, you can rent out your boat to locals who don't want the financial expense of owning a boat. Better yet, you can rent your boat to tourists who may want to go fishing or simply navigate out in the ocean.
Renting your property does come with risks, so you want to make sure that you have a solid business plan to prepare for the unexpected. A great way to mitigate financial risk is to have insurance and to require that an agreement waiving you of any liability be signed.
26. Beach equipment rentals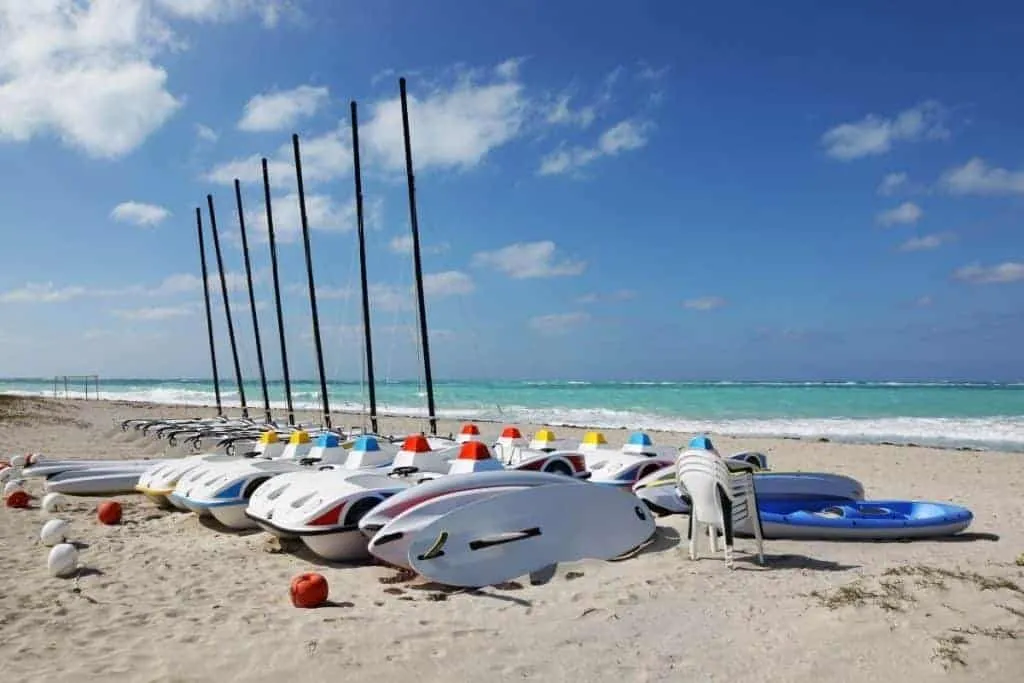 If tourists are traveling to beaches from out of town, it's likely that they couldn't bring a lot of beach gear with them. In many cases, they'll need to rent equipment to make their time on the beach more enjoyable.
Offering beach equipment rental is a great way to take advantage of this demand during the summer. Consider renting out beach chairs, umbrellas, equipment towing wagons, towels, and more! Be sure to keep a good inventory of your equipment so that you don't lose money from unreturned items.
27. Beach excursion tours
Beachgoers want to do more than just lay on the beach during the summer. Instead, they'll likely want to do some fun water activities to enjoy themselves.
In this case, you can offer excursion packages full of fun water activities. These excursions can include kayaking, jet skiing, parasailing, snorkeling, and more! Of course, you'll need the proper equipment and safety measures in place to facilitate these activities.
28. Drive up theater
If you have access to open land, opening a drive-up theater is a great summer business opportunity. Though they aren't as commonplace as they once were, they still make for a low-maintenance business opportunity.
This may take a bit of construction to get a large enough screen to display the movie. Nonetheless, you can easily make money from charging families to park and watch the featured movie.
29. Parking lot cleaning
Ever wondered how some store parking lots stay so clean? It's because businesses hire people to clean them! Parking lot cleaning is another low-cost business idea that you can even continue throughout the year.
To be successful, advertise your services to local businesses and outdoor event organizers. You can work to secure ongoing contracts with these businesses so that you can ensure consistent income.
30. Outdoor lighting
While the weather is warm, homeowners will start to make use of their outdoor amenities. This means that outdoor lighting may also be in high demand. Outdoor lighting designs are unique to each home and can be a lucrative business.
This business covers patio lighting, pool lighting, exterior uplighting, and more. It is important to know that you should be an electrician to do this kind of work or that you hire an electrician to outsource the installation.
31. Private bartending
With lots of events happening during the summer, there will be a need for bartenders. Offering private bartending services is a great, premium service business. Not only can you charge a flat fee, but you can also make money from tips as well.
Your event location will likely have a bar and alcohol so you won't have to worry about carrying a lot of equipment. If not, you can always invest in a mobile bar and some glasses that you carry with you.
32. Bounce house rental
Bounce houses are very popular for kids' outdoor parties. Depending on the size and features, bounce houses can range between $300-$2,000 in price. This is a one-time investment that you'll have to make for this business that can easily be made up from rentals.
You can advertise your services at local party stores and daycare centers. The more houses that you have, the more parties you can rent out to at one time. This means more revenue for your business.
33. Tutoring
School may be out, but the learning doesn't stop. Offer tutoring services to help kids get back on track or ahead for the next school year. You can tutor online or offer in-home services.
Tutors can make upward of $45 per hour for high school students and even $85 or more if they're a teacher. If you niche down your tutoring can charge even more.
Don't forget that college students will be studying for the MCAT, LSAT, and every other entrance exam imaginable! Offer services just for them and up your fee.
34. Segway tour guide
Segway tours are popular in larger cities. They give you the benefit of touring without having to be on your feet. You can solely be a tour operator or you can choose to invest in a whole fleet of Segways and make it a much larger business.
You'll first need to be sure that your city allows segway tours. If they do, you will also need to secure a location to store your Segways. This could mean that you have a small location to schedule tours and meet up for your rides.
35. Mobile pet grooming
Mobile pet grooming is another great option for summer business ideas. Pets have to be groomed, but you can make it more convenient by coming to them. Of course, you'll need to come equipped with all the tools you need for grooming, including access to water.
It doesn't take much to become a pet groomer. All you need is a high school diploma, and of course, some training—although a license is not required.
36. Moving & junk removal services
Families tend to move during the summer months when kids are out of school. Use this as an opportunity to make extra cash by helping them move. This can include helping to pack boxes, move furniture & household items, and transporting items locally via a moving truck.
College students make great employees when it comes to moving businesses. You can usually pay around $13/hr, which would only be a small portion of your profits. Additionally, all that you need are your hands and good physical fitness.
37. Personal assistant & errand service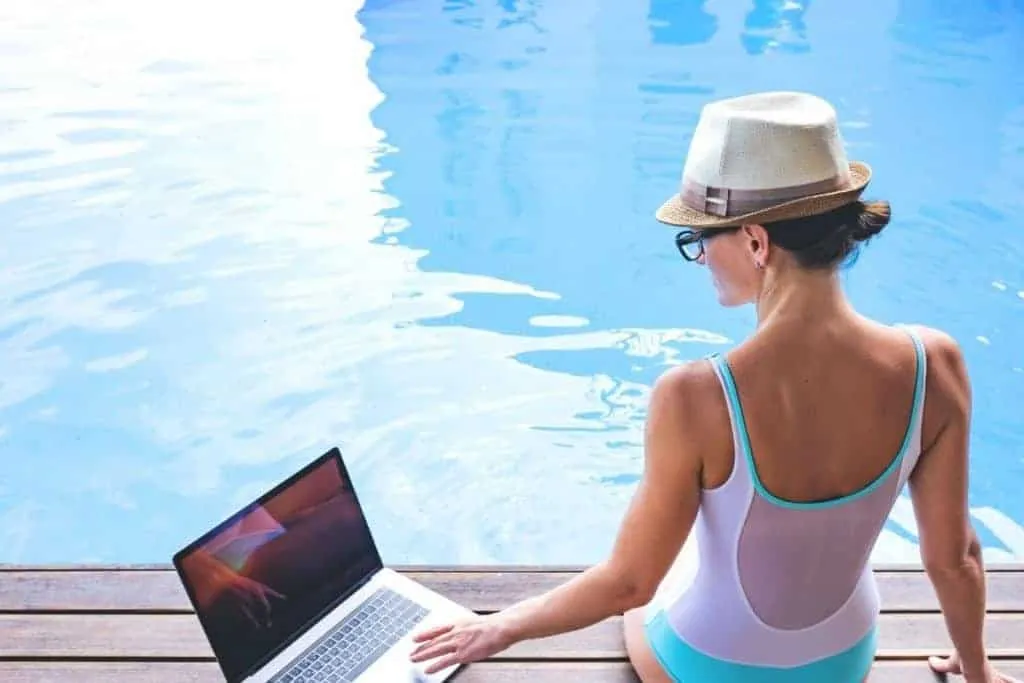 You can make a great summer business out of running errands and being a personal assistant. There are tons of busy people who just need good help to do things like pick up clothes from the dry cleaners, grocery shop, and even take kids to various activities.
For this business, you'll need a reliable mode of transportation and a cell phone to contact clients. If you're organized, this can make for an easy job where you can take on multiple clients.
38. Swimming lessons
Swimming lessons will be in high demand during the summer months. If you can swim then you can charge to teach others how to as well. You can host lessons at a local swimming pool.
This is especially popular for young children, but there are also adults who want to take swimming lessons. Perhaps carving out a niche specifically for adults will be even more lucrative.
39. Laundry services
Starting a laundry service can be a business that makes a lot of money during the summer months. With kids busy with activities and traveling, doing laundry is probably the last thing on a lot of people's minds. And, if they have disposable income, they're likely to pay someone else to do it for them on a weekly basis.
For this business, you simply need access to a washer & dryer, and iron—all things that you probably have in your home. You can pick up clothes, wash, iron, fold them and return them to your clients.
40. Childcare
Most parents still work while their kids are out for summer vacation. This means that they'll need options for child care if their kids aren't going to a summer camp. Summer childcare services are great for those who love children.
You can start by offering babysitting services or go directly into launching a full-fledged in-home daycare. Remember that you'll need the proper licenses and insurance to get started with a daycare versus simply babysitting.
41. BBQ Shack
Barbecue is a summertime food staple. In fact, in the southern US, you can't go far without finding a local BBQ shack.
The fun thing is that nothing about BBQ catering has to be fancy. Some of the best BBQ vendors simply have a grill hitched to the back of their trucks and are parked at a local grocery store.
If you have a hand for BBQ'ing and grilling, this is an easy business to start. You can make money by catering for outdoor functions or even events.
42. Sell crafts
Craft shows, flea markets, and festivals will be in full swing during the summer months. They're a great place to sell your homemade crafts to other locals or tourists in the area.
If you have a knack for making wreaths, paper crafts, jewelry, furniture, or the like, you can definitely start a crafts business. In addition to selling your products in person, you can leverage Etsy to sell them online.
43. Sell homemade hair and skincare products
Creating and selling homemade hair & body care products is always a great small business option. More consumers want natural and organic beauty products in lieu of chemical ladened commercial products.
Start with simple products like body butter, bath bombs, and body oils. You can add more products as you grow your business and learn more. You can always find recipes online for free!
Need inspiration? Check out Lisa Price's story on how she started Carol's Daughter (valued at $27MM) doing exactly this!
44. Event decor
Whether indoors or outdoors, people will pay to have their events decorated. The professional decor adds a special touch to any occasion.
Weddings typically top the list for events that employ event decorators; however, baby showers and birthday parties aren't far behind. Anytime there's a celebration is an opportunity to secure business.
This business will require that you invest in some decor equipment that can be reused. This means that you'll need to have adequate space to also store it.
45. Furniture flipping
Furniture flipping can be both a fun and lucrative business venture. Since it's summer, you'll be more likely to find items as flea markets open for the summer and yard sales begging to happen.
This business will require a bit of work and time to find items and then actually repair them. Vintage items can sell for hundreds of dollars more than you paid for them, which makes the flip worth it. Need help starting this business? Check out this ultimate guide to flipping items.
46. T-shirt design and printing
There's always a t-shirt for special occasions like family vacations, family reunions, or birthdays. Since a lot of these events will be happening during the summer, t-shirt design & printing will be in demand.
You can purchase your own design software and printing press or you can leverage dropshipping for these items. Dropshipping allows you to have a third-party print-on-demand company handle the fulfillment of your orders so that you don't have to carry inventory.
47. Resell clothes
The concept of reselling clothes is quite simple. You buy clothing items for a low price and then sell them for higher. With summer being on the heels of spring cleaning, you're bound to find some gems that have been donated to a local thrift store.
Once you find items to resell, you can list them online to broaden your customer reach. Keep an eye out for vintage clothing items, as they're highly coveted by thrift shoppers.
48. Towing services
The need for towing services will likely be much higher during the summer months. As festivals, concerts, and other large events take place, there are bound to be some parking violators. You can also expect to have many more disabled cars needing to be towed as traffic from travel also increases.
There isn't much to a towing business. You'll just need a tow truck and a place to securely store cars until owners pay their violation fees.
49. Catering
There'll be no shortage of opportunities to cater for events. Now would be a great time to launch your catering business to support the summer rush.
You can market your services for weddings, parties, and even corporate events. Aside from knowing how to cook, you will also need to have a sanitary place to cook food in large volumes.
This business can certainly extend beyond the summer season! Be sure that you have the proper licenses and equipment to stay in business.
50. Social media consulting
If you actively use and enjoy social media, then you might as well get paid for it. College students should consider offering social media marketing and consulting services to help local business owners grow their social media presence.
This is a highly sought-after business that has the potential to really grow into something very lucrative. The key is helping clients become successful and leverage it to gain more clients.
51. Sell fireworks
Firework sales are definitely a seasonal business that you can make a lot of money from. In the US, big holidays for fireworks include Independence Day and New Year's Eve. Families will spend hundreds of dollars at a time on fireworks.
Be mindful that some cities have strict requirements for the sale and use of fireworks. Be sure that you're able to sell them and have the proper licenses and insurance. Once you're cleared for sale, you simply need to set up a stand in high-traffic areas during those peak holidays.52. Car rental services through Turo
52. Car rental
Renting out your car while you're out of town for the summer is a unique business idea. This business model has become very popular over the years, with several sites facilitating the services.
Even if you aren't away for the summer, you can still rent your car when it's not in use. Leverage sites like Turo to learn more about car renting and how to get started in your city.
53. Horse riding lessons
Parents are always looking for new activities and hobbies for their kids to get involved in. Horseback riding is one of them!
If you own a horse or have access to one, you can offer horse riding lessons or simply charge for rides. This is ideal for people who live in rural areas with lots of land to explore.
54. Produce stand
Farmers' markets will be busy during the summer months. It's where farmers and local gardeners have the opportunity to sell their produce for the season. If you have a garden, this is a great business to take part in during the summer.
Renting space at a farmer's market ensures that you have traffic, which means more likelihood for sales. If you live in a major city, these farmers' markets are often organized as weekend pop-up functions downtown or at a local store.
55. Florist
Flowers are beautiful accents to any home and occasion. There's always an occasion that will require flowers. Why not sell them? If you're great at arranging flowers, this is a great business idea.
To become a florist, you'll need to know flowers and plants well. This doesn't mean that you need to go to school or get formal training. You'll also need to have the space to store flowers at the proper temperatures and to house your final arrangements.
56. Tent & party rentals
With a lot of events happening outside, people will want a way to find shade. Large tents are extremely popular for big outdoor events.
Tents can range from a couple of hundred dollars to a couple thousand. This is a small investment for what you will be able to make up for rental fees. Your fees can include set up and take down, which also ensures that you keep track of inventory. Of course, you'll need a place to store your equipment.
While you're also renting your tent you can add on to your business with other party equipment needs like speakers, decor, chairs, and more!
More small business ideas
Don't stop with summer business ideas. There are many more businesses that you can start throughout the year, whether it's a side hustle for a full-time business.
Need more business ideas? Check out these additional ways that you can make extra money.
Frequently Asked Questions (FAQs)
What is the best business for summer?
Any of the business ideas listed are great for the summer. In general, though, anything that helps people stay cool, assists with travel, and supports outdoor activities make the best businesses for summer.