School's out for summer, and there are some long weeks ahead. Is this daunting, or does it sound like bliss? Either way, if you're looking for ways to keep your kids entertained without spending a fortune, look no further. We've got 55 cheap and cheerful summer activities for kids that will help you make the most of the warmer weather while living frugally.
From simple indoor activities like arts and crafts to outdoor adventures in the garden or park, there's something to keep every family entertained!
What are some popular summer activities for kids?
With any luck, the sun will shine this summer. So our list includes plenty of opportunities to head outdoors and indulge in a little water play to keep cool. But there are also ways to keep your kids entertained on those rainier days too.
Kids learn beautifully through play, so these activities will develop their creativity, motor skills, and problem-solving abilities.
If your kids are a little older than the "play" stage, the summer season could earn them some extra pocket money. From dog walking to setting up a lemonade stand, it's never too soon to learn the value of money. Part-time work is a fantastic boredom-reliever too.
What activities can we do in the summer season?
We've split our list of 55 summer activities for kids into three main sections: outdoor activities at home, indoor activities at home, and activities away from home. Let's dive in.
Outdoor summer activities for kids at home
You don't need an enormous garden to get stuck into these ideas — they're all suitable for a small space and won't break the bank.
1. Host a backyard BBQ
Even if it's just for your immediate family, everyone loves a summer BBQ. Fire up the grill (or set up a campfire if you're feeling adventurous) and cook. If you don't have a grill, use a pan on the stovetop — cook your food inside and take it outside to eat.
2. Try squirt painting
This is a super fun activity for kids of all ages. Fill water pistols with washable paint and let your little ones loose in the backyard — just make sure it isn't fabric paint! Who knows what budding artists you might have in your family!
3. Blow bubbles
Blow bubbles around your backyard for a true festival vibe and turn it into a game. Who's blowing the biggest bubbles? Can you chase after them and pop them? Pick up a pack of bubbles for just a couple of dollars from any discount store, or even invest in a bubble-blowing machine to give your hands and lips a break.
4. Build a kid-friendly obstacle course
Turn your backyard into an adventure park with a homemade obstacle course. Use whatever you have to hand, from lawn chairs and hula hoops to jump ropes and blankets. It'll get everyone moving and shake off any summertime laziness!
5. Fill a water table
Water play is always a hit with kids, so fill up a water table or baby pool and let them splash to their heart's content. Extend the play by creating your own car wash, where you scrub toy trucks until they're sparkling. Or maybe even take Barbie for a swim!
6. Chalk the sidewalk
This is one of the most popular summer activities for kids at home — perfect for those hot summer days when you don't want to be outside for too long. Get a pack of washable outdoor chalk and let your kids go wild on the driveway or sidewalk. If you want to make it more challenging, try drawing a giant maze for them to follow with their fingers.
7. Try to catch fireflies
This is a summertime classic for a reason. After dark, head outside with a jar and see how many fireflies you can catch. Just remember to let them go again once you're done admiring them. And if you don't catch any? The fun's all in the trying!
8. Have a water balloon fight
Beat the heat and have some family fun at the same time. Fill up water balloons, head outside, and take aim! Make sure you have a bucket to retrieve any wayward balloons, or you'll pick them out of the bushes for weeks.
9. Go berry picking
If you're lucky enough to have a berry bush in your backyard, make the most of it and go picking! Raspberries, blackberries, and strawberries are all perfect for summertime snacks. If you don't have any bushes of your own, see if you can find a local farm where you can pick your own fruit.
10. Enjoy stargazing
On a clear summer night, lie back on a blanket in the backyard and look up at the stars. Teach your kids about the constellations and see if you can find them. Here's a handy astronomy guide if you're not too sure what you're seeing.
11. Build a lemonade stand
Are your kids looking to make a bit of pocket money? Set up a table in the front yard with some lemonade and snacks, and see how much cash they can rake in. Just make sure you supervise if they're selling to the neighbors!
12. Climb trees
This is a great activity for kids of all ages, and it's completely free. Younger children must always be supervised, but even older kids will need a helping hand to get up to the top. Once you're there, enjoy the view!
13. Camp in your backyard
Turn your backyard into a camping paradise for the night. Set up a tent, make some s'mores, and tell stories around the campfire — funny, spooky, or sentimental, the choice is yours! If you don't have a fire pit, use a portable one or simply make do with some battery-operated candles.
14. Play tennis
Tennis will get the whole family moving, and it's not as expensive as you might think. Practice your hand-eye coordination at home by hitting against any outdoor wall. You can pick up a cheap racket and some balls from any sporting goods store, and there are often free or low-cost courts available at your local park.
15. Build a water piñata
Fill a balloon with water, tie it up, and let your kids take turns hitting it with a stick. When the balloon finally breaks, it'll soak them from head to toe! This is perfect for hot summer days.
16. Do some gardening
If your kids are in the garden, they may as well roll up their sleeves! Gardening gets them interested in where their food comes from. Let your little ones help you plant some vegetables or flowers, then water and tend to them.
17. Play hopscotch
This is a classic game that's perfect for hot summer days. All you need is a piece of chalk and some pavement, and you're good to go! It's also great for working on those core muscles and gross motor skills as you keep your balance.
18. Set up a Nerf gun range
Do your kids love action movies? Set up some Nerf targets in the backyard and see how many points you can rack up. Want to make it more educational? Shoot at tricky spellings written on cards attached to your target. Encourage your child to read the word aloud before moving on to the next one.
19. Build a bee hotel
Attract some friendly pollinators to your garden and learn all about the plight of the bees too. All you need is a block of wood with some holes drilled in it, and you can paint and decorate it however you like.
20. Create a garden scrapbook
Do your kids love nature? They will now. Collect leaves, flowers, and other items from your garden, then glue them into a scrapbook. You can add in photographs, drawings, and anything else that takes their fancy.
---
Indoor summer activities at home
Whether there are storm clouds in the sky or it's just too darn hot to play outside, you can still have bundles of fun indoors too.
21. Make ice cream
Nothing says summer like a big bowl of ice cream. You don't need an expensive machine to make your own — just some milk, cream, sugar, and a few hours in the freezer. Here's a recipe book you can try. Once it's ready, add in your favorite toppings and enjoy!
22. Take part in a library reading challenge
Most libraries run summer reading challenges for kids — what better way to keep them entertained (and educated)? In a typical program, your kids will read books, write reviews, and collect stamps or stickers as they go.
23. Enjoy some summer crafting
Save crafting for rainy days or when it's too hot to be outside. Let your kids get creative with craft supplies, make friendship bracelets or try out some sand art.
24. Build a den
Grab some pillows, blankets, and cushions, and let your kids build their own indoor fort. Once they're done, they can relax inside with a good book or use it as their base camp while playing other games around the house.
25. Make jewelry
This is a great activity for kids of all ages. You can use beads, string, ribbon, foil, or anything else lying around the house. Just let your kids' imaginations run wild as they make their own necklaces, bracelets, badges, and more.
26. Paint rocks
Turn some boring old rocks into beautiful works of art with some paint and a little bit of imagination. You can use them to decorate your garden or keep them indoors as paperweights or doorsteps. Alternatively, organize a rock drop in your local neighborhood where all the nearby families paint and distribute their rocks along the sidewalk, in parks, or hidden in the bushes. It's always fun to spot them when you're out and about.
27. Learn a new language
Summer is the perfect time to learn a new skill, and what could be more useful than a new language? You can find plenty of child-friendly resources online or use a language-learning app like Duolingo.
28. Practice kid's yoga
Yoga will keep your kids active, even when they're indoors. There are lots of easy yoga poses to try with no equipment required. Once they've mastered the sun salutation, downward dog, and child's pose, string them together into a routine and see how long they can hold each for.
29. Hold a family game night
Spend some quality family time together by getting together with your favorite board games and snacks. Monopoly, Cluedo, and Guess Who are always classics. Who'll come out on top?
30. Listen to kids' podcasts
Podcasts are increasingly popular, and some great ones are aimed at kids. Let them choose one to listen to while they're doing their chores or a puzzle, or gather everyone together to listen to it as a family.
31. Make a bird feeder
This one is for the nature-lovers. Attract some feathered friends to your garden by making a bird feeder from an old plastic bottle. Once it's complete, hang it up and wait for the birds to come!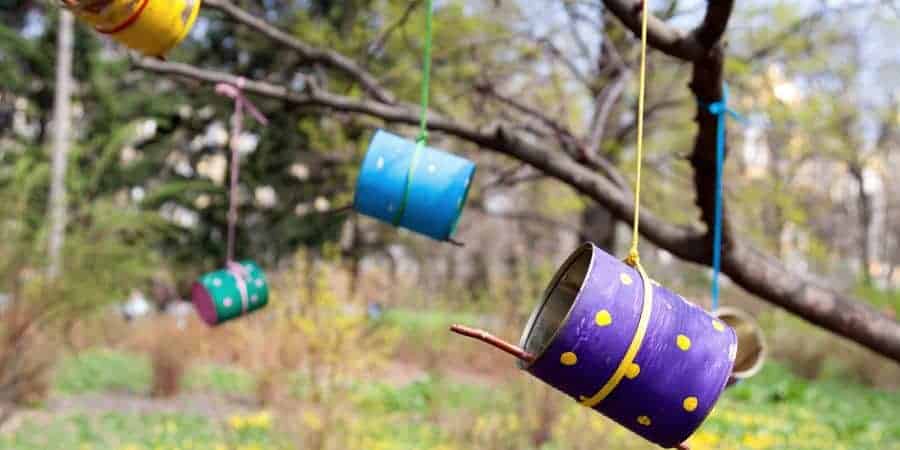 32. Float a boat
All you need for this activity is a sink full of water and a few different materials to make boats from, such as paper cups, corks, or lollipop sticks. See how many of your materials float and which sink the quickest. You could even race them!
33. Make a family video
Get the family together and put on a show! This could be a skit, dance routine, or anything else you can think of. Once you've finished filming, sit down and watch it back together. You could even upload it to YouTube for the world to see!
34. Make a family time capsule
What better way to remember this summer than by creating a time capsule? Gather some items representing this year's summer, such as photos, postcards, leaves, and shells. Write a letter to your future selves, and bury it in the garden or hide it away in a box to be opened in years to come.
35. Host a toy swap with your neighbors
Do your kids have too many toys and are getting bored with all of them? Host a toy swap party with your neighbors and let the kids trade in their old toys for some new-to-them ones. It's a great way to declutter your home and keep the kids entertained at the same time!
36. Make homemade popsicles
There's nothing more refreshing on a hot summer day than a homemade popsicle. Get the kids involved in making them by letting them choose their favorite fruits and juices and adding them to popsicle molds. Pop them in the freezer overnight and enjoy!
37. Have a karaoke party
Get the family together for a sing-along with a karaoke machine. You could even invite some of the neighbors over to join in the fun. If you don't have a karaoke machine, plenty of apps will turn your phone into one.
38. Have a tea party
Sometimes the simplest things are the most fun. Set up a little table and chairs in the garden and have a pretend tea party with your favorite stuffed animals. Don't forget the cups and saucers!
39. Put on a puppet show
Puppet shows are a great way to entertain the kids (and adults!) Put on a show using store-bought puppets or make your own from socks, gloves, or paper bags. Using household objects and a flashlight, you could even put on a shadow puppet show.
Summer activities for kids away from home
We all need a change of scenery from time to time, so don't be afraid to check out what's happening in your local area — or even further afield! Many venues have family offers, and discounted tickets might be available if you book early.
40. Go bowling
Bowling is a great activity for the whole family. Toddlers to teens and even grandparents love it. How many strikes will you get?
41. Go ice skating
If it's a hot summer day and you're looking for something to cool you down, why not go indoor ice skating? It's super fun and great exercise too. You might find your legs aching a bit the next day, though!
42. Go on a scavenger hunt
Explore your local area by taking part in a scavenger hunt. You could even make it a competition between the kids (or the adults!)
43. Go for a picnic
Pack a blanket and your favorite food and head to the park for a picnic. It's way more fun than eating out and significantly more affordable too. Don't forget the insect repellent if you're picnicking in the summer, and always choose paper straws over plastic.
44. Head to the beach
There's nothing like a day at the beach to relax and have fun. Go for a paddle in the sea, build a sandcastle, or lie back and soak up the sun. Don't forget the sunscreen!
45. Fly a kite
If there's a breeze in the air, take advantage of it and fly a kite. You can buy them cheaply from most toy stores or make your own from paper and sticks.
46. Go for an evening hike
As the sun starts to go down, head out for a hike. Too hot during the day? Wait until dusk when the temperature dips, and it's an easier activity for the kids. Remember to bring plenty of water.
47. Watch an open-air movie
Many towns and cities host open-air movies in the summer. Check out what's showing near you, and take a picnic blanket and some snacks for a fun evening out. Remember to check the movie rating, so you only pick a family-friendly viewing.
48. Attend a county fair
County fairs are great fun for all the family. From rides to stalls and food stands, there's something for everyone. Check out when the fair is coming to your town and make a day of it.
49. Go to an open-air pool
Beat the heat by taking a dip in an open-air pool. Most have slides and other fun features for the kids to enjoy, and you can usually get a family ticket, so it doesn't cost the earth.
50. Visit a petting zoo
If your kids love animals, take them to visit a petting zoo. They can stroke the animals and learn more about them too. Just make sure you wash your hands afterward!.
51. Meet friends in the playground
If your kids have friends in the neighborhood, why not meet up at the playground and let them loose to burn off some energy? The grown-ups can catch up while the kids have fun.
52. Go to the farmers' market
Take a trip to the farmers' market and let the kids pick out some fresh fruits and vegetables. They're more likely to eat them if they've had a hand in choosing them!
53. Enjoy bike rides
Whether you go for a leisurely ride around the block or head out for a longer cycle, bike rides are great fun for all the family. If you have younger kids, you could invest in a bike trailer or seat so they can come along too. Just remember to wear helmets!
54. Head to the woods
Spending time in nature is good for the soul, so why not explore the woods near you? You can go for a hike, build a den or just take in the peace and quiet.
55. Play laser tag
Laser tag is great fun for kids of all ages. You can usually find somewhere to play indoors, so it's perfect for a rainy day. Plus, you'll persuade the kids to get active and burn off some energy.
Summer activities for kids FAQS
Still got more questions about summer activities for kids? We've got you covered!
How do I entertain my kids all summer?
Summer is long, which is a good thing, but it can be fairly daunting too. If the weeks ahead seem endless, one way to entertain your kids all summer is to sign them up for some summer camps. That way, they'll have something to do at least a few days a week, and you'll get some time to yourself too.
Of course, camps can be pricey, so it's also worth roping in the extended family to help out. Grandparents, uncles, and aunts can take turns taking the kids for a day or two if they live nearby. If not, perhaps you could arrange a regular babysitting swap with some friends. That way, you can all get a break, and the kids will still be entertained.
How can I make summer fun at home?
If you haven't booked a summer vacation, don't feel guilty. Your kids will still have an AMAZING time at home. All it takes is a little planning — whether you go ahead and invite friends and family over to spend the summer with you or book some day trips, there's plenty to keep you occupied.
How do I make sure summer activities at home are safe?
Even though all the activities on this page are kid-friendly, it goes without saying that parents need to be responsible when it comes to safety.
Always supervise children with any type of water play, so never leave them unattended in the garden with a paddling pool, water table, or similar. The same applies to your BBQ set, fire pit, or any candles. Equally, if you have a trampoline, ensure there are no gaps in the safety netting and that it's not getting worn out. And finally, when using any crafting supplies, it's always worth doing a patch test first in case your child has any allergies.
What summer activities for kids supplies do I need?
Think about the activities that appeal to you in terms of supplies. If you want to do some arts and crafts, you'll need supplies like paper, crayons, glue, chalk, and glitter. Amazon is a great place to stock up on all the essentials. If you're planning on doing some cooking, then you'll need to make a trip to the grocery store. Don't forget your jumbo chalk, water pistols, frisbees, and tennis balls for the backyard.
Which of these summer activities for kids will you try?
The summer months are an opportunity to spend quality time as a family and make wonderful memories that will last a lifetime. The key is to mix things up and try new experiences. That way, everyone will stay happy, safe, and entertained. So give these summer activities for kids a try! The most important thing to remember? Just have fun this summer!