What did you imagine a stay at home mom schedule would look like before you became a mom? Perhaps you thought you'd be meeting friends for lunch, have plenty of time to book hair and nail appointments, and hit yoga class a couple of times a week?
But when you bring your beautiful bundle of newborn joy home for the first time, you realize the earthshattering truth: grabbing a shower will be your only goal of the day.
It can be challenging to create a stay at home mom routine that works. But adding structure to your day will help you and your little one thrive. With practice, you'll fit that shower into your day and accomplish a lot more too.
What should a stay at home mom do all day?
Stay at home moms come in all shapes and sizes. And how you spend your day as a mom primarily comes down to your child's age. Need inspiration? The Moms On Call books will give you ideas on developing a structured routine for each stage of childhood.
A mom of a newborn may spend a lot of the day breastfeeding, changing diapers, doing laundry, and sterilizing bottles. There will be so many hours of the day where you're physically holding or rocking your baby, and it's tricky (but not impossible) to run errands or even take that shower with your hands full.
Moving forward a couple of years, a stay at home mom with a two-year-old may attend toddler groups to meet other parents or take the little one to pick up groceries. Your child may even attend daycare for a few hours at this age. This gives them a chance to socialize and some breathing space for you at home.
And by the time your kids are school age? Stay at home moms can spend the day running the house because, honestly, there are plenty of chores to do, and the school day is short! Some moms may also work a side hustle that fits family life and helps pay the bills.
Why are routines important for you and your kids?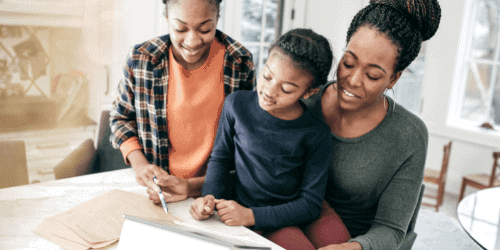 Some people may scoff at the idea of a routine – doesn't that sound dull and rigid? Shouldn't raising kids include more fun and free-spirited activities? But actually, routines are important both for children and parents.
There's comfort in providing a consistent structure for kids, so they know what to expect throughout the day. And having a set routine can lower stress and boost their immune system.
Routines are also the foundation for teaching healthy habits. When your little one knows to wash their hands after using the potty or brush their teeth after their bath, you're helping them establish essential hygiene skills.
It's easy to become overwhelmed as a parent, so routines aren't just for little ones. Having a regular and consistent stay at home mom routine will make you feel more organized and in control of family life. Getting through daily tasks as quickly and efficiently as possible also frees up time to spend on more fun activities.
How to establish a stay at home mom routine
There are so many elements to consider when creating a daily schedule for a stay-at-home mom. The main areas you'll cover relate to running your house, looking after your children, and prioritizing rest and mental health. It's common for parents to neglect themselves, but happy moms make for happy kids, so don't forget to add your own needs to your schedule.
Household chores
Keeping a tidy house can be great for mental health. A Princeton University study found that a cluttered space makes it more challenging to focus on a task. What better motivation to tackle your household chores and enjoy spending time at home?
But how?
The main trick is to try and incorporate quick chores into your daily routine when your little ones are with you. If you wait until naptime or after they've gone to bed, the jobs can mount up and feel overwhelming. Instead, work simple habits into your day.
Try putting a load of washing in the machine before heading out to the park. Or folding laundry while they're eating lunch next to you.
With a strategic stay at home mom schedule, you can get away with spending as little as an hour a day on housework.
Sleep
Getting enough sleep is crucial to the mental and physical well-being of any stay at home mom. But we all know that babies and sleep don't often go hand-in-hand. Whether you're up all night with a newborn or have difficulty getting a toddler or older child to sleep at night, it can seem like there aren't enough hours left to grab your own forty winks.
Most adults require seven to nine hours of sleep per night, but you might need even more if you're pregnant. If you're not getting enough hours, then symptoms of sleep deprivation can kick in. These might include constant yawning, difficulty concentrating, and slow reaction times.
Sleep deprivation may also exacerbate postpartum depression, impacting one in eight women following pregnancy. It can be difficult for doctors to distinguish between fatigue and postnatal depression, but they can be linked.
Even where postpartum recovery isn't an issue, sleep is essential for a healthy mind and body. If you're not getting enough shut-eye, work on establishing regular naptime/bath/book/bed routines for your child. The goal is to start bedtime at the same time every day and go through the same steps, so your child makes positive sleep associations.
Food and snacks
Food and sleep are inextricably linked in children. Young children may not eat if they're too tired or may wake early if they've not eaten enough.
Establish set meal and snack times to help ensure your child's tummy is full at all the right times. For babies and toddlers, this could mean giving them lunch by 11:30 AM so they're ready for a nice long nap. The extra rest from their nap will give them enough energy to play happily from 2 PM until dinner when they'll eat well again.
The slightest disruption to feeding schedules can impact sleep, throwing your entire day out of whack. So, it's worth investing time in these areas.
Fun activities
Ok, so moms don't need to stay at home every day. It's a much better idea to get up and out every day for a change of scenery. Even if you manage a 20-minute walk with your stroller, getting out is good for you! Fresh air increases the amount of oxygen in your body, strengthening the immune system and helping you to fight illness more efficiently.
Build activity time into your daily stay at home mom routine. 10 AM is a popular time to meet friends in the park, go to a baby group, or run errands. Squeezing in a morning activity like this can set you up for the day. A baby or toddler will exert some energy and be ready for a lunchtime nap when they return.
A mid-afternoon trip is another excellent opportunity to get out before dinner. If you have a combination of small and older children, taking little ones with you to school pick-up works well.
Exercise and wellbeing
From finding time to work out to making space for mental health, it can be challenging to stay balanced when you have little people in tow. It's not like you can just lace up your sneakers and head off for a run or take an hour out for a massage.
But there are ways to incorporate exercise into your stay at home mom schedule. Look for child-friendly exercise classes in your local area, or head out for an early morning run while your other half watches the kids. Alternatively, consider downloading an exercise app and working out in your garden or in front of the TV while your kids play.
Finding time for your relationship
Your stay at home mom routine can be pretty structured around chores and childraising, but don't forget to factor in time to spend with your partner. Although you might be exhausted at the end of the day, consider some of the following ideas. Arrange a babysitter and go out for dinner together, or get the kids to bed early and watch a favorite movie together. Too tired to cook? How about ordering an occasional takeout and reconnect over delicious food?
If your partner is keener than you, ask them to help with some household chores, so you have more energy to dedicate to them.
Examples of a daily schedule for stay at home mom
Check out these examples of stay at home mom schedules for inspiration:
A stay at home mom schedule with school-age children
Rebecca has three children, aged 10, 6, and 2. This routine covers taking the older kids to school, picking them up mid-afternoon, completing homework with them, and going to after-school clubs. It also includes entertaining a toddler while the older siblings are out of the house.
6:45 AM – Alarm goes off (if kids haven't woken first) for a quick shower before getting ready.
7:30 AM – Unload the dishwasher, get breakfast ready and help the children get dressed.
8:15 AM – Pack school bags, including homework and lunch.
8:30 AM – Head out to school to drop the older kids off.
8:45 – 9:30 AM – Return home and do some light housework while my 2-year-old plays. Put a load of washing on.
10 AM – 11:30 AM – Head out to play or run errands.
11:45 AM – Prepare a quick lunch at home
12 PM – Serve and eat lunch
12:30 PM – Tidy and wipe down the kitchen, dust, and vacuum downstairs. Sort laundry.
1 pm to 3 PM – uiet play with my toddler (some reading, puzzles, watching a Disney movie together). Previously, naptime was here!
3 PM – Head out to pick up the older kids from school
3:15 to 3:30 PM – Catch-up and snack-time with kids
3:30 PM to 4:30 PM – Homework with older kids
4:30 to 5 PM – Prepare dinner
5 to 5:30 PM – Eat dinner as a family
5:30 to 7:30 PM – Juggle clubs with my husband (swimming lessons, football training, drama club, karate, etc.)
5:30 to 6 PM – Clean kitchen and load the dishwasher.
6 PM – Bath, brush teeth, book, and bed for my 2-year-old.
7 PM – Bedtime for my 2 year old.
7:30 PM – Bedtime for my 6-year-old.
9 PM – Bedtime for my 10 year old.
9-10:30/11 PM – Relax with my husband.
---
A stay at home mom schedule with infant and toddler
Fo has two children, aged 2 and 2 months. This routine covers taking the toddler kids to daycare (most days) while staying at home with the newborn. This also includes managing a business.
5:15 – 5:20 AM – Alarm goes off to start morning success routine (declarations, prayer, journal, read Bible)
6:00 AM – Start breakfast (set aside breakfast for toddler)
6:30 AM – Eat breakfast while checking emails and doing quick business tasks, tidy living area
7:00 AM – Feed infant
7:15 AM – 7:30 AM – Toddler wakes up. Start morning routine (brush teeth, get dressed)
7:30 AM – Toddler eats breakfast. Refresh toddler's hair while eating and tend to infant
8:00 AM – Take toddler to daycare (if going that day). Load laundry on the way out if necessary.
8:15 AM – Take infant for a walk/begin nap
8:30 – 10 AM – Nap time starting in stroller. Finish walk, shower, and work on business tasks, make phone calls, pay bills, etc. while infant naps
10:00 AM – Feed infant. Do business tasks on phone (ex. check email, social media, etc.)
10:20 – 11:30 AM – Tummy time, playing, complete small tasks around house
11:30 – 1:00 PM – Nap time, eat lunch, business items, listen to podcast or training for self education
1:00 PM – Feed infant
1:20 PM – 2:30 PM Tummy time, playing, complete small tasks around house
2:30 PM – 4:00 PM – Nap time, "Power Hour" cleaning/chore time
4:00 PM – Feed infant
4:30 PM – Pack afternoon snacks and tidy up for picking up toddler
5:00 PM – Pick up toddler
5:30 PM – Nap time for infant. Strategic screen time & afternoon snack for toddler
5:30 PM – 6:30 PM – Cook dinner (if not leftovers), tidy up kitchen while cooking, unload laundry & fold
6:30 PM – 6:45 PM – Chat with husband, tend to infant (typically fussy), toddler goes walking with husband
7:00 PM – Feed & bathe infant
7:15 PM – Toddler bath time (husband)
7:30 PM – Dinner time as family
7:30 PM – 8:15 PM – Family time
8:15 PM – Nighttime routine for toddler
8:30 PM – Bedtime for both kids
8:30 PM – 10:30 PM – Time with husband, reset kitchen, plan for next day, night time routine
10:30 PM – Bedtime
How do stay at home moms not go crazy?
Being a stay at home mom is incredibly rewarding, and you get to be there for every single one of those super cute milestones. But without a doubt, it can be tough to cram in all the tasks you need to accomplish each day.
Yes, you might feel like you're going a little crazy at times! But that's exactly why you need a realistic stay at home mom routine to keep you on track.
Remember to stay realistic about what you can possibly achieve in a day. We're not in competition with ourselves, and there aren't any prizes for burning out. Use your stay at home mom schedule to plan your day in advance, and you'll feel on top of things. Include plenty of flexibility if your child has an off day, and above else, always know when to ask for help.