Do you want to learn how to start a WordPress blog this year?
Blogging is another way to make extra money and is typically the reason why most people want to even start.
I began blogging in 2012, well before I knew that it could become a career or a great source of passive income.
Since then, I've used my knowledge to help others start their own blogs and begin to make money online.
I want to help you do the same!
In this post, I'll cover the following steps to start your own blog.
This is a long, comprehensive blog post, so be sure to bookmark it for future reference.
1. Choose your blog niche
You can literally start a blog about any topic.
However, if you want to make money from blogging, you'll need to be a bit more strategic about your niche selection.
So what is a niche?
Your niche is a very specific and unique area of expertise or topic that you plan to make content around.
When considering the niche you want to choose, ask yourself these questions:
What do you enjoy talking about? Remember, you're going to be creating content around this topic often. That means it should be something that you're genuinely interested in talking about all the time.
Of those things, what am I an expert in? You should know what you're actually talking about. It doesn't mean that you have to have a degree in it, but you should at least have experience around the topic.
Is it something that I won't get tired of talking about for years to come? Blogging is most definitely a long-term commitment if you want it to be profitable. Will you be able to talk about this topic for years to come?
Are people interested in this topic? The point of sharing blog posts is for people to read them. So you want to choose a topic that people will actually be interested in reading.
Ultimately you want your blog topic to fall in the middle of the below Venn diagram.
Niching down allows you to find a dedicated audience who will be interested in the content that you produce. Having this loyal readership is important in successfully monetizing.
There are a few niches that are more profitable than others when it comes to blogging.
These niches include:
Motherhood (aka mom blogs)
Food
Fashion
Blogs about blogging/making money
DIY/Crafts
Personal finance
Health and fitness
Again, you can literally blog about anything; however, these are the most popular and often most profitable.
2. Register your domain name
Once you've figured out your niche and where you're going to put your blog, it's time to secure your name.
Your domain name, or website name and address, should reflect what your blog is about.
For example, the name of this blog is Mama & Money so you immediately know that I'll be talking about motherhood and money.
How to choose your domain name:
Create a name that isn't already taken or too similar to another blog – When you purchase your domain name, the site will do a search to make sure it isn't already taken. You cannot register a domain name that exists. Do the same on social media to make sure that it isn't already taken.
Choose one that's easy to remember and type – You're going to have to share your blog name and you want it to be easy to remember. No one will want to type in or try to find a confusing or long blog name. Find something short and easy to remember so that it will help with marketing.
Pick something that relates to your niche or name – Going by your name or something that includes your niche is always safe. A good example is my other blog, FoAlexander.com
Secure your domain name
There are several sites that you can use to purchase your domain name.
I've used Google and BlueHost to secure my domains in the past. However, sites like NameCheap also offer the option of securing your domain name.
I recommend doing this as you are securing your domain host. I walk through how to do this with BlueHost in the next section.
Securing your social media handles & email address
While you're securing your domain name, I recommend securing your name on social media and email as well.
For example, I have secured the social media handle @MamanMoney on all platforms that I use.
To set up your email, you can create a simple Gmail account as [email protected].
Gmail is great to start with when it comes to your email; however, it is more professional to get an email with your domain name.
An example would be [email protected].
Web hosting sites like BlueHost allows you to do this for free when you set up your account with them.
If you invest in Gsuite, you can create as many of these emails as you want for different areas of your blogging business.
This matters because as you expand your blog, you will likely need multiple email addresses for business purposes. Also, most reputable email marketing platforms will require that you have a domain email address.
3. Secure your website host
To set up your WordPress blog, you first need to secure your website host.
I currently use Bluehost and have found it to be the most user-friendly for beginners.
BlueHost is great for beginners because you can secure your domain name and get free domain email accounts with your package.
Of all that they offer, I believe that the most valuable thing is there 24/7 support. As a beginner, you'll want this support!
I have used it several times before after fiddling with my blog and messing things up.
Although you can use any website hosting platform that you choose, I'll show you how to set up your blog using BlueHost because it is the best for beginners.
If you choose another platform and need help, let me know in the comments and I can work on creating a guide the other hosts as well.
Selecting the right BlueHost plan
BlueHost offers a lot of affordable options when you're selecting your account.
Though they have pricing as low as $3.95/month (on a 3-year plan), I actually decided to go with their plus plan since I have multiple domains.
I make it a point to mention that the pricing shown is over a 3-year time frame because it can be misleading. This is the case for all web hosting sites.
So if you don't want to commit to 36 months, note that the monthly cost will be higher.
If you're just starting out with your one blog, I recommend just going with the Basic Plan.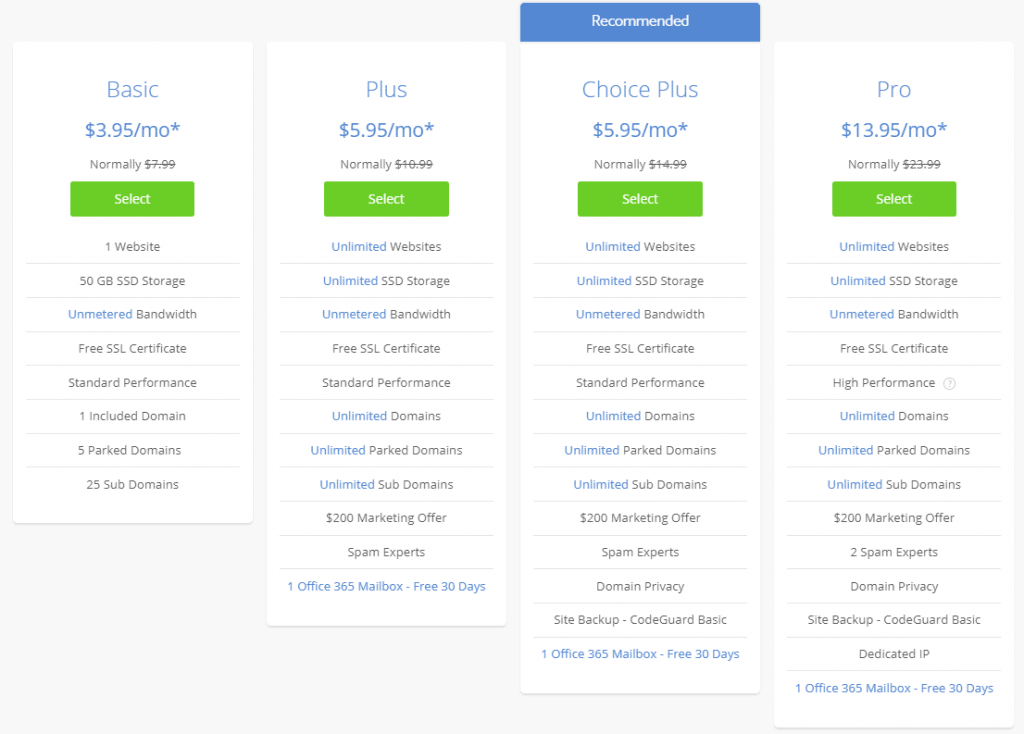 Setting up your Bluehost account
Once you're on the plan page of their website, just hit the green 'Get Started' button to select the plan that you want based on your needs.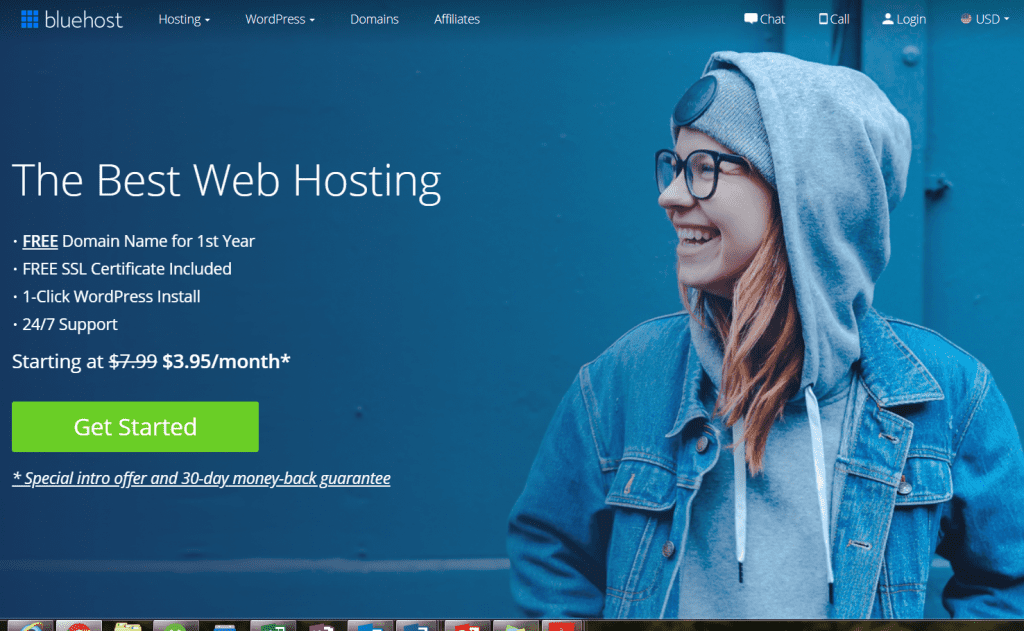 Note: You don't have to get the plan specific for WordPress. Hosting is hosting and there's nothing special about the WordPress hosting.
After you click the green 'Get Started' button, you'll come to a screen to set up your account. It'll look just like this:
If you haven't figured out what your domain is just yet, don't panic. There will be a pop up like the one below letting you know that you can choose it later.
Just click the 'Choose Free Domain Later' and you can proceed with your sign up.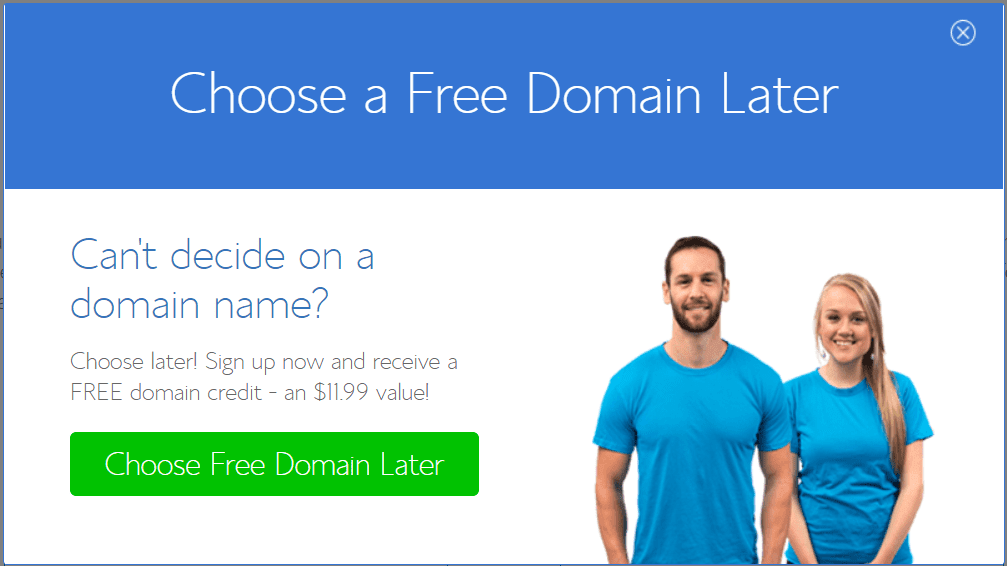 Once you either entered in your domain name or choose to skip, your next step is to enter in your account and payment information.

After you've made your payment, you're all set to start setting up your website!
4. Install your website theme
BlueHost is pretty cool in that they offer you free themes for your site.
You can choose a theme immediately after setting up your account and it will be added to your domain.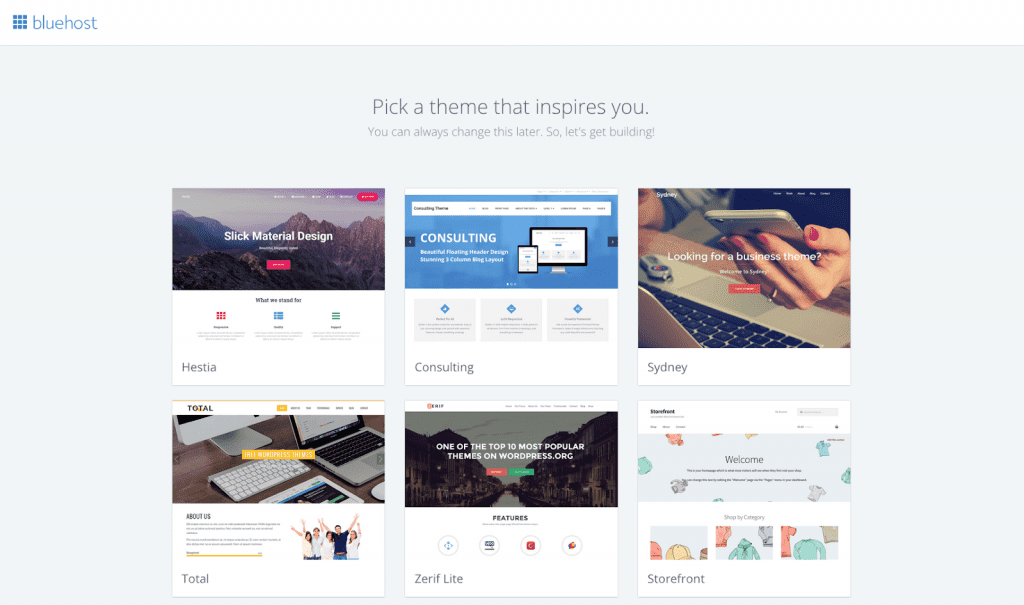 If you choose your theme from the options provided, you'll be taken through a series of prompts to set up your site.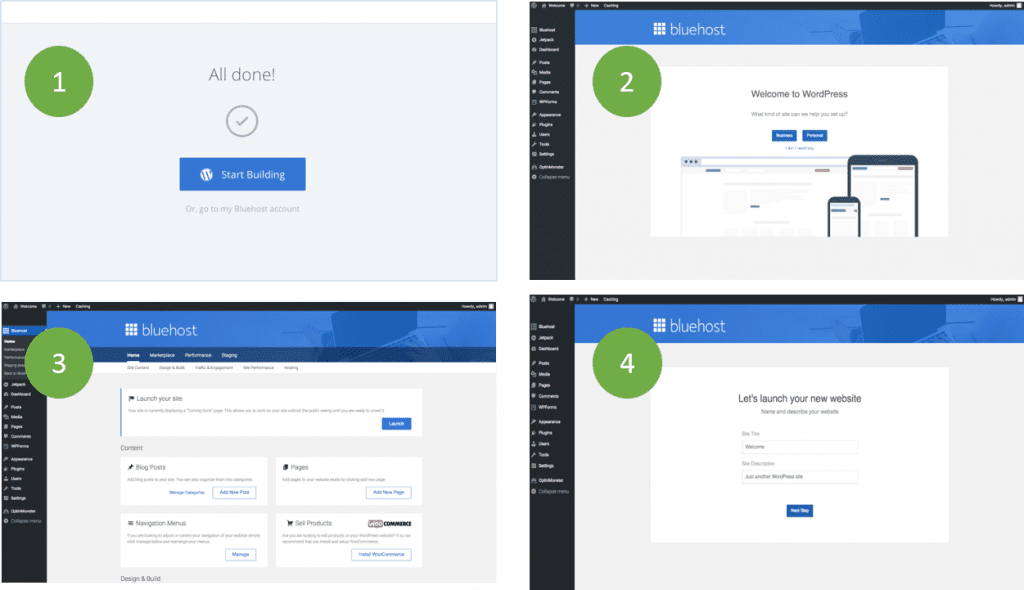 You can also wait and choose other free themes directly from your WordPress dashboard. (I'll walk you through accessing your dashboard later.)
To find a free (or premium) theme through your dashboard, simply select Appearance > Themes from your sidebar menu.
At the top, you'll see options to search Premium Theme, WordPress.Org Theme, or Upload your own.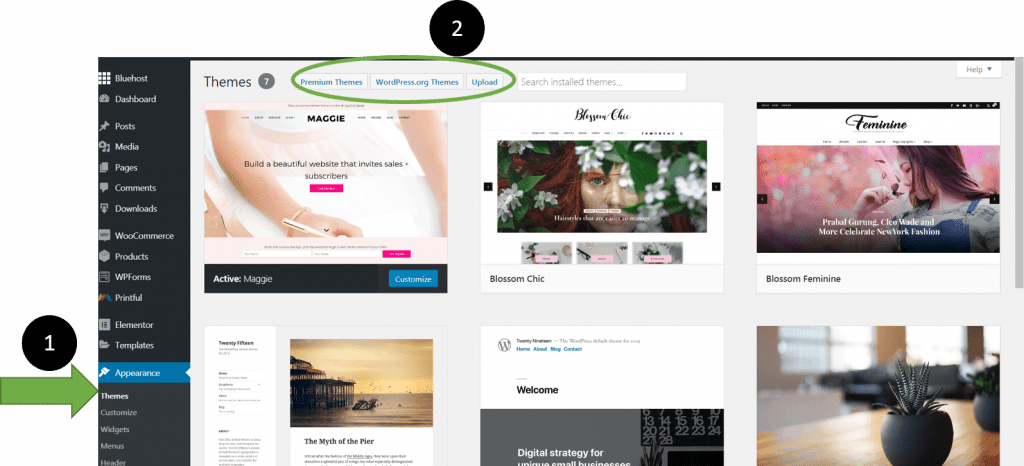 As you can see, you can have as many themes added to my dashboard as you want, but only one can be active. This is the theme that your site visitors will see.
If you're having trouble choosing, just add a few, play around with them, then make a decision on which one you'll go with before publishing your blog.
In all cases, the theme developer will provide instructions on how to install, activate, and edit the theme for your site.
Free vs Paid Templates
Here's the thing about free blog templates…Free doesn't always mean best.
Free templates come with limitations. In many cases, you have limited control of the color, functionality, and where objects are placed on pages.
If you're going to be self-hosted, you might as well have FULL control over your site.
If you want to have more options with your website's theme, I encourage you to purchase a theme from a reputable WordPress theme company.
Bluchic Themes
If you're looking for customizable themes with thorough installation instructions and support, I recommend Bluchic Themes.
I purchased my first website theme from them and had no trouble following their instructions.
I've since updated to a new theme; however, for a beginner, they are by far the best place to get a theme if you don't have any coding experience.
Honestly, there probably won't be a theme on Bluchic that you won't like.
After you purchase your theme from Bluchic, you'll get an email with instructions on how to download your template. They'll also send you a link to the installation instruction page for your theme if you haven't decided to have them install it.
What I like about their themes is that they come with video instructions. This means that you can literally watch them install a theme step-by-step.
The other thing is that if you have issues, you can put in a ticket which they'll respond to within 24-hrs. You'll also be notified when your theme gets updated so that you can have the latest version of it.
Though this company designs themes specifically for female bloggers, if you're a guy (or don't like feminine themes), don't worry! I have another recommendation for you too.
Creative Market
Creative Market is another WordPress theme marketplace that you can check out for your website theme.
The benefit of Creative Market is that they sell anything that you could imagine needing for your website and beyond.
This includes fonts, graphics, and templates. Because of the mass amount of options available, it can be a bit overwhelming when searching through choices.
Just take your time and find a reputable seller on the platform with great reviews.
Before you purchase, be sure to read the details of your purchase and FAQS. If your theme doesn't come with installation instructions and support, I'd shy away from it.
5. Access your site with WordPress blog login
After you've created your BlueHost account and have your theme uploaded, you'll need to know how to access your site in the future.
There are two ways that you can access your site. The first way is through BlueHost and the second is directly through WordPress.
Accessing your site through Bluehost c-Panel
When you log into your BlueHost account, you'll be taken to your account dashboard.
To access your site, simply click 'My Sites' from the sidebar menu. Hover over the site that you want to access and simply click 'Login into WordPress'.
This will take you directly to the backend of your website where you can create posts and make edits to your site.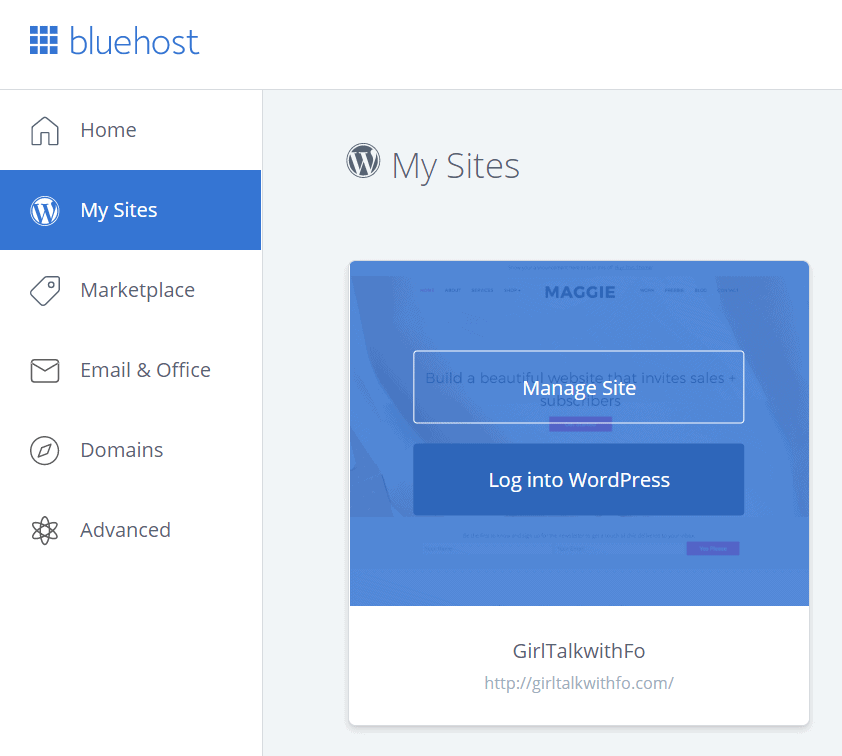 Setting up your WordPress login
You'll need to access your site using your BlueHost dashboard for the first time to set up your WordPress login.
Just login as shown above then select Users on the sidebar menu.
You'll likely already have a user set up called Admin.
In this case, select edit. This will open up the profile for the Admin user. Scroll down to the Account Management section and hit 'Generate Password' to create a new password for your account.
This block contains unexpected or invalid content.ResolveConvert to HTML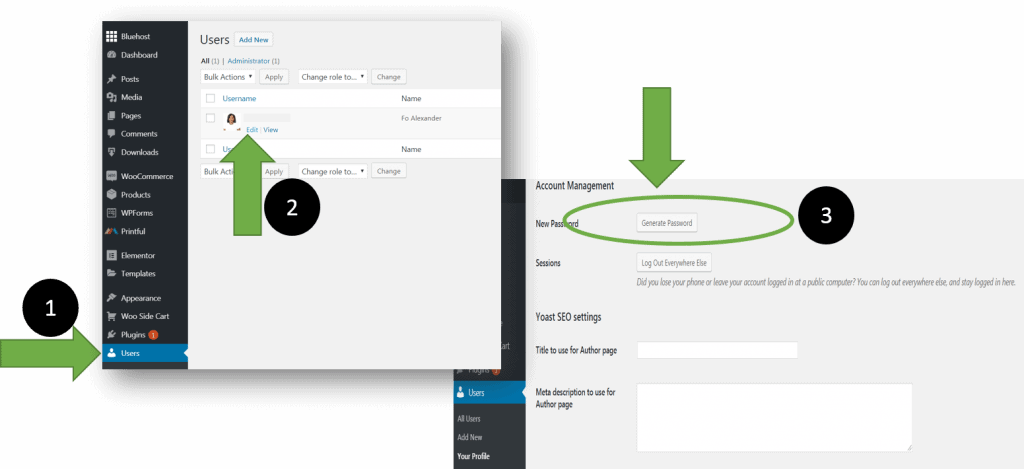 Note: You cannot change the username for your account once it's created. If you want something other than Admin, you'll need to add a new user. You'll also have the option of choosing how it will appear on your posts for the author credit. After creating your new user, you can give them admin rights and delete the original Admin user.
Accessing your site through WordPress admin login
Once you've set up your login information using the steps above, you can access your site through WordPress itself.
To login through WordPress, you'll simply type in the following URL: yourdomainname.com/wp-admin
Of course, you'll need to replace 'yourdomainname.com' with your actual website name. Typing in that URL will take you to the WordPress login portal that looks like this.
You'll type in the username that's either admin or the new one that you created along with your password. Hit 'Log in' and you'll have access to your WordPress dashboard.
Note: If you're already logged in, the URL will take you directly to your dashboard without requiring your username or password.
6. Install WordPress plugins
Once you have installed your blog theme, you essentially have a bare bones site that will still need add-ons to function properly.
Plugins allow you to have additional features on your blog that don't come with your theme.
An example is the Grow plugin that puts social share buttons on your posts like below.

There are a few must-have plugins that you'll need to install unto your dashboard. These include:
YoastSEO – This free plugin helps you optimize your posts for the reader and for SEO. Though it's not always 100% accurate, it's a great guide when composing content.
Grow – This plugin is great for allowing your readers to share your content on other social platforms. It's free to use and is very reliable.
ShortPixel – The size of the images on your blog has a huge impact on your site speed. This plugin is great for minimizing your images so that your blog can load faster. I recommend purchasing credits, as you can run out of free credits very quickly.
UpdraftPlus – Backing up your site is a must! This free plugin allows you to do so automatically. That's one less thing that you have to worry about when maintaining your blog.
How to install WordPress plugins
To install these plugins, simply select 'Plugins' from your dashboard's side menu.
Select 'Add new' and use the search box to search for the plugin that you would like to add.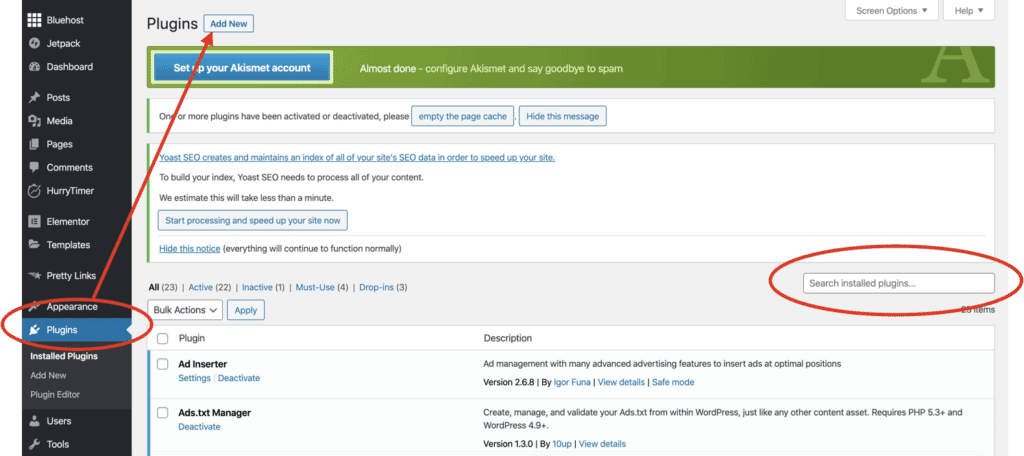 After you have installed the plugin in, click 'Activate' to activate the plugin and it's features on your blog.
7. Install Google Analytics
Google Analytics is the industry standard for tracking your blog's traffic and performance.
Google has provided an in-depth tutorial on how to do this, which I've included below.
In the video, they recommend using their plugin, Monster Insights. However, you should install the tracking code itself on your site.
There have been instances when the plugin has been down and I have lost all tracking data. You definitely don't want this to happen to you.
8. Set up your Gravatar
A Gravatar is a globally recognized avatar that is used in the blogging space.
This is the profile image that you'll see in the author's attribution of a post. (Although not all blog themes have this).
It's important to have a Gravatar image because if you guest post on another blog or even comment on other blogs, this image will appear. This is great for branding and potential traffic to your own blog.
Here's an example of my author attribution for a website that I contribute to.
To set up a Gravatar, visit Gravatar.com and select 'Create Your Own Gravatar'.
You'll be prompted to either log in with a WordPress.com account or to create a new one. Either way, be sure to use the same email that will be associated with your blog.
Once you've signed up, you can upload a high-quality headshot to use for your Gravatar.
Your image will automatically update on your blog.
Additional resources for starting a WordPress blog
Congratulations on starting your WordPress blog!
This is literally just the beginning of what can be a fun and profitable journey.
There's always something to learn about blogging and the technical aspects of your blog.
I've created a whole list of additional tried and true blog tools and resources that you must check out.
You can find them on my 25 Best Blogging Tools & Resources to Grow your Blog post.
Posts related to starting a wordpress blog