Looking for side hustles for teens?
If your child is now a fully-fledged teen, then you might be worried about their financial future, especially if they're going off to college soon.
Do they know how to manage their money, create a basic budget, or set aside savings for a road trip with friends?
Unfortunately, American teens lack financial literacy. And it shows! A recent financial skills study of 29,000 global teens found that the 1,133 American teens in the group ranked 8th at best and 12th at worst out of the 18 nations.
Financial literacy isn't taught extensively in high school, but there's a lot that parents can teach their teens at home. Side hustles for teens are one of the most effective ways to set your child off on the path to financial success.
How can teens make extra money on the side?
So, what are the best ways for teenagers to make money that doesn't clash with school, college, and other commitments?
None of us want to see our kids struggling to find time to complete their schoolwork or be so burned out that they don't see their friends.
The great news is that there are plenty of side gigs that can be completed from the comfort of home. This can be during the holidays, weekends, or any other time when they have the hours to spare.
The beauty of taking a side gig rather than a part-time job is that it is flexible, and your teen gets to set their own hours. This is also an excellent way to teach entrepreneurial spirit and the benefits of being self-employed later in life.
Side gigs typically have low or zero startup costs, so there shouldn't be a barrier to entry. If your teen has a computer for school and an internet connection, this is all they need for an online side gig. Others based in the local neighborhood can be started by making a Facebook announcement that you're available to carry out a service.
What are some good side hustles for a teen?
As with anything related to work, choosing the right side gig will depend on your individual teen. This starts with their age, as some jobs are better suited to those aged 18 and above. For example, if you need to register with a freelancing platform, some may have a minimum age requirement to sign up due to legal restrictions.
Don't worry if you're younger than this, though – there are plenty of ideas if you're interested in side hustles for high schoolers too.
Let's get started on this epic list of the best side jobs for teens.
1. Social media manager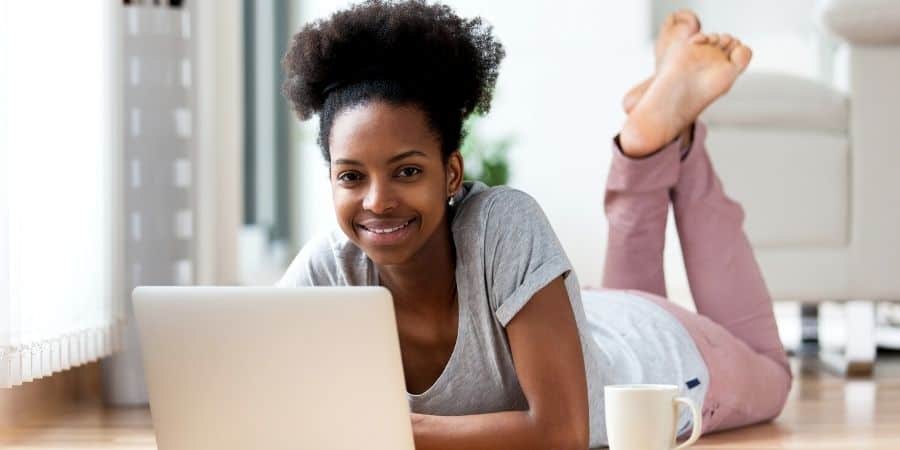 If your teen spends most of their day on social media, then they may as well make some money off it, right?
Businesses are crying out for help maintaining their social media accounts. A manager role involves posting content to their Facebook, Twitter, Instagram, LinkedIn, or Pinterest accounts and regularly engaging with followers.
A teen with an impressive social media following of their own can easily convince a business owner that they know what they're doing. There are also free courses available through Udemy or similar to flesh out basic skills.
To find work in this area, your teen can pitch their services to small businesses in your local area. Or they can check out platforms like Upwork to discover opportunities for social media managers on a global level.
With a little experience, your teen can easily make $50 an hour from this type of work.
2. Become an influencer
This is another side hustle for teens who love to use social media. It's most suited for people who have a large following on platforms like Instagram, which has the most significant commercial following for teen influencers to tap into.
First up, work out which category your teen falls into:
Nano influencers have less than 10,000 followers
Micro-influencers have 10,000 to 100,000 followers
Macro influencers have 100,000 to 1 million followers
Mega influencers have over 1 million followers
The great news is that even nano influencers in niche areas like fashion or beauty can make some money if they are committed to building that following and posting regularly. With a decent level of engagement, you can register with an influencer network and learn how to partner with brands. This involves sharing links on social accounts to share with followers and receive payment in return.
3. Monetizing YouTube channels
The first thing you need to know about teens making money from YouTube channels is that the channel must be categorized as either 'Made for Kids' or that the content is 'Suitable for ages 13 and older'.
Once you've got that sorted, there's a checklist for your teen to go through before you can monetize your YouTube channel.
They need at least 1,000 subscribers
Their videos must have generated at least 4,000 Watch Time hours during the last year
They should have an AdSense account set up
They must comply with all of YouTube's policies and guidelines
Once you're ready, your teen can apply to the YouTube Partner Program to start receiving payment for their video content.
4. Live streaming
Live streaming monetization is similar to making money from YouTube. An example is signing up to Twitch.tv, a platform where you get paid while an audience watches you playing video games.
It might take a couple of years to build a following, but with enough subscribers, you can expect your teen to earn $2.50 per month from each subscriber. That's pretty easy money, right?
Twitch.tv allows teenagers to join its live streaming platform, and eventually, they could end up being paid as an audience watches them play video games. Sounds pretty cool, right? Get started by signing up for Twitch and setting up a personal brand, so followers know what your teen is all about.
5. Blogging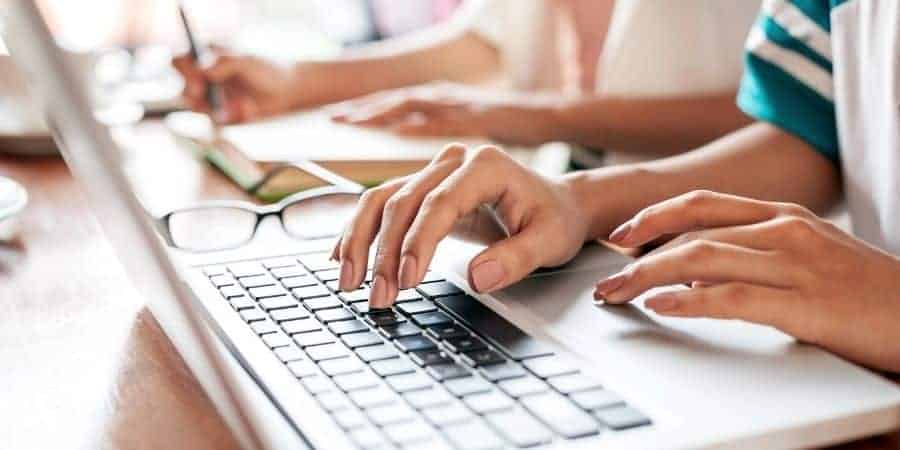 Do you have a creative writer in the family? In that case, blogging is one of the best side hustles for teens. Not only will they be constantly developing their writing skills, which can set them up for college or a career in freelance writing. But they can also monetize their blog and earn passive income in the months and years to come.
That's right! Every blog post your teen writes has the potential to make money from ads and affiliate income.
To get started, you'll need to buy a domain name and hosting that are relatively inexpensive. Through Bluehost, it costs less than $3 per month for a WordPress site with a free domain name included too.
Once your teen has started blogging, they can sign up to affiliate programs like Amazon, include the links in their posts, and receive referral income through them.
6. Freelancing using online platforms
Freelancing is a great way to build a portfolio of client work – this is excellent for work experience, college applications, and future job interviews.
Freelance writing is one way for your teen to make money, but if they're skilled in other areas then graphic design, video editing, web programming, or even bookkeeping are all popular.
You can set up their freelance website to attract clients, or you can sign up with a platform like Upwork that will connect with people looking for your service. Be aware that teens must be at least 18 to sign up.
7. Selling crafts
If your teen has a favorite crafting hobby, they could make money from their creativity. There's bound to be a market for their work – from knitting and sewing to making printables or handmade jewelry.
People are often willing to pay more for a unique product that they can't find anywhere else. Teens can offer these at a yard sale, local market, or advertising their crafts on Etsy or social media.
If their crafts business takes off, they can create a waitlist and take orders before making the product.
8. eBay/Marketplace flipping
Have you ever heard the phrase 'what's one man's trash is another man's treasure?' If you have unwanted goods that are desperate for a new home, then your teen can bring in some extra cash by using Facebook Marketplace or eBay.
Both will charge a selling fee but are a simple money maker for teens and help to introduce simple business skills like:
Net and gross pay
How to calculate expenses
Sales tactics
Just make sure that they don't list any of your prized possessions by mistake.
9. Playing free games
This is one of the more popular side jobs for teens, as many play games online in their spare time.
Game apps vary in terms of how they choose to payout. Some will offer free gift cards, while others use coins for in-app purchases or even PayPal deposits.
10. Taking surveys
This is one of the easiest ways for teenagers to make money. All they really need is a phone or tablet and an email address.
Marketing companies are crying out for opinions and data from consumers, so they will pay survey-takers to answer simple questions on products or brands.
Some of the best paid survey companies like Survey Junkie allow you to register from 13 years old. Others have referral programs, meaning that teens can make extra cash when their friends sign up.
11. Pet sitting and dog walking
If your teen is super comfortable with your family pet, dog walking or pet-sitting could be a great gig.
Many pet owners are willing to pay good money for someone reliable who will exercise their pup or spend time with them during the day. There has been a recent surge in demand for pet sitters as thousands of Americans who adopted pets during the first stage of the pandemic are returning to the office.
Your teen can ease the pet's separation anxiety and spend the day getting fresh air and exercise with their four-legged friend.
Pet sitters and dog walkers don't need anything to start and can make up to $10-15 per half hour.
12. Washing cars
No one wants a dirty car but washing them isn't a job that many vehicle owners love dedicating time to.
And drive-through car washes have a bad reputation for not being eco-friendly. So the handwashing approach could be a winner for your teen.
There are some upfront costs in terms of cleaning solutions and equipment if you want to offer a professional service. At a minimum, you'll need gloves, detergent, and drying towels. If you want to offer interior cleaning, a handheld vacuum would be useful.
Teens can expect to earn $5 to $20 per vehicle depending on the quality of clean offered. If they earn a decent reputation, there's plenty of money to be made.
13. Cleaning windows
This is similar to car washing as there are always plenty of dirty windows that need to sparkle. The only drawback to this side hustle for teenagers is if they're scared of heights and don't want to climb a ladder.
Your teen can offer their window cleaning services to domestic clients in the local area and commercial clients who might pay slightly more.
They will also need to provide their own cleaning supplies for this gig, including a ladder or long poles for reaching second-story windows.
14. Garden maintenance
Gardening is a suitable gig for teens of all ages to offer to anyone in the neighborhood. Busy professionals often don't have the time or energy to dedicate to maintaining their own outside space, while older people aren't mobile enough.
That's where your teen can step in and offer anything from mowing the lawn and weeding the patio to painting fences and clearing leaves. There's usually plenty of work to be done whatever the weather and the work is highly flexible, fitting in well around school.
15. Shoveling snow
There might be snow to shovel when there aren't any lawns to mow. In colder weather, older people in your area rely on this type of service, along with clearing leaves so they can safely walk from their porch to their car or street.
Keep an eye on the forecast to see when snow is due and grab a shovel. Your teen could even go door to door to offer this as a service.
16. Delivering newspapers
This traditional side gig usually means an early start for your teen. It's also one of the more suitable side hustles for high schoolers as it's flexible and can be fit in before the start of the school day.
You won't need anything to get started, just a pair of sneakers and maybe a bike. Check-in with your local paper and ask if they have any vacancies.
17. Delivering flyers
Local businesses know the value that print marketing still holds, and they receive a lot of inquiries after distributing flyers directly to homes.
Teens can make money from this marketing model by delivering the flyers. As with newspaper delivery, this is a flexible gig that works well at weekends or before/after school.
You can even batch deliver flyers from several companies at once to make the most money.
18. Earn money from recycling
As the world becomes more eco-conscious, recycling is big business. Some states will even offer you cash back when you do your part and return bottles and cans.
For example, California pays 10 cents per large can or bottle and 5 cents for those under 24oz.
19. Babysitting
This is a popular job for teens, especially for girls, and the average hourly rate is $17, according to recent Sittercity data.
It can be daunting to leave a teen in charge of children they've never met before, so it's often best for them to start out sitting children of family friends.
With a bit of experience built up, your teen can then seek out further local babysitting opportunities. For teens aged 14-17, you can apply for a parent-monitored Care account on their behalf.
20. Helping people to pack and move house
Moving houses is labor-intensive and time-consuming. For people who aren't physically able to do their own packing and lifting, teens can step in and help out.
Home-owners usually see this as a cost-effective alternative to hiring expensive removal companies for the same service.
To advertise, use a platform like TaskRabbit that matches taskers and clients in over 60 US cities. If it doesn't cover yours, or your teen doesn't meet the minimum age requirement of 18, you can also use social media to let locals know that they're available for hire.
21. Become a photographer
Does your teen have a knack for taking amazing photos? If they're equipped with a digital camera or even a smartphone and some editing software, this is a great money-making hobby for your teen.
Some of the best websites to sell your photos on include:
Alternatively, your teen could market their skills as a local photographer for birthdays, newborn photography, weddings, and cake smash shoots.
22. Dress up as a party character
Kids love seeing memorable characters at the shopping mall, their favorite pizza place, or as the main attraction at a birthday party.
If your teen is outgoing and loves to have fun, then invest in a couple of popular character costumes like Princess Elsa or Captain America and let parents and local business owners know that they're available for hire.
Teens can make between $50 to $200 for an hour's work which is incredible money for a side gig. They could invest some of that money back into costumes to expand their party wardrobe.
23. Offer tutoring for kids
If your teen gets good grades, then tutoring other kids struggling in a subject is a natural step to take.
There aren't any startup costs since both tutor and tutee will be armed with the educational materials they need.
Teens can advertise their tutoring services in the following ways:
Local library
School paper
Community Facebook groups
Word of mouth
If you want to earn more money, your teen can try teaching more than one child at a time in a tutor group setting.
24. Help older people with tech
Seniors find it hard to keep up with the fast pace of technology – from setting up Alexa to resetting their router, there's a lot to understand.
If your teen is a tech expert and can patiently guide someone on how to use the latest devices, then helping seniors with their tech needs is a wonderful service to offer.
Many parents will know seniors that could benefit, so word of mouth is an effective advertising tool here. Your teen can charge upwards of $20-30 per hour to help seniors with their tech.
25. Design t-shirts
If your teen has solid graphic design skills, then t-shirt design and printing can be a profitable gig for them.
The first job is to find a niche to target – for example, sports teams, college clubs, or even birthday parties.
Your teen can either take custom orders and create bespoke designs for clients. Or, they can design t-shirts and advertise them for sale on some of the following websites:
Once your teen has mastered the art of t-shirt design, they can also branch out into other merchandise, including hoodies, bags, and baseball caps.
Advertising your teen side hustle
Once your teen has chosen a side hustle, you can help them advertise their services. Some of the best ways to promote a side gig include:
Social media – post on your social accounts and use relevant hashtags for maximum exposure.
Flyers – to appeal to local clients, print off simple flyers and distribute them throughout the neighborhood.
Word of mouth – help your teen out by telling your friends, neighbors, work colleagues, and fellow parents that they're taking on work.
Text/WhatsApp – if you belong to any WhatsApp groups or Slack channels, spread the word here.
Free accounts on freelancing platforms – if your teen is setting up as a freelancer, help them get set up on freelancing platforms. They may need assistance if asked for tax details etc.
Get started with these 25 best side hustles for teens
If you're keen for your teen to start making their own money, learning about financial literacy, and taking more responsibility for their budget, then getting a side hustle is an important step to take.
The best side hustles for teens are those that fit easily around schoolwork, their social life, and other sports or leisure commitments. From jobs in the neighborhood to freelancing for international clients, there are so many options available for teens. Help yours get started today!