*This post may have affiliate links, which means I may receive commissions if you choose to purchase through links I provide (at no extra cost to you). Additionally, as an Amazon Associate I earn from qualifying purchases. Please see my Privacy & Disclosure for more information.
When I started selling digital products, I had no intention of selling printables on Etsy. I only knew Etsy to be the go-to place for handmade items and custom shirts, not printables.
I wish I knew sooner what I know now. Etsy is one of the best places to sell printables and other digital products online.
Since realizing this and putting my full effort into starting an Etsy shop to sell printables, I've made over $1,000 in passive income. Selling printables on Etsy is among my top passive income sources online this year.
So in this post, I'm going to share exactly how you can make money selling printables on Etsy as well!
But, just in case you're new to digital products and don't know what a printable is, let's start there…
What are printables?
Printables are a type of digital product that is created with the intention of being printed. An example of a printable would be a planner sheet or coloring page. They are created digitally, saved as a pdf or picture file, and can be printed at home or at a print shop.
If you're new to creating digital products, printables are the best place to start. They are easy to create and a great source of passive income.
Unlike other digital products, like spreadsheets, you don't need any special skills or experience to make them. There literally are templates and graphics that you can use!
Can you make money selling printables on Etsy?
Yes. You can absolutely make money selling printables on Etsy. I've made over $1,300 passively from the digital products that I sell in my shop, which include printables.
The key to making money selling printables is creating a product that people actually want and will use.
So the real question that you need to ask is, "What types of printables make the most money on Etsy?"
I'll answer that a little later when I share the best products to sell.
Why sell printables on Etsy?
There are a number of sites that you can leverage to sell printable, so why Etsy? Well, there are a few reasons why I would recommend selling printables on Etsy.
Built-in customers
If you don't have a website, then Etsy is one of the best places to sell digital products.
Since it is a marketplace, you have a built-in audience that you will be able to market your products to. This is extremely important if you don't have a website or an audience on social media. What's even better is that it's free to sign up and start selling your products.
Passive income
Digital products, in general, are a great source of passive income. This means that you do not have to trade your time for money. Your products can literally sell while you're asleep.
Etsy makes it easy for you to earn this passive income because it handles the transaction and delivery of your products to the customer. So you literally don't have to do anything once your product is uploaded. That's the ultimate way to make passive income.
Easy advertising
Ever tried to set up a Facebook ad or even an ad on Pinterest? Trust me, it's complicated.
When it comes to advertising on Etsy, the work is done for you. All you have to do is set your budget and they push your product out to the masses.
Why is this important? Well, you want to reach as many people as possible when it comes to selling your printables on Etsy. Advertising helps with that.
The other great thing about Etsy's advertising is that it is low cost. I've spent in the hundreds of dollars advertising on Pinterest and Facebook and it didn't really equate to sales. With Etsy, you can spend as low as $1 per day and see exactly how your ad is performing as far as sales.
How to create a printable to sell on Etsy
Like I mentioned earlier, creating printables to sell on Etsy is really simple. Not only can you design them on your own using sites like Canva, but you can also purchase pre-made products and resell them.
NOTE: In order to resell items that have been designed by someone else, you'll need to have a commercial use license for it.
My favorite tools that I use to create digital products include:
I have a whole list of the products that I use in my Digital Product Starter Tool list that you can grab for free!
Creating a printable in Canva
The great thing about using Canva is that it's not only free but there are so many pre-sized documents that you can choose from for your design.
Before selling items made in Canva, it's important that you read their licenses, copyright, and commercial use policy.
If you haven't signed up for Canva yet, go ahead and start your free account. Once you've done that, follow these easy steps to create your printable!
From your homepage, select 'Documents' then 'Letter'.
Note: Letter is the standard 8.5 X 11 document size for the US. If you would like a different size, you can create a custom size.
Select from the templates provided and begin customizing, or start designing from scratch using the provided elements, photos, and other tools.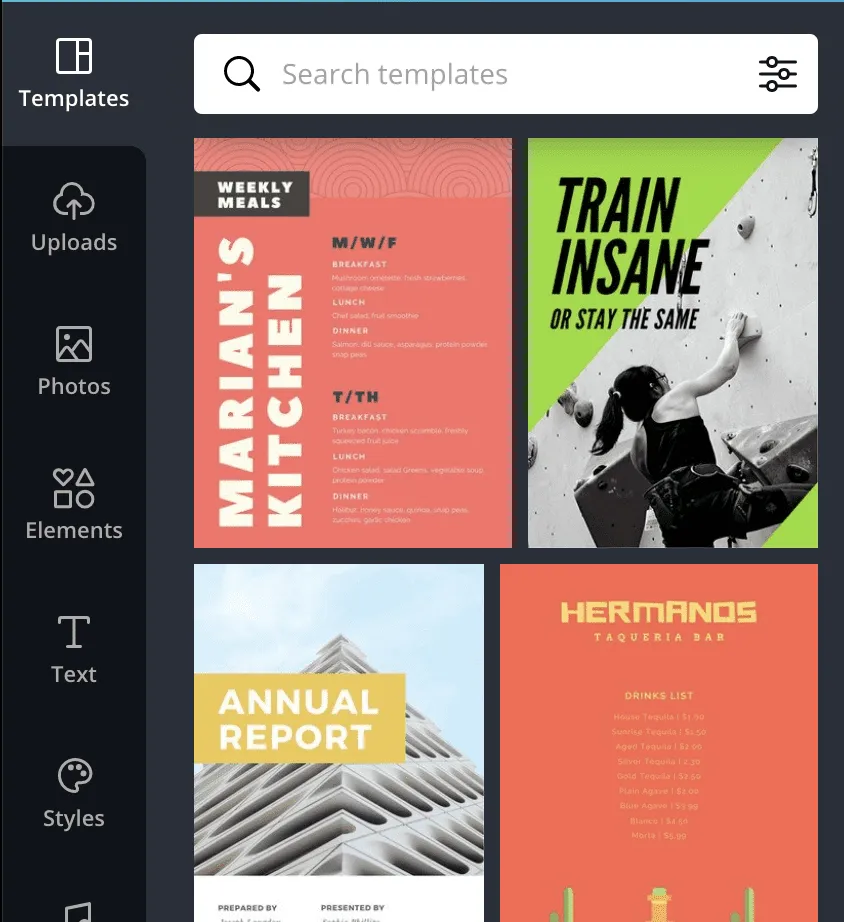 Once you're done creating your document, download it as a PDF for Print file. This will save the file to your computer.
⏩ Learn more about making passive income selling printables and other high-earning digital products.
What printables sell best on Etsy?
Earlier I mentioned that the real question that you need to be asking is, "What types of printables make the most money on Etsy?" Here is a list of printables that sell really well on Etsy and could make you a significant amount of money.
Wedding related printables
Anything wedding-related has the potential to be a top earner on Etsy. When it comes to printables, that includes:
Bridal shower games
Bachelorette party games
Wedding signs
Wedding planners
Wedding favors
Wedding advice cards
Table numbers
Wedding checklist
Baby related
The same holds true for baby-related items. Here are a few ideas:
Baby shower games
Baby shower signs
Baby shower favors
Birth plans
Pregnancy journals
Art printables with quotes
Art printables are another great option for printables to sell on Etsy. This is simply artwork that is sold to a customer who will print it at home or at a print shop.
You are literally selling them the art file as a jpg or pdf. You don't have to worry about shipping the artwork to them. This type of product covers a wide range of things, but quotes and watercolor art tend to do well.
Planners
People love planners, especially when the planner sheets can be printed and reused over and over again. So, consider making a daily planner sheet or even a monthly calendar.
Coloring pages
Coloring pages have made a huge comeback in recent years, especially for adults. You can sell these pages for $1 or more for others to print and enjoy. Moms find these especially useful when looking for activities for their children.
How to price your Etsy printables
So exactly how much do printables on Etsy sell for? Most single or two-page printables sell anywhere from $2-$5. However, when multiple printables are bundled together, they sell for over $10+ dollars.
The best way to determine which price is right for your product is to compare it to your competitors and simply try different price points.
With Etsy, you can run sales on items. So consider pricing your printable on the higher end and see how it performs. If sales are slow, run a sale and see if it increases your purchases.
How to sell printables on Etsy
Create your product and save it as a pdf
Create a mock-up to use for your product listing image. Here's an example of what a product mockup looks like.
Create your listing & upload your file
When creating your product listing, you will need to select 'Digital' as your product type. This will allow you to be able to upload a digital file that will be delivered to your customer after purchase.


Publish your listing and start marketing your product!
Marketing your printable
Now that you have created your printable and uploaded it to Etsy, it's time to market it. Though Etsy will help get you organic traffic, if you want to see sales you'll need to market.
To help market my products, I like to leverage Etsy ads. Again, you can run ads for as low as $1/day and Etsy will bring traffic to your product.
Pinterest is another great way to market your product for free. You can create pins that lead directly to your product where people can purchase it.
Don't forget to mention your products on your social media pages, on your website (if applicable), and to your email list if you have one.
How to make $30,000 selling stickers on Etsy
Now that you know how to get started with printables on Etsy, it's time to beef up your Etsy shop!
In fact, you can make a full-time salary on Etsy. The earning potential is literally endless.
Want to know how Shay made $30,000 PART TIME on Etsy! Read her story on how to REALLY make money on Etsy!
Posts related to Etsy
Latest posts by Fo Alexander
(see all)