If you're a believer, then you understand that scriptures can help you navigate life's hardships. But did you know that there are scriptures on finances?
The Bible tells us exactly what God says about finances. We have powerful scriptures for finances right at our fingertips that you may not even be aware of.
In this post, I'll share over 30 scriptures on finances that you can use for reference. If you're struggling with your finances or just need encouragement, meditate on the Bible verses around money below.
Also Read: Powerful Breakthrough Prayers for Finances
30+ Bible verses about finances to be a better steward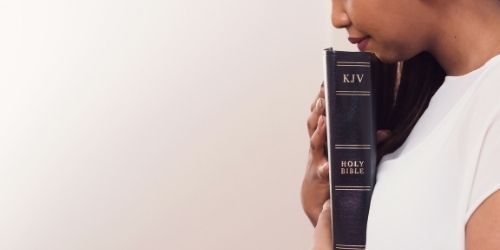 The following scriptures on money are provided to give you insight on what God says about money. Use them to help guide you as you learn how to manage your finances the way that God intended.
Remember that faith without works is dead, so put some action to these verses. So I will also include additional resources to help you manage your money.
Note: Unless otherwise noted, all scripture quoted is from the New International Version.
Bible verses about stewardship of money & money management
Go to the ant, you sluggard; consider its ways and be wise! It has no commander, no overseer or ruler, yet it stores its provisions in summer and gathers its food at harvest. Proverbs 6:6-8
Be sure you know the condition of your flocks, give careful attention to your herds; for riches do not endure forever, and a crown is not secure for all generations. Proverbs 27:23-24
A faithful person will be richly blessed, but one eager to get rich will not go unpunished. Proverbs 28:20
Suppose one of you wants to build a tower. Won't you first sit down and estimate the cost to see if you have enough money to complete it? Luke 14:28
So if you have not been trustworthy in handling worldly wealth, who will trust you with true riches? Luke 16:11
Additional resources to help you manage your finances
Bible verses about debt
You will lend to many nations but will borrow from none. Deuteronomy 28:12b
The rich rule over the poor, and the borrower is slave to the lender. Proverbs 22:7
Do not be one who shakes hands in pledge or puts up security for debts; if you lack the means to pay, your very bed will be snatched from under you. Proverbs 22:26-27
The wicked borrow and do not repay, but the righteous give generously… Psalm 37:21
Let no debt remain outstanding, except the continuing debt to love one another, for whoever loves others has fulfilled the law. Romans 13:8
Additional resources to get out of debt
Bible verses about giving money
"You shall not charge interest on loans to your brother, interest on money, interest on food, interest on anything that is lent for interest. Deuteronomy 23:19, ESV
Each of you must bring a gift in proportion to the way the LORD your God has blessed you. Deuteronomy 16:17
Whoever is kind to the poor lends to the LORD, and he will reward them for what they have done. Proverbs 19:17
Give to the one who asks you, and do not turn away from the one who wants to borrow from you. Matthew 5:42
Give, and it will be given to you. A good measure, pressed down, shaken together and running over, will be poured into your lap. For with the measure you use, it will be measured to you. Luke 6:38
In everything I did, I showed you that by this kind of hard work we must help the weak, remembering the words the Lord Jesus himself said: 'It is more blessed to give than to receive.' Acts 20:35
Anyone who does not provide for their relatives, and especially for their own household, has denied the faith and is worse than an unbeliever. 1 Timothy 5:8
Bible verses about saving money
The wise store up choice food and olive oil, but fools gulp theirs down. Proverbs 21:20
He who gathers in summer is a son who acts wisely, But he who sleeps in harvest is a son who acts shamefully. Proverbs 10:5
Additional resources to save money
Bible verses about investing
Remember this: Whoever sows sparingly will also reap sparingly, and whoever sows generously will also reap generously. 2 Corinthians 9:6
Well then, you should have put my money on deposit with the bankers, so that when I returned I would have received it back with interest. Matthew 25:27 (Read the entire parable here)
Additional resources for investing
Bible verses about money blessing
The LORD will open the heavens, the storehouse of his bounty, to send rain on your land in season and to bless all the work of your hands. Deuteronomy 28:12a
Bring the whole tithe into the storehouse, that there may be food in my house. Test me in this," says the LORD Almighty, "and see if I will not throw open the floodgates of heaven and pour out so much blessing that there will not be room enough to store it. Malachi 3:10
Bible verses about financial hardship
A psalm of David. The LORD is my shepherd, I lack nothing. Psalm 23:1
I was young and now I am old, yet I have never seen the righteous forsaken or their children begging bread. Psalm 37:35
Cast your cares on the LORD and he will sustain you; he will never let the righteous be shaken. Psalm 55:22
Do not be anxious about anything, but in every situation, by prayer and petition, with thanksgiving, present your requests to God. Philippians 4:6
And my God will meet all your needs according to the riches of his glory in Christ Jesus. Philippians 4:19
Additional resources to help prevent financial hardship
Bible verses about wealth and prosperity
For I know the plans I have for you," declares the LORD, "plans to prosper you and not to harm you, plans to give you hope and a future. Jeremiah 29:11
A good person leaves an inheritance for their children's children, but a sinner's wealth is stored up for the righteous. Proverbs 13:22
One who oppresses the poor to increase his wealth and one who gives gifts to the rich–both come to poverty. Proverbs 22:16
Do not wear yourself out to get rich; do not trust your own cleverness. Proverbs 23:4
But remember the LORD your God, for it is he who gives you the ability to produce wealth, and so confirms his covenant, which he swore to your ancestors, as it is today. Deuteronomy 18:8
When the LORD your God brings you into the land he swore to your fathers, to Abraham, Isaac and Jacob, to give you–a land with large, flourishing cities you did not build, The LORD will open the heavens, the storehouse of his bounty, to send rain on your land in season and to bless all the work of your hands. You will lend to many nations but will borrow from none. The LORD will make you the head, not the tail. If you pay attention to the commands of the LORD your God that I give you this day and carefully follow them, you will always be at the top, never at the bottom. Deuteronomy 28:10-13
Additional resources on wealth
In closing
These are just some of the many scriptures in the Bible concerning money. Use these as a starting point to help you manage your money in a biblical way!