With inflation at an all-time high, you're probably looking for ways to save money on groceries.
Food prices have increased as much as 10% in 2022 alone!
This means that many families, including my own, have been looking for ways to save money at the grocery store.
You don't have to turn into a crazy coupon lady to get some savings.
Instead, here are some practical and less time-consuming ways to cut back on food costs in your home.
How to Drastically Lower Your Grocery Bill & Save Money on Groceries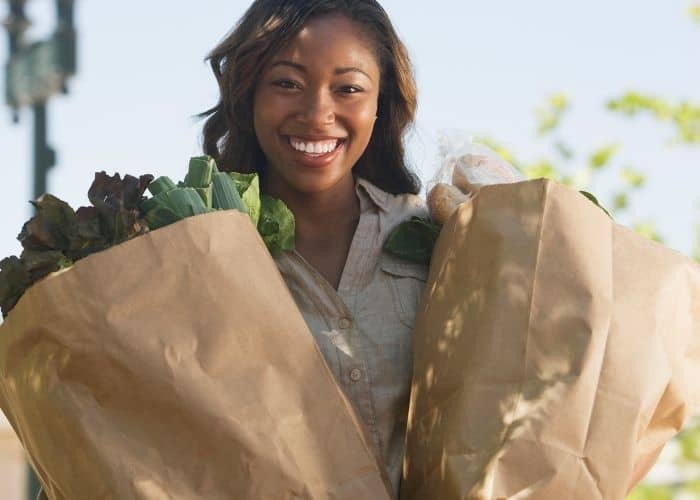 1. Only buy what you need
The first thing that you can do to save money on groceries is to only buy what you need.
Buying excessive groceries is not only a waste of money, but it can also contribute to food waste.
This becomes an issue for foods that have a short lifespan– like fresh fruits and veggies.
Only buy these items if you know that you will use them in the coming days. The best way to know what to buy so that you aren't wasting is to have a meal plan.
2. Meal plan
Having a meal plan is not only great fo saving money on groceries, but it can help you manage your home and time more efficiently.
There's nothing worse than trying to scramble to make a meal at the last minute. With a meal plan, you can avoid this chaos.
A simple menu planner can help you organize and plan out your meals for the week. That way, you know exactly what you need to purchase at the grocery store.
Short on ideas? You can always go to sites like Pinterest to find recipes that can help you plan your meals for the week.
3. Meal prep
Once you have a meal plan, the third tip that I recommend is to meal prep.
Meal prepping is when you prepare and store your food in advance of the week. All you have to do is reheat it if necessary, and you don't have to worry about cooking meals that day that night.
This really helps because you don't have to think about your meals, you save a lot of time, and you also aren't going out and spending more money on fast food because your meal isn't ready.
With meal prepping, you aren't wasting more money on buying additional groceries or additional fast food.
Creating freezer meals is another way that you can prep in advance to save time and money.
Meal Prepping Tips
When meal prepping, choose a day when you have a few hours to prep and store your meals for the week. This is likely a Saturday morning or Sunday evening.
This is what my fridge looks like after meal prepping for the week.

MY FAVORITE MEAL-PREPPING TOOLS
There are a few things that make meal prepping a lot cleaner and easier. Here are a few tools/products that I recommend for meal prepping.
Ziplock Bags – These come in handy when you're portioning out things like snacks or need to store items that will need to be cooked later. I prefer the store brand, but you can choose whatever works for you.
Glass storage containers – After working with a health coach, I tossed my plastic Tupperware. Not only do they stain and deteriorate easily, but they aren't good for your health. Glass is a durable option that makes prepping and cleaning up easy. Here's the set that I purchased.
Vegetable spiralizer – I use this tool to spiralize my veggies and it's one of my favorite kitchen tools that I'd recommend. It literally takes a few minutes and you have homemade hashbrowns, coleslaw, or whatever else your taste buds desire. We received this one as a wedding gift.
Food processor – Having a food processor is a must-have for chopping up food like salsa or guacamole. It's also great for dicing things like onions. I recommend this particular one because it can do multiple things—including smoothies.
4. To take advantage of BOGO sales
BOGO sales are great for non-perishable items that you can store in your pantry or cupboard.
Consider things like rice, flour, and pasta are things that don't necessarily expire. You can keep those on hand.
The other great thing about BOGO sales is that you don't have to get both items.
A lot of times BOGO sales allow you to get one item for half the price.
So if you don't need multiple of something just get one for 50% off. That's another way that you can save money on your groceries.
5. Tailor your menu around sales
If you grab the weekly sales newspaper from your local grocery store or go online to see what sales they're having, you could essentially plan your meal around the sales that are happening.
This is a great way that you can save money on your groceries because you are literally only eating things that are on sale.
So check out the weekly sales page for your grocery store or go online to see what sales are happening and plan your meals around that.
6. Check your pantry before shopping
Make sure you do an inventory of what you already have so that you aren't wasting money on things that you already have.
See what you already have for your meals that you've planned so that you aren't buying extra food or extra groceries that you don't need.
7. Eat leftovers
When you're thinking about your meal plan and thinking about those things that you could cook, consider some meals that can last more than one day.
Casserole dishes are great items that can yield leftovers.
This will save you a little bit more money on your groceries.
8. Use cashback apps
There are apps that allow you to scan your grocery receipt to receive cashback or other rewards, like gift cards.
In the case of these apps, you're not necessarily saving up front.
Ultimately, you are saving money because you're getting cash back or you're getting a free gift card or some kind of incentive.
---
5 Best Apps to save on Groceries
Here are some apps that you can download and use to get cashback on your groceries
Ibotta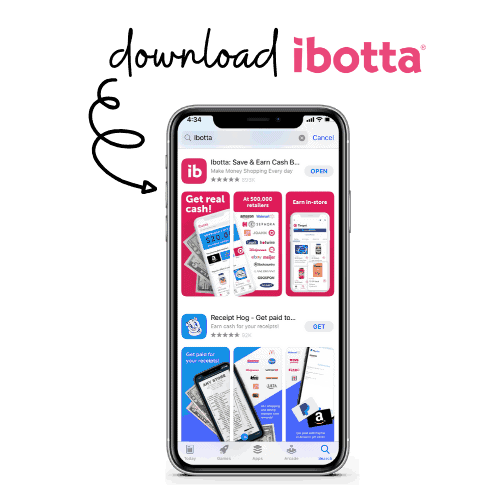 This app is most known for its strong grocery store partners. Ibotta partners with over 1,500 stores that you can select from when using the app to make a purchase. They even carry regional grocery stores like Ingles, Bi-Lo, and Food Lion.
You will receive a set amount of cash back for items that have deals within the app. For instance, you may be $1.00 back for purchasing a specific sports drink. Once you scan your receipt, it will identify these matches and credit the cashback to your account.
You can also link the app to your loyalty accounts for different stores. So instead of scanning your receipt, it can track your purchases through those accounts.
The app currently has a $20 threshold to transfer your funds to your PayPal, but you'll find that it's not too hard to get to that amount.
Check out this indepth post on how ibotta works to learn how you can start using this app to save.
Fetch rewards
Fetch Rewards is another app that you can use to earn from your grocery purchases. Although this app doesn't offer cashback, you can accumulate points to go toward gift cards to places like Amazon and Target.
This is a great way to also save money on gifts. If you accumulate enough points, your can exchange for a gift card that can be used to help save money for Christmas.
Rakuten
Formerly Ebates, Rakuten is another popular cashback app that you can use on groceries. Though its grocery partnerships aren't as vast as Ibotta, it's still an app worth using. You can receive a percentage of your purchase amount back for orders made through the app.
I've personally earned over $500 using this app. Learn how to maximize your earnings on Rakuten in this post.
Checkout 51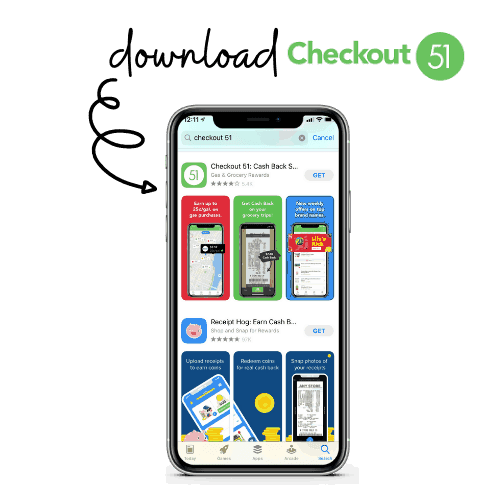 Much like Ibota, Checkout 51 allows you to upload your purchase receipt to earn cashback on deals. Find deals in the app, add them to your account, and scan your receipts once you're done shopping. That app will match the deals and give you credit for your purchases.
SavingStar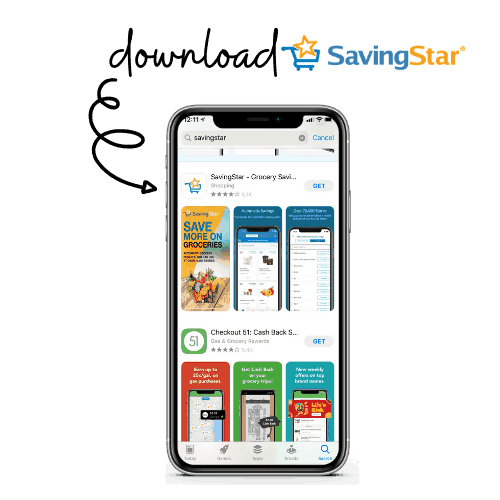 SavingStar is another app that works like Ibotta. With this app, you will link your store loyalty card. Then, you'll find deals within the app that apply to items that you plan to shop for. After shopping, you'll scan your receipt and get cash back.
The great thing is that you can use all of these apps in tandem with each other. That means you can earn cash back from all apps! So each time you shop, don't forget to scan your receipts within these apps.
---
9. Purchase generic brand
The simplest way to save money on groceries is to ditch the name-brand food.
Instead, opt for store brand or generic brand items that cost a fraction of the price.
In many cases, they usually have the same ingredients or are very close.
If it doesn't make a significant difference in your recipe, go for the store brand and save a few coins.
10. Shop the Farmer's Market
If you don't live in a rural area, there are still opportunities to buy local food. Most cities have a pop-up farmer's markets that you can find.
Nonetheless, this is a great option for buying food directly from the farm and eliminating the middleman prices.
If you're adventurous, consider growing some of your own produce. You don't even have to have a garden to grow food. I was able to save a few bucks by growing my own basil plant and using it in my dishes.
11. Buy Frozen over Fresh
A large portion of wasted money on groceries is food going bad. There's always that fruit that you didn't eat in time that's bringing in flies and wasting your money.
You can avoid wasting food by purchasing frozen foods instead.
Though fresh foods are always optimal, frozen is the next best alternative.
You can purchase frozen vegetables and even fruit that you can continue freezing until you're actually ready to consume it.
Final Thoughts on How To Save Money On Groceries Every Month
Inflation can really hurt your budget if you let it. So finding ways to save money on groceries will really help you avoid spending too much.
Hopefully these and other frugal living tips will help you keep your budget in tact.