Are you interested in reselling clothes to make extra money?
Flipping clothes, or fashion flipping, can be a profitable way to make some extra money. But, before you go spending money on items that won't sell, there are a few things that you should know.
In this post, I'm going to share exactly how you can get started reselling clothes online.
This is the ultimate guide for flipping clothes—from where to find clothes to resell to details on where to actually sell them for the most money. If this is a side hustle that you're interested in, keep reading!
Related Post: How this couple made $100K flipping these items…
How to make money reselling clothes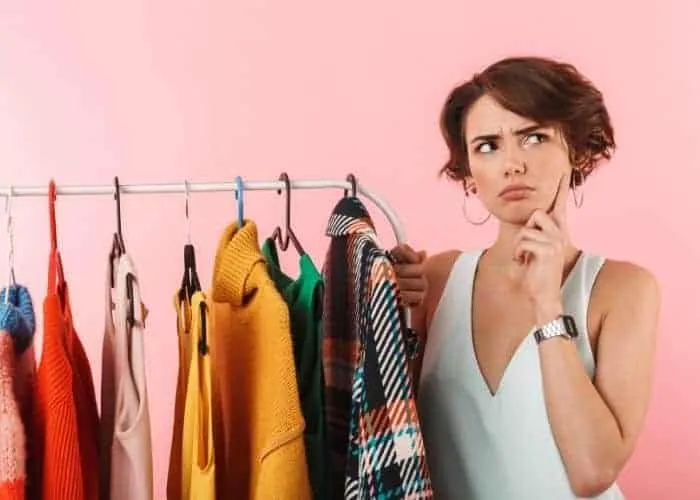 The concept of reselling clothes is quite simple. You buy clothing items for a low price and then sell them for higher. Ideally, you'll want to get them for as low as you can sell them for as much as possible.
Flipping items isn't a new concept. However, it's more widely known when it comes to furniture or other non-clothing items. Those with a knack for crafts can take everyday items and repurpose or update them into unique masterpieces.
The key to being successful with flipping items, including clothing, is to find things that will sell. This takes a keen eye and being up to date on the latest trends.
Where to find clothes to flip
Where you find your clothes to flip plays a significant role in being able to make a profit from your sale. In addition to finding clothes at a low cost, you need to find clothes that are on-trend.
Here are a few places that are great for finding clothes to flip.
1. Flipping thrift store clothes
One place you can meet both of the criteria of being inexpensive and on-trend is thrift stores. You can really come upon a gold mine. People are always offloading their unworn clothes to donation centers like Goodwill where you can grab them for extremely low prices.
These thrift shops typically sell their items for just a few dollars. The only downside is that you really have to sift through the clothes to find great pieces. This could take some time and you aren't guaranteed to find something.
2. Yard sales & flea markets
You may be able to find clothing items to resell at a yard sale or flea market. Now, don't be put off by either of these, because you never know what you may find. There are actually legitimate businesses run from flea markets.
Again, there's no guarantee that you'll find something worth reselling, but you never know. Perhaps you'll find other non-clothing items that you can flip.
3. Retail stores
Retail stores always have sales! This is a great time to grab items that are on-trend and that you can sell at a higher price.
The best time to shop at these mainstream stores is when they are changing out inventory for the season or have a store closing/liquidation sale. This is when items will be at their lowest. Throw a coupon on top of the sale, and you could really get these items for cheap.
Black Friday and Cyber Monday are really big sale days in the US. Use this to your advantage and keep an eye on items that you can possibly purchase to resell.
4. Wholesalers
If you have a retail selling license, you can purchase items from wholesale vendors. This is what small boutique owners actually do. They find clothes from vendors, buy them for an inexpensive price, and mark them up for sale on their site or store.
The most widely known retailer is Alibaba. You can find almost anything from this site. The downside of wholesale is that you have to typically buy in large quantities. This is how the vendors keep the prices low.
If you have a retail selling license, upfront money to make a bulk purchase, and the space to store it, then this is a viable option for you.
The best clothing brands to resell
One way to gauge what brands will resell well is to see what brands consignment stores are buying. That's right! Go see what your competition is doing.
Consignment stores are the masters of flipping clothes. They buy it off of everyday consumers for dollars, only to resell those same pieces at a higher price.
So, if you want to know what trends are selling, do a quick search to see what the widely known consignment shops are accepting.
These are also the top clothing brands to resell in 2021.
Abercrombie & Fitch
Adidas
Aeropostale
American Eagle
Anthropologie
Converse
Free People
Guess
H&M
Hollister
J Crew
Jordan's
Levi's
Lucky Brand
Lululemon
Nike
Patagonia
Pink by Victoria's Secret
Sperrys
Steve Madden
Top shop
True Religion
Under Armour
Vans
Clothing brands to avoid reselling
Avoid brands that aren't widely known, as it may be harder to resell with no name recognition. You want to use brand name recognition to your advantage, especially when it comes to pricing.
How to get your clothes ready for reselling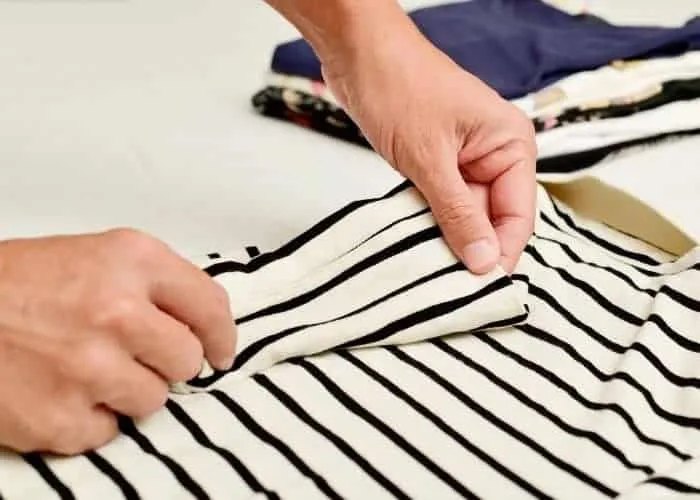 When you're reselling clothes, you should take the same approach as if you were consigning them. That means you'll need to do a little work to make sure they are sale-ready.
1. Clean the clothes
You obviously don't want to sell dirty clothes. Who would buy them? Follow the care instructions to make sure the items are in clean condition. You usually won't have to worry about this if the items have been purchased from a retailer or wholesale.
In most cases, even thrift stores won't accept clothes that aren't clean. Either way, don't leave it to chance. If something needs to be cleaned, have it done before reselling it. It makes for better customer service.
2. Remove markdown tags
If the item that you purchased was on sale and has a markdown tag, remove it. That's because you'll be selling the item for more than you paid. You don't want your customers to feel like they got cheated. Remove the pricing, unless it reflects a higher cost than they are paying. That will show that they got a deal and also confirm that the item is the brand that you describe it to be.
3. Package them
If you're going to be reselling these pieces online, you'll need to package them appropriately for shipment. This will likely require that you get mailer bags for clothing to protect the items. You can grab clothing mailer bags from Amazon.
4. Take good pictures
When you're reselling clothes online, your pictures have to do all of the talking. Your images should showcase the clothes in the best light. They should also be able to show the customer exactly what they're purchasing.
You'll need to take pictures of your clothes from various angles since the customer won't be able to look at it in person. It's always great to take product photos in natural light, but if you don't have good lighting you'll need studio lights. You can grab an inexpensive product photo kit from Amazon to help with your lighting.
The great thing is that you don't have to have a DSLR camera to take product photos. A smartphone will do just as well with the right lighting.
How to price your clothes
The whole point of reselling clothes is to make a profit. So pricing matters. You want to price for profit, which means that you should take all costs into account.
The costs to consider includes:
Cleaning costs
Packaging costs
Listing fees (if applicable)
Payment processing fees (these are fees that, for example, Paypal will charge)
Shipping costs
Taxes
Time to shop
I include the time to shop for clothes as a cost because time is money. You should always keep manual labor in mind when it comes to cost.
Here's the formula that you'll use to determine your price:
Price = Total Costs + Profit
Your profit is how much money you want to make after all of your expenses are deducted. That might be $5, $10, or more! Remember, it needs to be worth the effort. If you don't think you'll be able to sell the item for more than it cost you, it's not a good idea to sell it.
Do market research
Knowing your costs and the profit that you want to make is the baseline for your pricing. However, it's also important to do some market research to see exactly how much similar items are selling for. You don't want to price yourself out of a sale.
Ebay is a great site to use to find out exactly how much others are selling an item for. That will give you an idea of what people are willing to pay so that you can price within that range.
If you find that your costs are too high to support that price, perhaps bundle that item with another so that you can make a profit. The other option is to look for cheaper alternatives for things like packaging and shipping.
Where to resell your clothes online?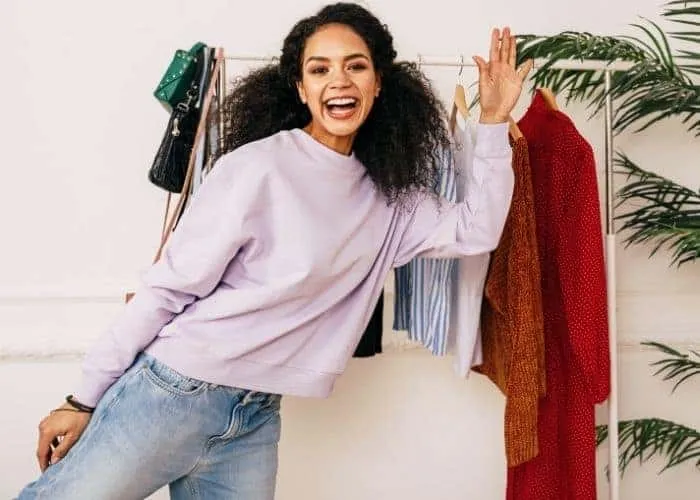 There are so many places that you can resell clothing online. Between marketplaces and apps, there's no shortage of places to put your finds up for sale. You can even sell them on your own personal website.
1. Marketplaces
Marketplaces are websites that have a built-in audience for you. That means the people who visit those sites are looking for items to buy. That's what makes using marketplaces so advantageous. You don't have to work hard to find customers.
Here are some popular online marketplaces where you can sell your fashion flips.
2. Reselling Clothes Apps
Most of the marketplaces listed above have apps. Some, however, are better used with the app. This includes the following:
Depop – This app boasts its unique styles for younger generations. So if your items fit this bill, then it's definitely the marketplace for you. Depop Fees: There is a 10% commission fee for items that you sell.
Poshmark – This site is a very popular site to resell clothes. In addition to your day-to-day items, you can also find and sell designer items. Poshmark Fees: If you make a sale under $15, there is a flat fee of $2.95. Otherwise, you'll pay a 20% commission on your sales.
Mercari – This resale site has gained a lot of popularity recently. You can sell just about anything on the site, including vintage clothes. Mercari Fees: There is no fee to list; however, you will pay a 10% seller fee once an item sells. You can qualify to earn $30 when you use this link.
Vinted – Vinted is another popular app for selling your "pre-loved" clothes– whether loved by you or someone else. Vinted Fees: There are no fees to sell on Vinted.
What to do when items don't sell
You may run into the case where the clothes that you've purchased don't sell. That's a part of the risk that you take when it comes to reselling clothes. But before you call it a loss, here are some things that you can do when items don't sell.
Try bundling items
If an item won't sell on its own, try bundling it with another item for a higher price. It may be more likely to sell when paired with a complimentary item. Even if you don't make as much of a profit as you would have separately, you can still make something and get rid of inventory.
Donate to a charity or someone in need
It's never a bad thing to donate items to charity or someone in need. If you've tried bundling and the item still doesn't sell, just donate it. If you're worried about the money, you can always write charitable donations to qualifying organizations off on your taxes.
Upcycle it into something else
You can always upcycle clothes into something that you'd wear. So if you can sew, make it one of your fun, new projects.
Additional Tips for Flipping Clothes
Flipping clothes will require you to have the money upfront to buy items to sell. With this in mind, you want to set aside some money to make your purchases. As you sell off your inventory, use money from the sales to buy more clothes to sell.
Also, keep in mind that it takes time to actually find clothes to sell. Plan ahead and spend a Saturday shopping for items that you can resell. Visit local thrift stores and find sales within the central area so that you can maximize your time.
Lastly, you'll need somewhere to store the items that you find. Be sure to make room–whether in a closet or storage bin–for the items that you will be buying.
Other items that you can flip to make money
Flipping clothes can be a profitable side hustle, but it's just a start! There are tons of items that you can flip to make real money!
In fact, there's one couple that makes over $100,000 per year flipping things that they find at the flea market!
Now that you've mastered clothes, the next step is learning how to flip more lucrative items.
Check out these 5 things that you can flip to earn more money!