Looking for recession-proof business ideas? Well, the reality is that no business is entirely recession-proof. However, if you're looking to start a business, you'll want to find something that can weather an economic downturn.
Some industries and businesses tend to be more resilient during recessions than others. For instance, healthcare services, essential consumer goods, and financial services all remain booming industries no matter what.
With that said, if you're looking for some recession-proof business ideas, consider these industries. And, if you're looking for specific recession-proof business ideas, keep reading!
What businesses do well in a recession?
Typically, any business that falls under the following industries tend to do well during a recession.
Healthcare Services: People continue to require medical care regardless of the economic climate.
Repair and Maintenance Services: Instead of purchasing new items, people often opt to repair existing ones.
Essential Consumer Goods: People still need essential items like food, personal care items, or household supplies. This means businesses that produce and sell these items are generally more recession-resistant.
Discount Retail: Consumers are more price-sensitive during a recession. So businesses that provide discounted goods tend to thrive during tougher economic times.
Financial services: Individuals and businesses still need assistance in managing their finances and complying with tax regulations, even during a recession.
8 Recession Proof Business Ideas To Start Today
With these industries in mind, here are some recession-proof business ideas to consider.
1. Home daycare
The first recession-proof business idea is in-home daycare.
No matter what the economy is, working parents still need reliable childcare services that won't break the bank!
Home daycares typically cost less than commercial centers. So this becomes a more viable option for parents trying to save during economic hardship.
If you enjoy childcare, this can be a great recession-proof business idea to consider.
This business may require licenses and certification; however, if this is something that interests you, it's worth pursuing.
2. Home health aid
Home health care and assistance is another recession-resistant option. There will always be a need for medical care, no matter what the economy is.
This means that you can use it as a business opportunity.
With this idea, you can go into homes and provide home health care and assistance to the elderly or disabled. Of course, you'll want to have the proper training and certifications to provide actual medical care.
Nonetheless, something as simple as being an aid to assist them with everyday tasks and errands is something that you can easily do.
3. Bookkeeping and tax services
Bookkeeping and tax services are always in demand. Even during a recession, individuals and businesses need help managing their finances, complying with tax laws, and filing taxes.
So, offering professional bookkeeping and tax services can be a lucrative business venture.
You don't even have to be an accountant to offer services within this industry.
You can actually take classes to become a bookkeeper and a tax preparer. So don't worry about having to be an accountant or having a finance degree.
4. Résumé writing
Résumé Writing is another recession-proof business idea. A recession is typically coupled with a lot of job loss. This means that more people are needing to update their résumés so that they can stand out against the competition.
This is where your expertise can come in!
Now, it does take some skill to be a great resume writer. However, there are some certifications that you can get to become a professional résumé writer.
Resumé writing is a business idea that is always in demand. That's because people are always changing jobs and need help getting their résumé seen by recruiters and hiring managers.
So becoming a résumé writer is definitely a business worth pursuing that can weather any economy.
5. Pet care & grooming
If you're a pet lover, then pet care and grooming is a recession-proof business idea for you to consider. Just like humans, pets still need to be cared for and groomed no matter the economy.
Mobile pet care businesses, specifically, can be more attractive because it provides flexibility and convenience for customers. And, as a business owner, you don't have to worry about the overhead cost of having a brick-and-mortar business.
Good pet owners are always going to take care of their pets, no matter what. This makes it a great industry to be a part of.
Now, this business may require some training to get started. Nonetheless, if you're willing to commit to it, it'll definitely be a business that will pay off!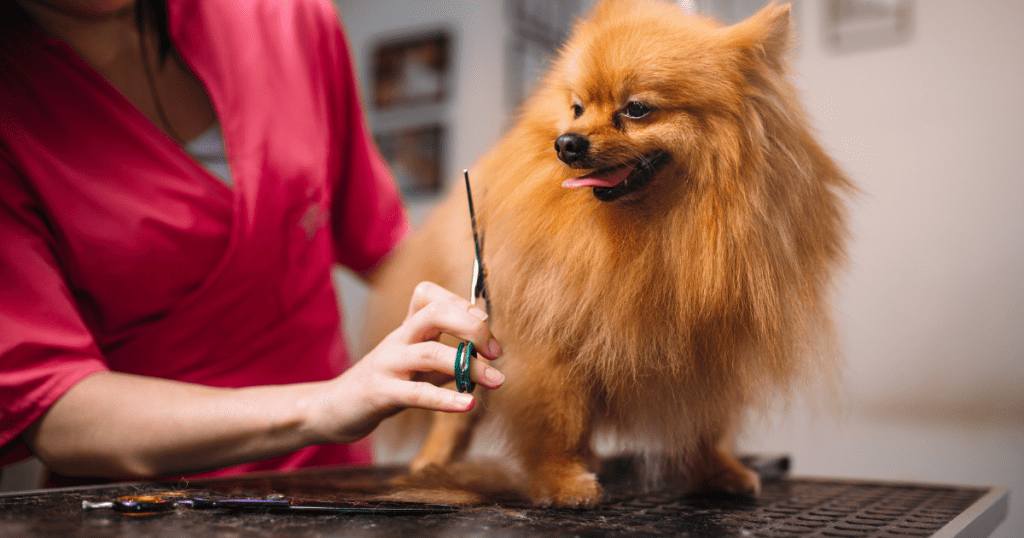 6. Flipping & reselling
There is a huge opportunity to start a flipping and reselling business during a recession. This includes reselling clothes, flipping furniture, refurbishing items, and more!
If you have items around your home, you can start this business. But, beyond that, you can always find items to flip or refurbish at garage sales, donation centers, and antique shops among other places.
After buying these items at a discounted price, you'll resell them for a profit online or through local events. This is a great way to make money, especially if you are creative and have a good eye for bargains.
This is certainly a business that you can try, even if there isn't a recession.
7. Freelancing
Freelancing is another great business option that is great in any economy. As a freelancer, you can market your services to individuals or businesses.
During a recession, companies seek to reduce costs. With that said, they may lean heavily on a temporary or contracted workforce. In this case, you can provide freelance services—making it a win-win partnership.
You can freelance as a virtual assistant, freelance writer, or graphic designer—the options are endless!
If you're looking for freelance business ideas, I suggest checking out our articles on business ideas that you can do from home.
8. Transportation & delivery services
Goods will still need to be moved around during a recession. This makes having a logistics business that includes transportation and delivery a great business to be in.
Consider operating a box truck or sprinter van that handles local deliveries. This type of transportation doesn't require that you have a commercial driver's license (CDL)—which makes it more accessible to the everyday person.
With this business, you can service other local businesses like furniture stores, floral shops, and more! What's even better is that you don't even have to own the truck. You can simply rent a truck to handle your deliveries.
I'd certainly recommend getting the proper training and equipment for this business. You can check out Box Truck Coach to learn more about starting this type of business.
Start your recession-proof business today!
These are just some of the many businesses that you can start during a recession. So don't just limit yourself to these ideas.
Remember that all businesses take work to get started and grow. Nonetheless, if you're willing to put in the work, any business that you choose can be successful.
If you're looking for more business ideas, I suggest checking out our articles on ways that you can make money.