Do you want to learn how to make money in your sleep?
I don't mean in some gimmicky get-rich scheme, illegal kind of way.
Instead, I'm talking about leveraging a tried and true wealth-building strategy—passive income.
So, what exactly is passive income?
Passive income is money that is earned without trading your time for it. That means you're not clocking into a job or even have to be present in order to earn money.
There are so many passive income ideas that you can explore that don't even require money to start.
The best part is that once you create a passive income source, it can literally be hands-off and left to make you money.
Now, this isn't to say that creating a sustainable and lucrative passive income source is easy. Some take more upfront work and time to pay off than others.
However, the benefit is that once you do the work of bringing those passive income ideas to life, you can have a lifetime of residual income.
Why you should have passive income
Having passive income isn't just about making money without having to put in much effort.
Instead, it is about creating another stream of income that you can use to build wealth.
It's often stated that the average millionaire has seven streams of income. However, the reality is that you can't physically work seven jobs where you trade time for money.
That's impossible.
So you have to come up with other ways to make money that don't require your presence IF you want to build wealth.
How can I generate passive income in 2023?
There's more than one way to do just about anything. Creating passive income is no different.
There's not just diversity in methods but also in costs.
Many times when you hear of passive income as it relates to wealthy people, it includes ideas that cost you money.
Think about it.
Investing in the stock market costs money upfront. Real estate investing costs money. Starting a business costs money.
All of the "high earning" passive income strategies cost money and often lots of it to even get your foot in the door.
The truth of the matter is that if these were the only ways to make passive income, only the richest people of the world would be able to afford it.
Thankfully, this isn't the case.
Even if you don't have a lot of money, you can still create passive income. And, as you build more and more streams, you may find that you're able to afford to make an investment in higher dividend income sources.
Let's dive into some ways that you can create passive income with no money.
How To Make Passive Income With No Money
Before we jump into these passive income ideas, you have to remember something very important.
What you save in money, will cost you in time.
Although each of the ideas that I share below will literally cost you little or nothing to start, they will cost you time. Time to create, time to market, time to build and grow.
Passive income isn't an overnight strategy, but it is one that will allow you to make money effortlessly over time.
Ok. Now that you understand that, here are some ideas that you can leverage.
1. Sell T-shirts Online
Did you know that you can start selling t-shirts with zero upfront costs?
Selling t-shirts was one of the first business ventures that I tried online. It's also one that I've been able to make passive income from.
Sites like SpreadShirt.com or Merch by Amazon allow you to upload your own designs or choose from their library to create shirts.
I've personally created my own designs for free using Canva. You can see them below.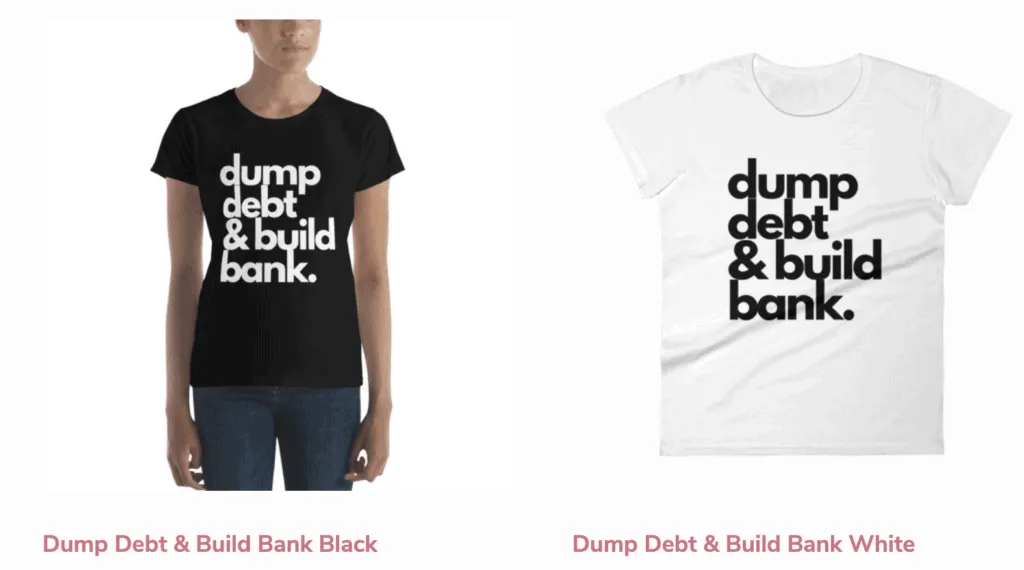 Canva is a graphic design website that you can also use to create your own shirt designs.
If you already have a website, like a WordPress blog, Printful is another option that you can use.
This print-on-demand company allows you to integrate your products into your site so that customers never have to leave.
Once they've placed an order, Printful will also handle the printing and fulfillment of orders.
The great thing about them is that you can make more than just t-shirts. You can also use Printful to create and sell mugs, hats, bags, and more.
They'll handle all of the printing and shipping for you. You just get paid.
2. Write a Book
If you've never thought about writing a book, perhaps the fact that it can generate passive income will spur you along.
Books—whether hardcopy or an ebook—are a great source of passive income that can produce dividends for a lifetime.
Just think…
How many authors' works were you forced to read in grade school who had been dead for centuries?
Lots.
Written work lives on for generations and so do its royalties.
I have written two books that have allowed me to continue to generate passive income well after I stopped marketing them.
Just last year, I made $600 from sales of the ebook version of my book, Dump Debt & Build Bank: The Everyday Chick's Guide to Money.
That was just from digital sales that didn't require me to even be present to render the transaction.
This is what I mean…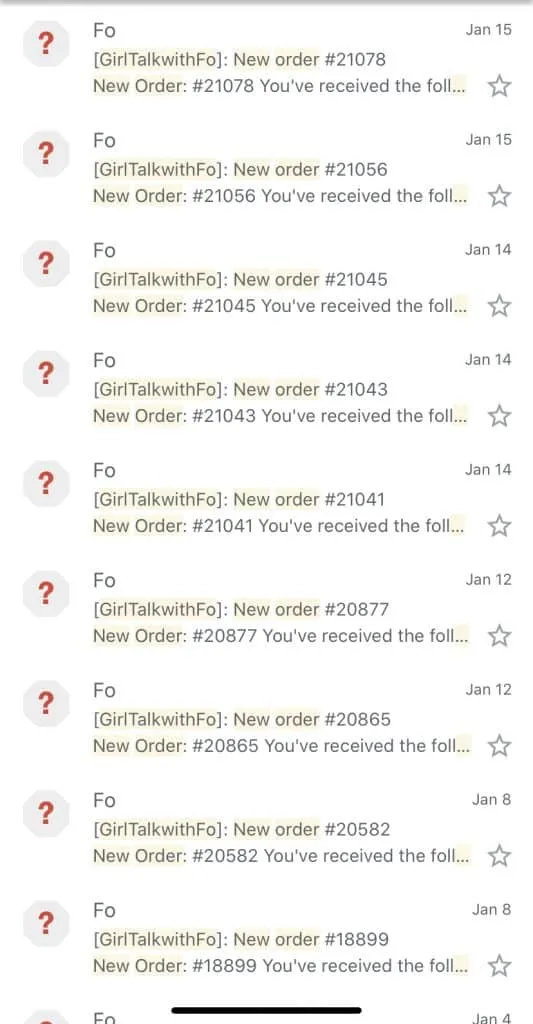 That's a screenshot of the email notifications that I receive every time someone purchases my ebook from my second website.
I have a whole section on how you can create an ebook for free in my blog post on how to make money as a writer.
Note that you can also earn passive income from hardcopy books as well.
Selling hardcopy books can be done for free through Amazon's Kindle Direct Publishing.
Amazon uses the same print-on-demand concept to fulfill these books to customers so that you never even have to hold inventory or incur any costs.
3. Sell Digital Products
Books aren't the only thing that you can sell online to earn passive income.
You can sell all sorts of digital products that leverage the same concept.
Printables are an easy digital product to produce that don't have to cost you anything to make.
They can be created in Google Docs, PowerPoint, or even Canva all for free.
You'll need a platform to instantly deliver these products to customers.
If you don't already have a website, you can create a shop on Etsy or use sites like SendOwl—which is built to sell and deliver digital products.
Payhip is another new site that I recently came across that also allows you to sell digital products for free.
Other examples of digital products that you can consider include:
Audio files
Excel templates
Video tutorials
Cookbooks
Literally, anything that you can turn into a digital format can be sold online.
Get creative and start selling.
4. Earn Royalties from your Work
You may also consider selling your work for royalties on other platforms.
For example, if you're a photographer, you can upload your images to sites like Adobe or Canva to earn royalties every time someone pays to download them.
In my post on ways to make money from home, I shared how one blogger has made over $6,000 selling videos to media outlets.
Any intellectual property that you own can be used to create royalty income.
The money that I earn from selling my books via Amazon instead of my own website is technically considered royalty earnings.
5. Affiliate Marketing
Affiliate marketing is another easy way to generate passive income.
If you're not familiar with what affiliate marketing is, it's simply being paid a commission to recommend a product or service to someone else.
You'll notice this to be a popular source of income among influencers, bloggers, YouTubers and the like. However, everyday people can also participate in affiliate marketing.
Websites like Rakuten and Ibotta allow you to earn commissions when you refer someone to the platform and they make a purchase.
This can be considered as a passive income source because you simply have to share your unique link once—perhaps in your social media profile—and you can continue to earn commission every time someone signs up.
Amazon's affiliate program is by far the most popular of all affiliate programs; however, you can find an affiliate for almost any company.
Just type "[insert company name] affiliate program" into Google and it will likely come up if there is one available.
There are certain requirements for every program, so be sure that you read each one carefully.
6. Create & Sell a Course
Packaging your expertise and teaching it is always a great way to make extra money.
You can do this passively by taking your course digitally and selling it online.
Online courses are HUGE.
I know of several people who have created 7-figure online businesses from selling courses alone.
Creating and selling courses is one thing that I have leveraged to make money online as well.
Many moons ago, I created a few courses that generated several hundred dollars within a few days.
Though I don't have any active courses now, it's certainly something that I'll revisit in the future as a means of generating passive income.
Admittedly, this passive income source does take a lot of upfront work.
You have to first know that people actually want what you have to offer, build out the lessons, write & record them, and actually upload everything to a hosting platform.
You will definitely need to be sure about this one before putting in the upfront time investment.
Nonetheless, it can pay off.
Course hosting platforms such as Thinkific make it tremendously easy to get started with selling online courses.
In fact, you can host your course for FREE on their platform–which handles all of the transactions for you.
Thinkific also has a very helpful blog and Facebook community with resources on how you can get started with selling online courses.
I've tried just about every course hosting platform out there and Thinkific is the only one that I would recommend without hesitation.
Final Thoughts on Passive Income Ideas
These passive income ideas only scratch the surface of ways that you can start generating money in your sleep.
The great thing about these ideas, though, is that they won't cost you anything to start.
That means you can get started today!
So what are you waiting for?
Posts Related to Passive Income Ideas