When it comes to self-care, no one deserves it more than moms. As moms, we wear many hats. This includes chef, teacher, housekeeper, counselor, just to name a few.
Though the work that we do is certainly commendable, it doesn't come without its struggles. We get tired, our bodies get worn down, and we just need a mental break at times.
All of this is normal and exactly why self-care for moms is important.
Why is self care important for moms?
In order to live a fulfilled life, you have to take care of yourself. This means mentally, physically, emotionally, and even financially. You can't operate at your highest, most fulfilled level, without nurturing and caring for these basic needs.
As a mom, your self-care extends beyond yourself.
Have you ever heard the phrase, "You can't pour from an empty cup"? If you're to be the best mom, and even wife, that you can be, you have to make sure your cup is full first. You can't give out what you don't have. This includes energy, emotional capacity, and physical strength.
In order to be able to wear those many hats that we juggle, you have to take time to care for yourself. If you don't take care of yourself, who will?
Ultimately, when you don't make time for self-care, your body will begin to force you to make time. This can be in the form of illness, extreme fatigue, stress, and even anxiety.
How do I balance my self care as a mom?
Finding time for self-care can be difficult. Exactly where do you fit it in between running after kids, working full time, and scoffing down food?
Self-care is one of those things that you have to make time for, or it will not happen. There will always be something that can take up your time, so you have to make the decision to make space for it–even as a busy mom.
As someone who works full time and runs a business with a husband and toddler, my time is very limited. Nonetheless, I still find small ways to intertwine self-care activities into my week.
These aren't extravagant events, but they are small, budget-friendly ways that I'm able to regroup and regenerate so that I can continue to operate at my best.
Here are some of my mom self-care practices.
9 Budget Friendly Self Care Ideas for Busy Moms
1. Naps
I'm not sure who deemed naps unnecessary after kindergarten, but they are definitely a necessity when it comes to my self-care.
Getting enough sleep is probably the most underrated thing that you can do to better your health. Sleep allows your body to rest and repair itself so that you can function optimally. So, the more you get, the better off your body will be.
Naps are a huge part of my weekends. In fact, my husband and I both take naps when my daughter takes her nap during the day. We definitely keep true to sleeping while she's asleep as much as possible.
Take some time to steal away for a nap–even if it's just for 30 minutes. It's one of the best self-care tips that I can offer.
2. Take a walk outside
A part of self-care is being mindful of your health. Walking is one of those self-care activities that are great for both your physical and mental health.
I like to use my walks to clear my head, brainstorm ideas, and pray. In many ways, it's therapeutic–especially if you have serene scenery. I tend to do a lot of walking during the cooler months when it's actually enjoyable outside.
I typically find time during my lunch break to walk around the building or my neighborhood if I'm at home. It's nothing intense. The whole point is to get active and enjoy the fresh air.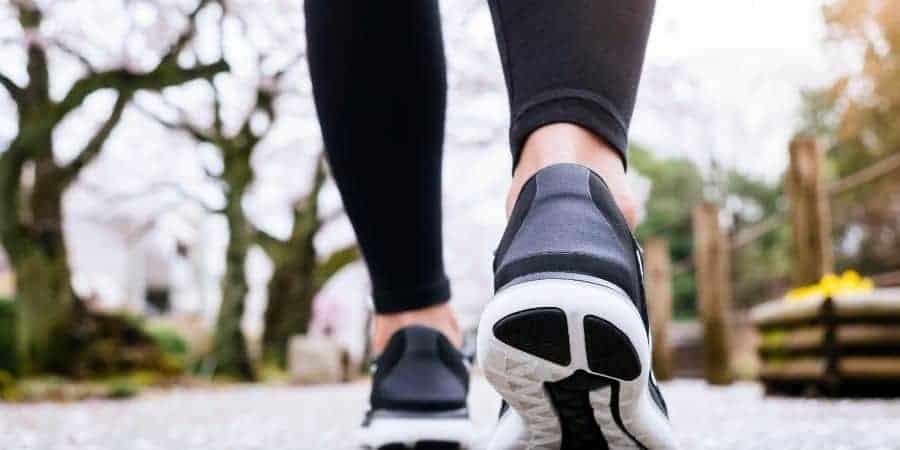 3. Stretching & self massaging
I don't know about you, but the older I get, the stiffer I get. One way that I try to combat that and also to give my body a little love is by stretching.
Now, I'm no gymnast, so I'm not talking about split and heel stretches. Instead, I'm talking about simple neck rolls, child's pose, and back stretches. Don't underestimate how good this feels!
I also like to use my massage gun to work out sore spots and tight areas when I can't get to a massage therapist. These are pretty reasonably priced and definitely worth the spend.
4. Meditation and mindfulness
Meditation is an opportunity for you to calm your thoughts and focus your mind to settle down. This is especially important if your mind is always racing between the many tasks that you have to do.
Taking a moment for mindfulness is a great way to incorporate self-care into your daily routine. It only takes a few minutes a day and simply requires you to breathe. If you have a mobile phone, this is something that you can download a free app for to help guide you through it.
Here are some meditation and mindfulness apps that you can check out:
5. Facials
A significant part of my self-care routine is facials. This is something that I do every month that, surprisingly, isn't too expensive. Each month, I put aside around $75 to get an hour-long facial.
Not only does this allow me to take care of my skin, but it's also a time to relax and unwind. It also gives me time to be away from my responsibilities as a wife and mom. This means that I rely on my husband to take the reins at home while I step away.
If you don't have the support to do this on the weekends, consider taking some time off during the week to get a facial. The experience is well worth it.
6. Reading
One of my favorite pastimes is reading. It's one of those things that can be relaxing–taking you away to another world–and edifying. I love reading self-help books, but will also sit down for some entertaining fiction as well.
After becoming a mom, it became much harder to find time to read. That's when I started using audiobooks instead.
Audiobooks are just books read by the author (or someone else). So instead of having to sit down and read, you can listen to the book instead. This is great to do on long trips or even around the house.
With audiobooks, you can "read" a book without technically reading. Although I do believe that you should still read, this is definitely an option for busy moms.
You can get a free trial to Audible to check out their library or you can use Hoopla with your local library card.
7. Journaling
Getting your thoughts out on a paper is another therapeutic self-care idea that doesn't cost you anything. Sometimes writing is the only way that you may be able to express yourself, so use it! The best songs and poetry are penned by those seeking to express themselves through words.
Each year, I purchase a new journal to write down my thoughts, ideas, and even prayers. I usually toss them away once I'm done, just so I don't hold on to the negative emotions that may fill those pages. Although, it is good to look at where you've come from–only if it isn't triggering.
My favorite journals are by Design Works.
8. Personal Maintenance
If you look good, you feel good. Right?
That's why personal maintenance is a part of self-care. It's not only taking care of your body, but it gives you a boost in self-esteem as well.
When you do things like a manicure, pedicure, or even exfoliate, you will feel 10 times better! The great part is that you can do all of these things for free.
One thing that I learned while paying off my debt was to do things myself. This included doing my own hair, nails, and even makeup. Now, when I feel like being pampered, I can use these skills for my own self-care.
Even if you don't do your personal maintenance yourself, you can always find budget-friendly ways to incorporate them into your self-care routine.
9. Buy yourself flowers
If you want to add spark to a room, bring in a bouquet of flowers. This is a simple way to adorn a room and it's also a form of self-care. Flowers can literally brighten up your mood from their beauty.
You don't have to get expensive or fancy, either. You can find boutiques of flowers for less than $10.
Don't wait for someone else to bring your roses. Get your own as a part of your self-care.
Self Care Ideas for Busy Moms
As you can see, a lot of self-care is about getting your mind and body rested and relaxed so that it can operate better. That means that it doesn't have to be expensive. The most these ideas will cost you is time, and you're certainly worth that.
Don't neglect your self-care. Remember, if you want to be the best mom that you can be, you have to be the best YOU.
Here are some other resources to help you invest in yourself as a mom:
20 Life-changing Ways to Invest In Yourself as a Mom
How to Look Put Together: 7 Simple Hacks to Look Polished on a Budget