Have you ever thought about opening an Etsy shop? Or wondered how to even make money on Etsy?
Well, I have.
So much so, I spent hours researching it before ultimately deciding to start my own shop.
Though I have my own shop here on the blog, I knew that Etsy would provide way more eyeballs on my products than I could do organically on my own.
But even knowing this, I had to be sure that opening a shop on Etsy was worth the time and effort. I needed to know if I could actually make money on Etsy.

In my quest to gather more information I stumbled across some fellow personal finance bloggers who had successful Etsy shops of their own.

By successful, I mean multi five-figure shops that they are running part-time!
One blogger, in particular, is Shay of Shay Budgets. She made nearly $30,000 with her part-time Etsy shop selling budget planner stickers in one year!
She shares her journey and income reports on her YouTube channel–which she also leverages to make passive income.
If you're wondering how to make money on Etsy, you'll want to continue reading. I sat down with Shay to answer all the questions that you may have about making money on the platform.
How to make money selling stickers on Etsy
What made you start an Etsy shop?
After getting married in 2016, my husband and I wanted to get into budgeting to reach some financial goals. I took to YouTube to learn about the art of budgeting and I came across a lot of people budgeting and using planners.
I've always loved planners, journals, etc, so it interested me. I had tried budgeting and bill tracking using apps and websites, but I couldn't visualize things with them being in so many locations.
Eventually, I bought my first budget planner and some stickers from Etsy after seeing it on another YouTube channel. I didn't love the stickers, so after learning that making stickers was a thing, I knew that I'd eventually make my own.
What research did you do before starting your shop?
I knew a few Etsy shop owners from the planning community, so I reached out to them for more information and did my own research as well. I learned everything that I needed to start a sticker shop, but without spending a lot of money.
When did you open your shop?
Although I solidified the idea of starting a shop and had my sticker kit designed and ready to go weeks prior, I didn't open my shop until November 2018.
How long was it before you made money on Etsy?
In the first two weeks of being open, I made $2,681.75 in sales.
How much money do you make on Etsy?
After one year of being open, I made $29,885.57 in sales. This is before expenses, fees, and taxes.
How much does it cost to sell on Etsy?
My total start-up costs (equipment, supplies, etc.) was $474.88. I break down my equipment here.
Etsy Fees:
Listing Fees – Etsy charges a flat rate of $0.20 USD per listing that you publish to your shop. This fee is charged if the items sell or not. You'll also be charged an additional $0.20 USD if the product sells as a "re-listing" fee of sorts.
The total listing fee for my first year on Etsy was $719.60.
Transaction Fees – If an item from your shop sells, you'll automatically be charged a 5% transaction fee of the item's sale price.
I paid a total of $1,560.29 in transaction fees.
Shipping Fees (if applicable) – Etsy gives sellers the option to purchase shipping labels to fulfill customer orders. This is an additional fee that is typically covered by the customer at a flat rate.
My total shipping label cost for the year was $4,277.69.
Taxes – You will be required to pay taxes if you are selling a physical item or if you a selling a digital product in certain states. This cost will vary per state and item.
---
Fo here: Below is a breakdown of the fees that I incur for a $3.50 digital item that's listed in my shop. As noted, the taxes vary by the state that the item is sold in.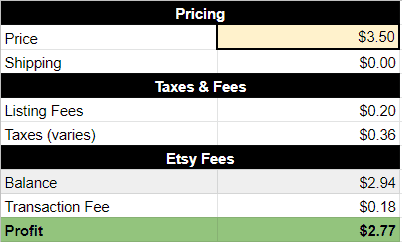 ---
If you're running your Etsy shop as an actual business, you will have to pay taxes. This number will vary by income level and state. But it's safe to assume that you'll need to set aside 35% of your profit to cover taxes.
What contributed to your quick success on Etsy?
The high demand for budget-related stickers, trust in my products from my YouTube viewers, and my financial success using budget stickers/budget planners is what contributed to my quick success.
How do you get customers?
I advertise on my Youtube channel, Instagram, and Facebook page.
Is it worth it to sell on Etsy?
Some people don't prefer Etsy because of the fees. You can always sell on your own website or Shopify, which would be cheaper, but I find Etsy to be simple enough.
Its been worth it to me because I only spend about 10 hrs per week (40 hrs/month) on my shop and after fees & taxes, on average, make an extra $2,000/month. It isn't my livelihood, so to me, it makes sense to continue doing Etsy. You have to decide if that makes sense for you.
What advice do you have for someone wanting to start a shop?
My advice is to weigh the pros and cons of starting an Etsy shop. These are some questions you might consider asking yourself to help you categorize the pros and cons.
Will you sell digital or physical products?
Do you have the extra time (i.e., the time to design, fill orders, ship orders)?
Who will be your potential buyers?
How will you advertise?
What are the costs associated with starting and operating an Etsy shop?
I do not recommend opening an Etsy shop on a whim but rather doing the necessary research to ensure the shop's success.
Also, understand that you may not get sales as quickly as you'd like but trust that with the proper advertising and marketing, you'll eventually meet your goals!
Are you ready to open an Etsy shop?
Having an Etsy shop can grow into something as big as you want it to be.
You can choose for it to be something part-time like Shay or turn it into a full-time business that allows you to work from home.
I enjoy having Etsy as a passive income source. I simply list items, occasionally promote them through my YouTube channel and Pinterest, and let the sales happen on their own.
Because of Shay's very thorough videos on starting an Etsy shop, I stepped out on faith and opened my shop. What I appreciate most about her is that she actually shares her real numbers and shows you how to manage a profitable shop debt-free!
Shay does note that fulfilling orders at high volumes can take up a lot of time, so I decided to exclusively sell digital products that can be automatically delivered to customers without me doing anything.
This will be one thing that you'll need to consider if you're looking into opening your own Etsy shop.
---
How to Open an Etsy Shop
Opening an Etsy shop is relatively easy to do. So, if you're ready you can follow these steps to get up and running today!
1. Decide what you're going to sell
Before you open up your shop, you'll need to decide exactly what you're going to sell. Will it be digital products or physical products that will require assembly and shipping?
If you're going to create digital products, such as downloads, I suggest investing in Canva.
I use Canva to create all of my digital products and graphics. It's an easy drag and drop tool that you can use to create invitations, photo cards, resumes, and more!
It's a good idea to already have descriptions and pricing for these items ahead of time. You will need this information when you actually set up your shop and start listing items.
Be sure to take into consideration all of the fees mentioned earlier in this article.
2. Come up with a shop name
When coming up with a shop name, it should not only be reflective of what you will be selling, but it should be easy to remember and not in use.
Etsy has some guidelines concerning your shop name that you'll need to follow. Ultimately, you just need to keep it clean, short, and unique.
You can always change your shop name; however, I recommend finding something that you can use long-term so that you don't confuse customers in the future.
My shop is simply named MamaNMoney to coincide with this blog and my other social media accounts.
3. Create a Seller's account
To create a shop, you'll need to click the Sell on Etsy link at the very bottom of the Etsy website.
This will take you to a page that will walk you through several prompts to get your shop up and running.
You'll be asked geographical information about your shop, to input your shop's name, and to begin adding listings, or products, to your shop.
TIP: You'll need to have images for your shop and your products ready in order to list them. I suggest gathering all of them beforehand to save time and set up your shop in one sitting. Here is a list of images that you should prepare.
4. Set up payment & billing information
After creating your listing(s), you'll be prompted to set up payment and billing information.
Basically, you'll need to set up how you want to get paid and how Etsy will withdraw funds for fees.
Your options for payment and billing will vary by country, so keep that in mind.
I set up payments to go directly to my business bank account and fees to be deducted from the same account.
5. Open your shop & promote
Once you've gone through all of the prompts and entered in your information, your shop is officially open.
Now its time to market and share your shop with your friends, family, and on your social media platforms!
Congrats! You're now an Etsy shop owner.
If you run into any issues with your shop, Etsy has an amazing support site that will answer most of your questions. Don't hesitate to reference it.
Check out these posts if you're interested in more work from home job ideas: