Getting a life insurance policy doesn't have to be overwhelming. That's why we created an ultimate guide that covers all of the life insurance basics that you'll need to make the best decision for you and your family.
Here's the thing, life insurance is more than just covering burial expenses. It can actually be a tool to build wealth!
So, in addition to covering life insurance basics, we'll also share how it can fit into your overall financial plan.
If you're ready to learn more about life insurance so that you can get covered, keep reading.
How does life insurance work?
In the most basic definition, life insurance is designed to financially support your loved ones after you're gone. This includes providing money for burial expenses and replacing lost income due to your death.
For this to happen, you pay a monthly or annual premium to an insurance company. In exchange, the company will pay out the value of your policy to your beneficiaries upon your death. This is known as a death benefit and is paid out as a lump sum.
Life insurance covers all causes of death; however, there may be exceptions for suicide within a certain time period of being covered. Benefits may also be denied in the case where a beneficiary is found responsible for the death of the person covered.
Who needs life insurance?
Though it's arguable that everyone should have life insurance, it is even more important for parents, caretakers, and those who have dependents. Nonetheless, 50% of American adults have life insurance with only 46% of women having coverage.
The last thing that you want to happen is for your children and dependents to be left with no financial means of caring for themselves after you're gone.
Having life insurance ensures that they are taken care of if the unexpected happens to you and/or your spouse. With that said, it should be a part of your overall estate plan.
If you need help creating an estate plan, I recommended reading our post on how to create a will.
Now that you know the importance of life insurance, when should you get it?
What age should you get life insurance?
Ideally, you should get life insurance as young as possible. This allows you to get the best rate possible, which we'll dive into later.
For most states, the minimum age to get your own policy is 18 years old. However, as a parent, you can actually get a policy for your newborn.
Life insurance for kids
In the US, you are able to apply for a policy as soon as your child has a Social Security number.
Getting life insurance for your kids doesn't mean that you're expecting the worst for them. Instead, it can be a proactive step in their own financial planning in the future.
Types of life insurance policies
Life insurance policies can be categorized into two types: term and permanent. Both types have their advantages and disadvantages that we'll dive into.
Term Life Insurance Basics
A term life insurance policy typically covers the insured anywhere from a 10 to a 30-year term. These policies are usually available in 1- to 5-year increments.
Unless this policy is purchased later in life, there is a high likelihood that you will outlive the term of your policy.
For example, if you purchase a 30-year policy at age 30, but live to 61, your policy will no longer cover you. At that point, you'll need to get another policy—which will come at a high premium.
Permanent Life Insurance Basics
Contrary to a term policy, permanent life insurance policies are designed to cover you until you pass away. Additionally, these policies come with a savings component.
There are several types of permanent policies that you can choose from.
Whole Life insurance is the most widely known type of permanent policy. With this option, a portion of your premium will go to paying for the policy and the rest will be put aside in a cash value account. This cash value accumulates over time and can be borrowed.
Universal life insurance also allows you to get permanent coverage with cash value. In this instance, however, you're able to earn interest on your cash value. You also have the flexibility to increase your premium such that more money goes toward your cash value.
Index Universal Life Insurance (IUL) is a more popular permanent policy with a flexible premium and the ability to invest. However, the cash value of this policy is specifically invested in an index fund in which returns are capped.
Term vs Permanent Life Insurance
Term policies are a great option for those who only want to cover themselves until their dependents reach adulthood and are able to financially care for themselves.
In this situation, you would also have the financial means to cover burial expenses and other financial obligations without the need for a policy. This is typically the case for people who are self-insured.
Permanent policies allow you to not only ensure that your loved ones have the funds to financially care for themselves after you're gone but it can also be leveraged to pass down wealth.
For instance, the cash value of your policy can also be left to your beneficiaries. So in addition to the death benefit being issued to cover financial obligations, you'll have additional funds to leave as an inheritance.
The cash value component of permanent policies is also a tool for saving money or investing that you can use for present-day expenses.
How to choose the right life insurance policy type
The type of policy that you choose is largely dependent on your overall financial plan and goals.
For instance, if you view life insurance as a way to build generational wealth, then you'd choose a permanent policy. Contrarily, if you only want to leverage it for a short period of time while you build wealth in other ways, you'd choose a term policy.
It's important that you establish your financial goals first, then find a policy that best aligns with accomplishing those goals.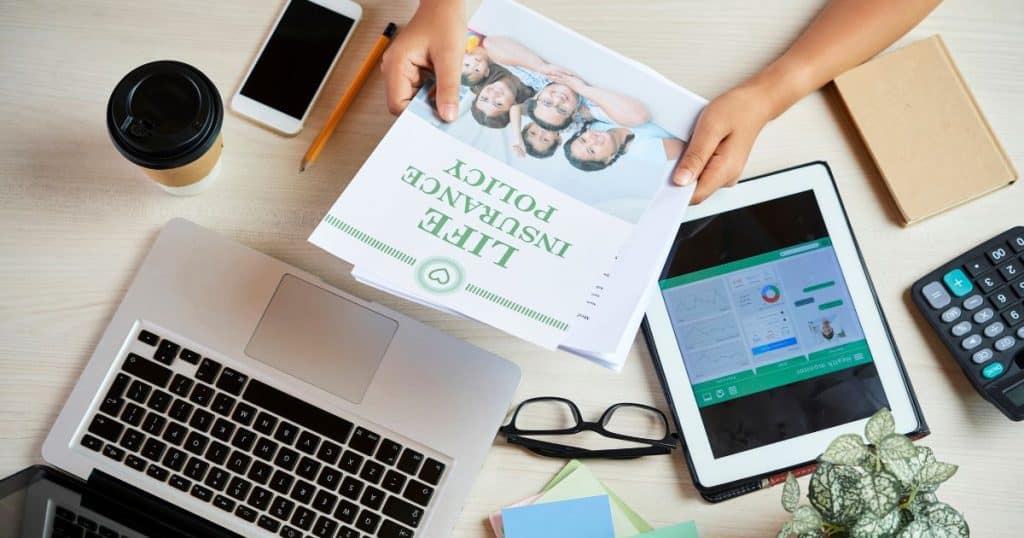 How much does life insurance cost?
Another aspect to consider when deciding on your policy type is the cost.
You can expect the cost of a permanent policy to be much more than a term policy. This is because you will be paying for it until you pass away. In addition, you're paying into the cash value as well.
With that said, the cost of life insurance is different for everyone. Some factors that will determine the cost of your coverage include:
Age – The older you are, the more it will cost because you'll likely need the benefits sooner.
Gender – Men can expect to pay more than women due to their shorter life expectancy.
Health – The healthier you are, the less you can expect to pay. This includes your mental health.
Tobacco usage – If you use tobacco, you can expect to pay more
Family medical history – If your family has a history of cancer, autoimmune diseases, or other high-risk health issues you can expect to pay more
Driving record – Expect to pay more if you have a driving history of accidents and speeding
In some cases, you may have to do a medical exam or a telephone interview to confirm details.
You'll know more about the cost once you apply for coverage. Nonetheless, a good insurance agent can give an estimate of what that expense will be.
How much life insurance should I have?
According to licensed insurance agent and financial psychologist, Dr. Rosché Brown, you should use the DIME method to determine how much coverage you'll need.
Debt – How much debt will need to be paid off if you were to unexpectedly pass away?
Income – How much income would your family need to replace over 10 years? Take your current income and multiply that by 10. For example, if your take-home salary is $50K, you'd need $500K to account for lost income for at least 10 years.
Mortgage – How much do you have left to pay off your mortgage? Add that to how much coverage you'll need.
Education – This would be reserved for college funding for your children. How much will you need to set aside to pay for educational expenses?
Add these amounts up and it will give you the estimated amount of coverage that you'll need.
You'll need to keep in mind what you can realistically afford when determining how much coverage you get. This can assist your agent in coming up with options that will get you the proper coverage within your budget.
How do I get life insurance?
Now that you understand the basics of life insurance, it's time to actually get insured! Here are the next steps.
Select the type of policy/policies that fit your financial goals
Calculate how much coverage you need using the DIME method
Determine your beneficiaries
Contact an agent and talk through your options & compare quotes
Apply for coverage
To find an agent, you can simply visit the website of any major insurance company. Or, you can contact our resident expert insurance agent, Dr. Rosché Brown.
FAQs
How long does life insurance last?
The length of your coverage depends on the type of policy that you get. So, if you get a term policy, the length of coverage will depend on the term. Permanent policies, on the other hand, last until your death.
How does employer life insurance work
In some cases, your employer may the option for you to get a group life insurance policy through them. In this case, you'll typically be able to get one to two times your salary in coverage. Though these policies are usually inexpensive, they will not carry over if you decide to leave your employer, if you retire, or if you're laid off.
How much do you pay monthly for life insurance?
Your monthly premium will depend on your specific policy.
Ready to get life insurance?
Now that you understand the basics of life insurance, it's time to get covered to financially protect you and your family! Share your questions in comments.