Today, there are so many kids business ideas to take advantage of beyond the traditional lemonade stand. In fact, I remember starting my first business as a kid. My sister and I sold snow cones to our cousins from our backyard playhouse.
We didn't think of ourselves as kid entrepreneurs. We were just kids with a good business idea that could make us money.
That small taste of entrepreneurship led me to try other kid businesses that make money—like selling candy to my classmates in middle school.
Though every kid won't become entrepreneurs in their adulthood, it's so important to teach kids how to make their own. Having the skills to make money outside of a career will definitely come in handy.
So if you're looking for good business ideas for kids, keep reading! I'm going to be sharing some ideas that your kids can use to start making their own money.
10+ Unique small business ideas for kids
1. Start an Etsy shop
Opening an Etsy shop is one of the best ways to easily make money online. There are so many things that you can sell on Etsy, including handmade crafts and digital products. Though Etsy does require that sellers be at least 18 years old, you can open and manage a shop on behalf of your kid. Just make them responsible for creating and fulfilling products.
2. Sell printables online
Selling printables isn't just a great business idea for kids, but adults too! These are digital products that require little skill and effort to make. A great printable idea for kids would be coloring pages and even mazes for other kids to use.
If you're new to printables, I definitely recommend checking out the course, Profitable Printables, which walks you through creating and selling printables.
3. Selling bracelets
Bracelets are an easy craft that your kid can sell. They can make for a great time, while also being a fun product to sell. Here are some examples of bracelets that they can create and sell.
4. Writing books
You don't have to be an adult to be an author. Kids write books too! Your child can start a business writing and selling their own books. Here are some popular books written by kids:
5. Start an online kid's clothing boutique
Starting an online boutique is easier than you think. Sites like Shopify make it tremendously easy for you to start an online store with absolutely no experience. This may require a little bit of investment to get the products that you want, but it's definitely something that can take off!
6. Start a hair accessories line
Hair is a huge industry, so why not join in? If you're the parent of a small girl, then you've probably purchased your own bows made by kid star, Jojo Siwa, or Gabby bows. Your kid can start their own hair accessories line that they can sell on Etsy or another online boutique. Check out Gabby's story of starting her own hair accessories and, ultimately, hair care line.
7. Selling t-shirts
Selling t-shirts is a business idea that can span well beyond childhood. It's a business that you can get into without even having to make an upfront investment. The great thing is that you don't have to even make or hold inventory in order to sell shirts. Dropshipping with sites like Printful allows you to design and sell products without even touching them yourself.
8. Selling customized accessories
Phone cases and tumblers are all popular items that people love to customize. All your kid needs is a Cricut machine or something similar to print and cut designs that can adhere to products. Not sure what I'm talking about? Here are some examples:
Having this kind of business is great for birthday parties, graduations, and even weddings where people enjoy custom items. If you want to learn more about Cricut and customization crafts, my favorite channel to learn from is Makers Gonna Learn on YouTube.
9. Start a skincare line
Bath bombs, homemade soaps, the body scrubs are all things that your kids can create. In fact, they are things that kids have created. Check out this 16-year old who started her own skincare line.
10. Become a candy distributor
Although you may not be keen on your kids eating candy, they love it. Like I mentioned before, selling candy was one way that I made money as a kid. The key is selling candy that isn't readily available. You can find all sorts of candy at a local wholesale or cash & carry store.
11. Start a trash pick up service
You may hate taking your trash out to the curb or to the local dumpster. If you hate it, then maybe your neighbors do too. Your kid can get into the business of picking up trash and taking it to the curb or dumpster. It's an easy task that they may enjoy once they start getting paid for it.
12. Motivational speaking
When you think about public speaking, you probably don't think of kids. That's what makes it such a unique and creative business idea! If your kid doesn't have a fear of being on stage and speaking, allow them to start a motivational speaking business. Just check out this 10-year old motivational speaker! Kids can offer a lot when it comes to shifting adult mindsets to be more creative and carefree.
6 Other good business ideas for kids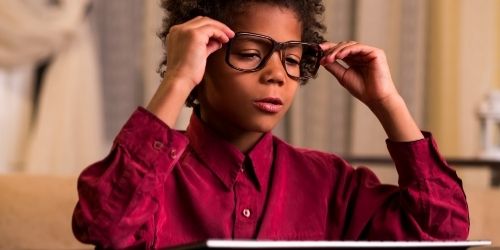 1. Offer landscaping services
Making money online is great, but don't forget good old physical work. Opening a landscaping business is a great way to keep your kid busy during the spring and summer while making money. Don't let them stop at mowing the lawn. Learning how to mulch and trim hedges can increase their earnings significantly!
2. Provide pet sitting services
Pet sitting can get expensive! You kid can save the day by offering pet sitting services for your neighborhood. Not only can they make some cash babysitting our furry friends, but it can also be the start of a veterinarian career.
3. Wash and detail cars
Have your kid grab a rag and bucket and start a carwash service in your neighborhood. They can offer to wash your neighbors' cars right at their house. This low start-up business only requires that they have some safe cleaning products, rags, a bucket, and water.
4. Dog walking
When they're not sitting, they can offer dog walking services for those busy neighbors. It only takes a few minutes and they can walk more than one dog at a time. This means they'll be able to maximize their income to make more money for their goals!
5. Tutoring
Tutoring isn't just for teachers. Students can also provide tutoring services to their peers. If your kid is great at any subject, allow them to offer tutoring to make some extra cash.
6. Babysitting
There's still nothing wrong with good old fashion babysitting. If your kid is a teen and is responsible, they can be the neighborhood babysitter and parents spend time out.
Final thoughts: Entrepreneur ideas for kids
There are so many benefits of exploring entrepreneur ideas for kids. Allowing your kids to start their own business not only teaches them responsibility, but it gives them life skills that they can use in adulthood. They can also put their money towards a savings account that can be used for their college education or to even buy a home in the future.
Related posts
Can you open a saving account for your baby?
How to financially prepare for a kid