There's nothing more exciting than opening up your phone to an email saying you've made money. What's even better is when you haven't done a bit of work to earn it…besides shopping online with Rakuten.
Since using the Rakuten app, I've made nearly $450 by simply shopping.
In this post, I'm going to show you exactly how you can use the Rakuten website and app to start making money online.
Ready to earn extra money online? Sign up for Rakuten and get $10 Cash Back! Sign up now!
What is Rakuten?
The name Rakuten (Rack-uh-ten) should ring a bell if you watched the Super Bowl this past year. The Japanese company acquired Ebates in 2014 and you've likely seen there name associated with the brand.
Over the years, they have worked to re-brand the company and have now fully renamed Ebates to Rakuten.
No worries though! They're still the Cash Back company that they were before!
How Does Rakuten Work?
Rakuten is essentially a large referral median for companies. They earn commissions from the companies listed on their site. Essentially, they get paid to send you to those sites to shop even though you'd probably shop there anyway.
The incentive to you is that they share a portion of that commission income with you.
It's a win-win business scenario. They get paid, you get paid, businesses make sales, and you get the products that you wanted anyway. Genius.
For each site listed, you can earn back a certain percentage of your order cost before taxes. From your everyday retail store to luxury brands, earnings go as high as 30%. Some brands, like Hello Fresh, offer a flat rate amount, like $15.
The site has over 400 stores that you can shop with to earn Cash Back. You can also use the site or app to find coupons and apply them to your order at check out.
How to Earn Cash Back
Earning Cash Back with Rakuten is very easy once you set up your account. I'll show you how to set up your account so that you never miss a deal or cash back opportunity when you're shopping online.
How to Set up your Rakuten Account
The first step here is to set up your account. If you previously had an account with Ebates, don't worry! All of your login information will be the same and all of your Cash Back will be transferred over.
Otherwise, here's how you can set up your new account.
Select your bonus offer—either a $10 Walmart gift card or $10 cash
Enter your email address or log in with Facebook or Google
Click Join Now!
You may be prompted to enter additional information, such as your address. Just follow the prompts. Once you're done, you can start shopping through the site and start earning cash back!
How to Find Stores
There are two ways that you can find stores to shop with. You can either search for a specific store in the search bar or you can scroll through the full directory of brands.
Each store will have its own specified Cash Back deal. Depending on the day, some deals may be higher than they previously were.
Once you've found the store that you want to shop at, simply click on it and you will be redirected to their site.
NOTE: If you have an ad or pop-up blocker on your browser, you should turn this off or it will prevent you from getting to the site to shop.
Once you're on the site, you can shop as normal! Rakuten will pick up your shopping trip and automatically calculate how much Cash Back you'll receive.
Once they confirm that the transaction actually went through with the store, the Cash Back will be credited to your account.
You can see all of your shopping trips from your account menu and which ones have qualified for Cash Back.
How to Install the Browser Plugin
If you're like me, you probably don't want to have to go to the Rakuten website every time you want to shop online. The cool thing is that you don't have to.
Instead of logging into your Rakuten account every time you want to shop online, you can install their browser plugin.
The Rakuten Cash Back Button is available for Google Chrome browser. To download it, simply click here.
This plugin recognizes every time that you go to a qualified website to shop. It will immediately ask you if you want to activate your Cash Back deal for the site.
Once activated, Rakuten will register it as a shopping trip and calculate your Cash Back amount if your order anything.
The plugin also suggests coupon codes that you can use on the site while you're shopping.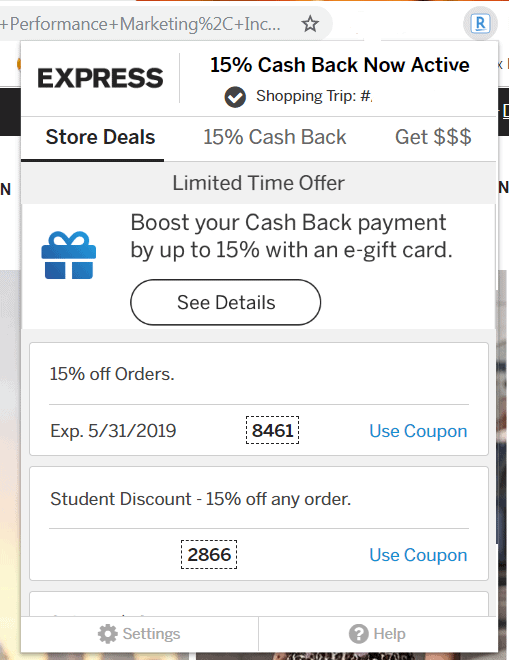 In-Store Cash Back
If you're shopping in store, you can also earn Cash Back. To do this, you'll need to link your debit card to your account and the Cash Back will automatically be applied to a single purchase made at a qualifying store.
You can link your card online or via the mobile app.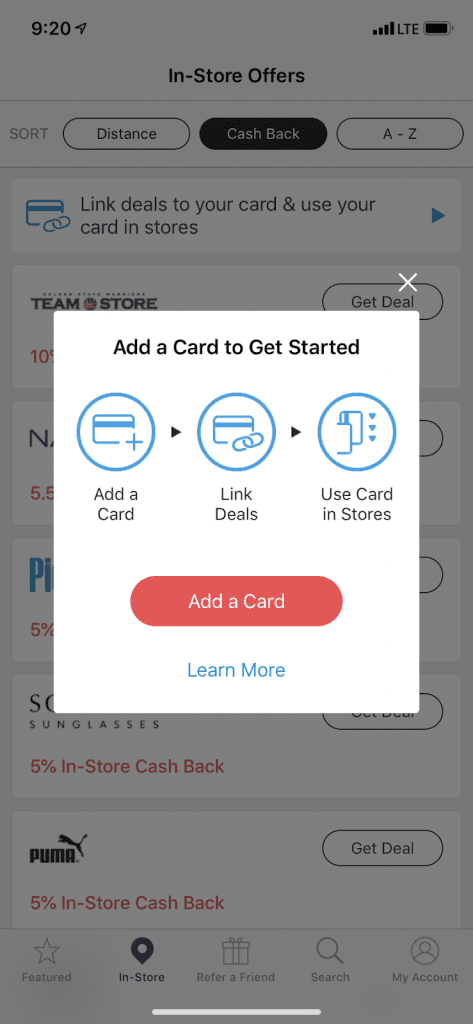 Note: To download the mobile app, you'll need to search for Ebates. Once downloaded, it will automatically change over to Rakuten.
How to Get Paid
Once you've created your account, it's important that you navigate to your account settings to set up your payment information.
To do this, simply click the drop-down beside your name and then click Account Settings.
Once you're in your account settings, you'll see a section called Big Fat Check Settings. This is where you can decide how you want to be paid.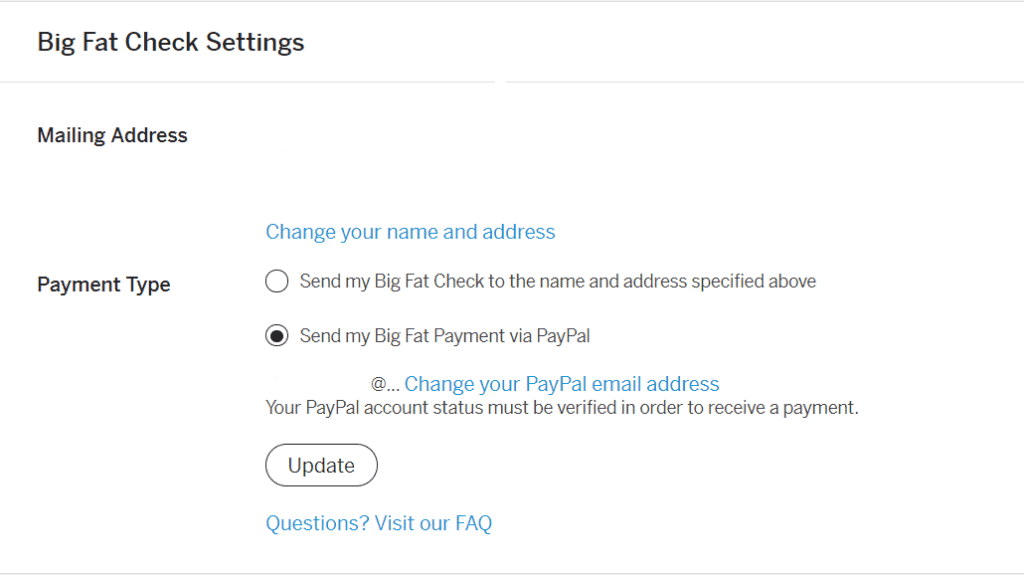 You can choose to receive your Cash Back via a check that is mailed out to you or via PayPal. I personally prefer PayPal so that the money gets automatically transferred.
A new feature that was just introduced is choosing to receive gift cards instead of cash.
When Do you Get Paid?
Cash Back payments are sent out every three months. The schedule for payment is below.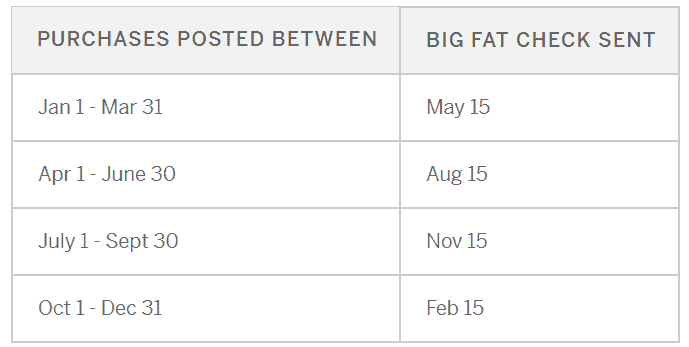 How to Increase your Cash Back Earnings
Now that you understand the fundamentals of Rakuten, it's time to learn how to actually make more money.
The truth is, unless you shop excessively, you really won't make a huge amount of money. I'm not a big shopper, so I had to get smart about how I could actually use the app to make more money.
I've made nearly $450 with this app (and counting) and I want to show you how you can do the same or better!
Here's how you can make extra money with Rakuten.
Book Your Travel through Rakuten
It's no secret that I promote debt freedom. My husband and I do not own any credit cards.
Unlike most people, we aren't getting any points or rewards from booking our travels around the globe. Instead, we leverage Rakuten to get money back on our adventures.
Once we decide where we're going to travel and what excursions we'll do, we simply use Rakuten to book our trip through Expedia.
Not only are we able to get Cash Back, but we also earn points with Expedia that we can use toward our flights or hotel stays.
The downside is that they have put a cap on Cash Back for flights; however, for everything else, you can earn a decent amount back.
Use Rakuten for Christmas Shopping
Most people will be spending a significant amount of money during the Christmas holiday anyway. Why not get Cash Back for the money that you're going to spend anyway?

Plan to do your Christmas shopping with Rakuten this year so that you can rack up on that Cash Back. I never shop without using the app or plugin for big holidays or events.

In fact, I used the app when I was purchasing items for our wedding!
Refer a Friend
This app is honestly too good to not share with your friends. Why not get paid for your referrals?
Every time that you refer a friend and they make a qualified purchase with the app, you can earn $25! Quite honestly, this is how you can make the majority of your money from the site.
If they're going to use it anyway, why not the both of you get paid? They'll get their $10 on sign up, while you earn $25.
Once you've signed up, you'll get your own personal referral link that you can share with others.
Final Thoughts
I hope that you found the article helpful and that you're able to make some passive income with Rakuten!
Don't forget to share this article with others who might find this as a great way to make some extra money.