Wondering how to stop losing your wallet? I can attest to the fact that there's nothing worse than leaving the house and suddenly realizing that you've lost your wallet. The thought of not only becoming a victim of identity theft but also having to replace everything is one the most gut-wrenching feelings ever.
Should you call the police or should you not? Is it really stolen or is it just lost?
Well, If you've ever had those nightmarish thoughts, this post should bring some relief. As someone who constantly misplaced things, I'm going to share my best tips on how to stop losing your wallet.
11 Ways To Stop Losing Your Wallet
Ready for some practical ways to stop losing your wallet? Keep reading for 11 ways to break the habit.
Afterward, I'll share the exact steps to take if you still manage to lose your wallet.
1. Have a designated spot
The best way to avoid losing anything is to have a designated spot for it. Essentially, you should have a specific location to store everything that you use consistently.
A great example of this is shadow boards used for tools. These boards have outlines for every tool so that it's easy to see where things go, but more importantly, when things are missing.
Now that's not to say that you have to have a shadow board for your wallet, but the concept still applies. Choose a specific place in your home to put your wallet when you're not using it.
This can be in a specific drawer, on a shelf, or in a bowl near your front door along with your car keys. Having a designated spot ensures that you always know where your wallet should be when you're home.
Additionally, it's also a good idea to have a designated spot for your wallet in your car as well. That way, you know exactly where to put it when you're traveling.
2. Put it in a bag or purse
It can be easy to lose a wallet because it's small. Another great way to stop losing your wallet is by putting it inside a bag or purse. It will make it much easier to find.
Instead of looking for something small, you'll just need to find your bag.
Simply make it a routine to put your wallet back inside of the bag or purse each night—if you decide to take it out at all.
I've found this to be the most effective way for me to keep up with my wallet.
3. Create a checklist for when you leave the house (or anywhere)
Another way to avoid losing your wallet is to have a checklist for when you're leaving the house.
You may already do this mentally; however, I suggest having a physical list so that you don't forget anything. This comes in handy when you're running errands for the day and may have to take more items than usual.
You'll want to make sure you have items like your car keys, cell phone, medications, diaper bags, and more.
Before leaving the house, do a quick run through the list to make sure that you have everything that you need. You can go an extra measure by checking your wallet to make sure you have your driver's license, debit card or credit card, and any other important things like insurance cards.
This simple routine will help you avoid the heart-sinking feeling of realizing that you've left something— especially your wallet— at home or elsewhere.
4. Carry a travel wallet
Though not very fashionable, a travel wallet is a great option for keeping up with your wallet. Specifically, those that you can wear around your neck. These are specifically designed to prevent theft and, ultimately, so that you don't lose your wallet while traveling.
These wallets are ideal because they're easy to keep up with and they can be secured against theft. This ensures that you don't lose your wallet while you're out and about.
5. Use a phone case wallet
A great alternative option to a traditional wallet is a phone case wallet. You're likely to keep your phone with you at all times, so why not make it your wallet?
Cases like these allow you to put all of your important cards in the back of your phone. You'll have a much easier time keeping up with your wallet when it's attached to something that you're likely to not lose. 
6. Use an Apple AirTag or Bluetooth tracker
Another great option for keeping up with your wallet is by using Bluetooth trackers. A popular option is to use Apple AirTag as a wallet tracker.
You discretely place one of these inside your wallet, allowing you to track its location on your smartphone or device. That way, if you're missing your wallet, you can pinpoint where it is.
7. Switch to a digital wallet
Speaking of using technology, consider going completely digital. Digital wallets offer a secure alternative to carrying physical cards and cash.
You can use services like Apple Pay, Google Pay, and Samsung Pay instead of carrying around traditional cards.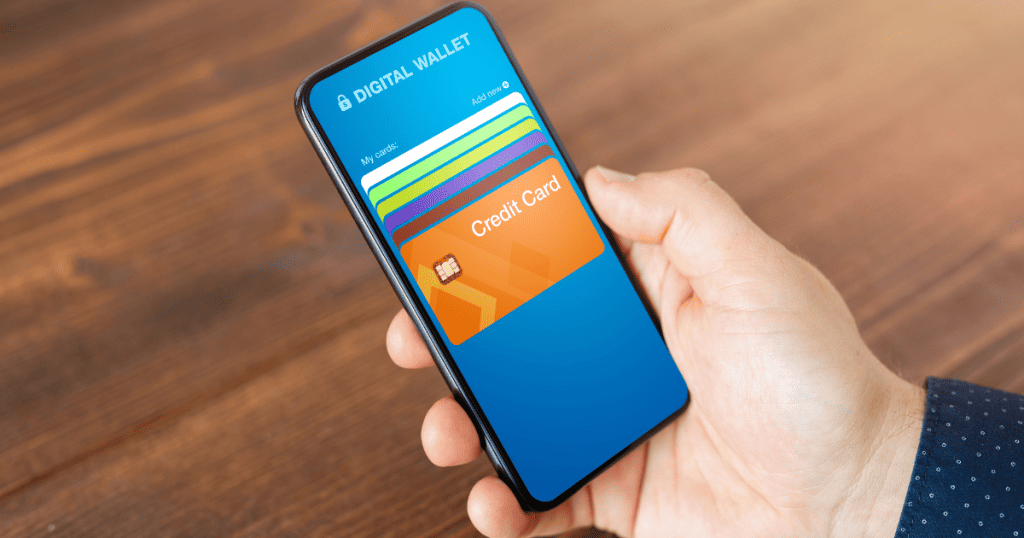 This allows you to make payments with your smartphone, reducing the need to carry a physical wallet. Ultimately, unless you lose your phone, you'll never lose your wallet.
8. Put it on a chain or wristlet
Similar to a travel wallet, you may want to consider having something that's attached to a chain or even a wristlet.
Chains can attach to your purse or even a pair of pants. Wristlets are great because they're also fashionable in addition to being functional.
In either scenario, your wallet will be physically connected to you, making it harder to lose.
9. Do a routine check when you're out
The next time you're out, take a moment to check if your wallet is still in your bag or pocket. Periodically, taking a quick glance to ensure that you have all of your belongings can save you from the anxiety of discovering your wallet is missing later.
As a precaution, avoid putting your wallet in your back pocket, as this is where it can be easily stolen.
10. Only take your wallet out when necessary
If you don't need your wallet, don't bring it out. This is another way to avoid losing your wallet while you're out. Consider only bringing your identification card with you, which you can keep in your pocket.
The good news is that today, you can use your digital wallet to make purchases at most places. So no need to worry about carrying your debit or credit card around.
11. Choose a bright color or unique pattern
Another great way to avoid losing your wallet is to choose one bright color or unique pattern. This will make it easy to spot when you're looking for it. Not only that, it'll be hard to mix up with other plain wallets.
What to do if you lose your wallet?
If you've followed the steps that I just shared, it's less likely that you'll lose your wallet. But, in the slight chance that you still lose it or discover that you now have a stolen wallet, here are some important steps to follow.
1. Retrace your steps
The first step after discovering that you have a lost wallet is to retrace your steps. Where was the last place you remember having your wallet? Go back and search for your wallet. Hopefully, you'll have the help of a Bluetooth tracker!
2. Cancel your cards
The next and most important thing to do is to contact your financial institution or credit card company immediately to report the loss.  Have your cards canceled to prevent unauthorized purchases.
3. Set up fraud alerts
While canceling your cards, ask your bank to set up fraud alerts on your accounts to notify you of suspicious activity. This is one of the necessary precautions that you'll want to take to avoid being a victim of fraud.
4. Check your bank account daily
Continue to monitor the online account connected to your debit cards and your credit card accounts for unauthorized transactions. If you see any, report them promptly to your bank or credit card issuer.
5. Request new cards
Of course, you will need to also request new credit/debit cards from your bank and credit card issuer. Getting your replacement card may take a few business days to arrive, so plan for an alternative way to make payments. This may mean getting cash from a local bank.
In addition to new debit and credit cards, you'll also want to replace any loyalty cards that you may have had with your favorite stores. Lastly, contact your insurance companies to replace those cards as well.
6. Get a new ID
If your driver's license or ID card was lost, you'll want to plan a trip to the local DMV to get it replaced. This may require that you bring other forms of identification, so be prepared with a passport, voter registration card, and other important documents.
If your social security card and birth certificate were also lost, you'll need to visit the relevant government agency to obtain a replacement.
7. Update your bills and subscriptions
Hopefully, your bank will be able to quickly provide a card replacement. Once you have your new card, be sure to update your billing and subscription information with your new card details to avoid service interruptions.
8. File a police report
If you believe that your wallet has been stolen, you can contact your local police department to file a police report about the loss. This may be required for identity theft protection services and insurance claims.
9. Get identity theft protection & monitor your credit report
Consider subscribing to an identity theft protection service that can help monitor and safeguard your personal information. This may come with a small fee, but it may be worth it to protect your identity and financial assets.
If you have been a victim of identity theft, you'll need to report it to the Federal Trade Commission (FTC) at IdentityTheft.gov or call 1-877-438-4338. You may also report it to the three main credit bureaus and request that they put fraud alerts and a credit freeze on your account.
As an added measure, continue to monitor your credit report so that you can stay on top of any fraudulent activity in addition to the monitoring.
10. Get a new wallet
Don't forget that you'll need to replace your old wallet! Consider some of the tips that I've already recommended so that you can avoid losing your new one.
Final thoughts on how to stop losing your wallet
Losing your wallet is never fun. Not only is it a stressful experience, but there's so much more that comes with it. So don't risk identity theft or fraudulent charges.
Instead, apply some of the tips that I've provided in this post. They'll help keep your wallet from being a lost item. Keep it in a safe place or, better yet, go digital! Whatever you choose, be sure that you have a plan going forward.