Are you interested in learning how to start a YouTube channel for beginners?
In this post, I'll share exactly how you can start a YouTube channel for beginners in 2020 and start making money.
After being on YouTube for almost a decade, I'll share everything that I know about starting a channel and using it to make extra money online.
My YouTube channel is just one of my passive income sources in addition to my other side hustles.
This post is pretty in-depth, so you'll probably want to save it to reference later on as you start to build your channel.
Be sure to come back for part two where I interview a YouTuber who was able to make over $17,000 from YouTube in one year as a side hustle.
How do I get started on YouTube?
Starting a YouTube channel is very similar to starting a blog.
Before you jump into it, you'll need to do a little bit of homework upfront if you want to be successful. Here's what you should do first.
Define your niche
Your niche is a very specific and unique area of expertise or topic that you plan to make content around.
When considering the niche you want to choose, ask yourself these questions:
What do you enjoy talking about? Remember, you're going to be creating content around this topic often. That means it should be something that you're genuinely interested in talking about all the time.
Of those things, what am I an expert in? You should know what you're actually talking about. It doesn't mean that you have to have a degree in it, but you should at least have experience around the topic.
Is it something that I won't get tired of talking about for years to come? YouTube is most definitely a long-haul platform. Will you be able to talk about this topic for years to come?
Are people interested in this topic? The point of sharing videos on YouTube is for people to watch them. So you want to choose a topic that people will actually be interested in viewing.
How to Research your Niche
The last question that I recommended asking yourself is if people are interested in the topic that you want to discuss.
To do this, you can research how often the topic that you're interested in is actually searched.
I like to use two Chrome extensions when I'm doing what's otherwise known as keyword research.
Keyword Everywhere
Keywords Everywhere is a tool that allows you to see how many times a keyword or phrase is searched on a monthly basis. It also shows the level of competition for this keyword.
The higher the competition value, the harder it will be for your content to rank at the top of the search results. Of course, the idea is to be at the top of the search results so that more people can view your content.
This is what Keywords Everywhere looks like within YouTube.
I simply typed in a keyword that I would likely make a video around, "work from home jobs" and it shows me that there are 673,000 searches for these words each month. In addition, the competition level is .65 on a 0 to 1.0 scale.
That's pretty steep competition for the phrase, but I at least know that the general topics of making money from home a very popular niche. As a result, I'd stick with it and create related content because I know that people want to view it.
This tool works for practically every search engine out there, including Google, Etsy, and Amazon. It's one of the tools that I use to plan out blog content.
Though it used to be free (I miss that), it now costs to use this extension. The lowest option is $10 for 100,000 keyword searches. Trust me, it's worth it!
Pro Tip: Be sure to turn the extension off when you're not actually doing keyword research so that you don't waste your searches.
Another great tool that will help you check out what's being searched and the competition for a topic is Tube Buddy.
This is an application that's specific for YouTube research.
I like this extension because it gives you visuals to show the search volume and competition. Then, it tells you if it's a good topic or keyphrase to try to compete for.
I typically don't put too much stock in their suggestions on whether or not a topic is worth pursuing. If it has a high search volume and it's something that will resonate with my audience, then I'll do it.
As you can see below, I'm able to get insight on "work from home jobs" by having this extension on when I'm searching in YouTube.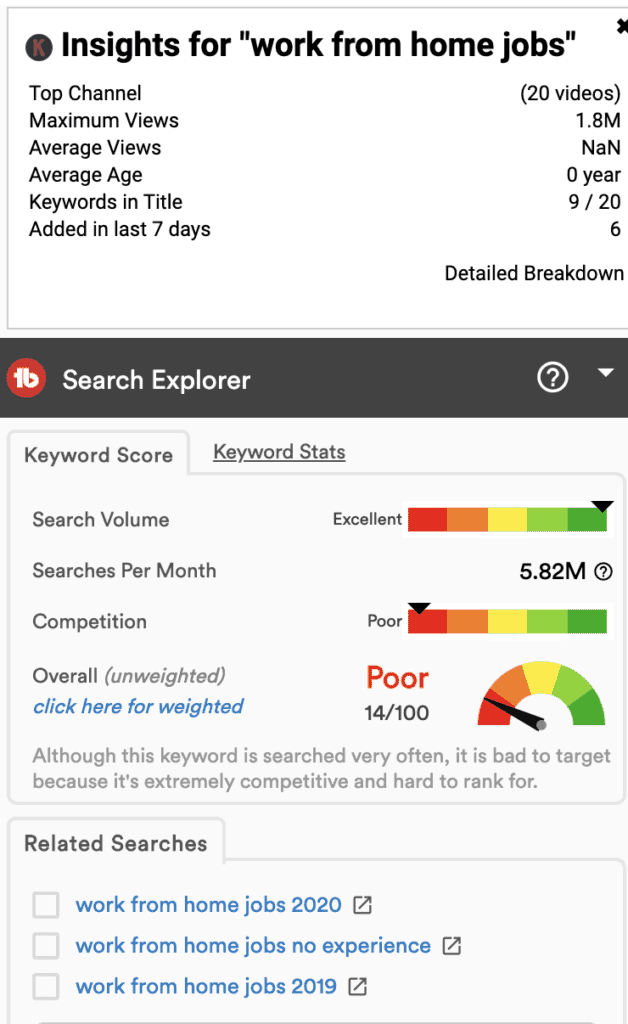 You can download this extension for free–which is the version that I have.
As with anything, though, you can upgrade to get more features. I personally think that the free version will suffice.
Most Popular YouTube Niches
If you're still stuck on what niche you should go with, here's a list of some of the most popular (and profitable) YouTube niches.
Tech Videos
Gaming
Vlogging
Food
Fashion
Traveling
Beauty
Music
Sports
Health
How To's/Tutorials
Finance
Determine your target audience
Before you start talking to an audience, you need to define who that audience is.
Who exactly do you want to watch your videos? Who is your content for? What type of people do you want to attract?

For example, this website is specifically designed for working moms who want to be financially free to come home and raise their families.

How do you know that?

Because not only do I state it on the homepage, but all of my content is written to that particular persona.

Every article is written with a working mom in mind so that she can relate and know that my content is for here.

When you know who your audience is, you'll know how to communicate with them.
You'll understand what their interests, pain points, and concerns are. This is the most crucial element for creating content that people will watch and enjoy.
Determine your Channel Name
You'll want to be just as strategic about choosing your channel name as you are with determining your niche.
When you actually create your channel, you'll be given the option to use your name which is associated with your Google account or to choose another.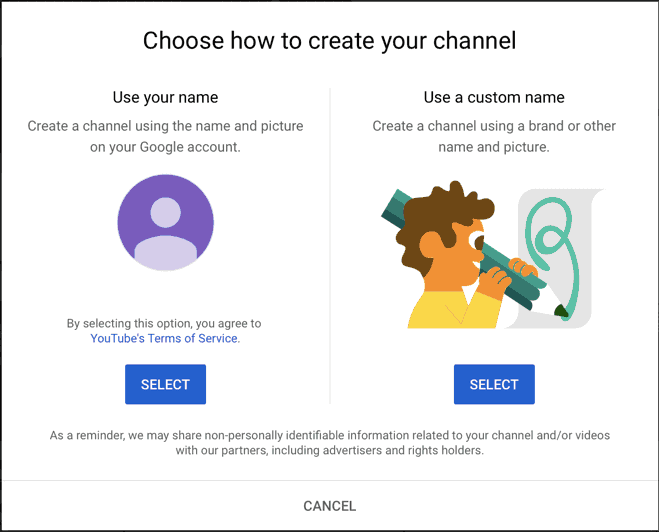 You'll want to think long term about your channel name.
If you're prone to change your mind, you may just want to use your name since it probably won't change.
I personally choose not to use my name and use my brand name instead. My brand is Mama & Money and I want it to be consistent across all social media.
Mama & Money is also very descriptive of what I talk about– motherhood and money.
Research content ideas
Once you know what you're going to talk about and who you're going to talk to it about to, it's time to come up with content ideas.
You want your content to be something that will be useful—educational or entertaining—to the people that you're trying to reach. So you'll want to put some thought into it.
There are several great ways to come up with content ideas that I leverage:
See what your "competition" is doing.
If you know of someone who speaks to a similar audience on the same topic, check out what they're creating content around to get some inspiration.
This doesn't mean that you copy exactly what they're doing. Instead, it can give you an idea of what's trending with your target audience.
Before I make a YouTube video that isn't a vlog, I'll check to see what's popular on other channels that are similar to mine.
We don't have to have the same amount of subscribers but have similar audiences. That way I know that topics they may be discussing will be of interest to my own audience as well.
You can see who someone's audience is by reading their video comments.
Is it women? Do they appear young in their thumbnail pic?
You get the point.
Once you have your channel set up, you'll have access to what's called YouTube Studio where you can see things like who your subscribers are. Compare the demographics on their site to your subscribers to see they align.
Pro Tip: You can also get content ideas from reading your competition's comments. Subscribers may leave requests for videos and ideas that may be applicable to your own audience.
Join Facebook groups
Joining groups that your target audience hangs out in is a great way to see what they're talking about, interested in, and asking questions about. This is the simplest form of market research.

Engage, ask questions, and before you know it, they'll be giving you content ideas that will address a need.
See what's trending in the media
Staying on top of what's trending the media is always a great way to come up with content ideas.
For instance, I like to search for trending work from home job topics in Google to see what I should write about on the blog. Or, if there's a huge financial topic being discussed in the media, I'll consider making content around it if it's relevant.
Google actually has a site called Google Trends where you can see what's trending.
You can specifically see what's trending on YouTube using the site.
For instance, I searched work from home jobs in the search and it shows me the trendline over time.
If I keep scrolling on that same page, I can see which countries the search phrase is most popular in and related search terms.
Create a plan/content calendar
If you truly want to be a YouTuber and reap the rewards of being on the platform, you have to remain consistent.
In order to do that you need to have a plan or content calendar.
A content calendar is literally a calendar that outlines when you will post specific videos (or other content). You can also include when you plan to record or edit your content so that you meet your posting deadline.
You don't need anything fancy to do this. In fact, I just use a free tool called Asana to manage my content for YouTube.
Here's an example of what my YouTube "board" looks like on Asana.
Within each card, I included the video description that will go with the video, thumbnail images, and relevant tags.
Writing it down in a planner or calendar is just as effective if you follow it! I also use my daily planner to help keep track of all of my content and when I need to film.
I recommend posting at least one video per week so that your audience grows and remains engaged. This is something that I've learned over time.
---
How to Create a YouTube Channel
All that you need to start a YouTube channel is a Google account.
1. Visit Youtube.com and click Sign In

2. Once logged in, click on your profile image to get a list of options
3. Select Create a Channel

4. Follow the prompts to set up your channel
Once you've created your channel, you can now start uploading videos. Although, before doing that, I suggest setting up your channel with a profile picture, channel banner, etc.

Again, I use Canva to create all of my graphics since they have pre-sized image templates for YouTube.
You can learn more about customizing your channel art and other details from Google's YouTube Help forum.
How much does it cost to start a YouTube channel?
The cost to have a Google account and to set up your YouTube channel is absolutely nothing. It is free to do both.
However, you will incur costs to purchase the equipment to actually record your videos if you don't have those items already.
---
What equipment do I need to become a YouTuber?
Since you're just starting out on YouTube, I'd advise you not to pour out a whole lot of money on equipment. As your channel grows, then start investing more into equipment over time.
With today's technology, you can literally create quality content in the palm of your hand with a phone.
At a minimum, you just need something to record, edit, and upload with. All of this can be done with a good phone; however, I do find it easier to do editing and uploading from a computer.
Here is a list of the current equipment that I use on my channel. Keep in mind, I did not start with these items but bought them over time.

Phone
I use my iPhone XR to film vlogs. I set my phone to record in 4K mode and AirDrop to my computer for editing
I've found this to be the easiest way to capture videos on the go.
Camera
I exclusively use this camera for more educational, sit down videos. This camera can plug into my computer so that I can see myself on my computer screen.
You will need to buy a lens to do with this camera. This is the lens that I use.
Tripods
I use this tripod when I'm recording with my phone. It also doubles as a selfie stick.
Lights
I use these ring lights for those sit-down videos in addition to any natural light that I can get in my recording room
Mic
This mic attaches to the camera that I use and helps pick up sound better, although not necessary.
What do YouTubers use to edit videos?
There are tons of editing software out there. The most popular is Final Cut Pro for Mac users; however, don't think that you have to make that investment.
I have always used iMovie, which comes on Mac computers. It is free and you can do lots of great editing on it. The Windows version would be Movie Maker.
In addition to iMovie, I like to use the pro version of Canva for graphics and to make some quick animations. This is a bit more advanced, but there are videos out there that can teach you some tricks.
I also use the pro version of Canva to make and edit all of my thumbnails for my videos.

Where to find audio for YouTube videos
YouTube will not allow you to infringe on any copyright when it comes to music. To play it safe, I suggest finding videos from YouTube's audio library where you can find royalty-free music.
---
How to Upload a YouTube Video (My Step-by-Step Process)
After recording my videos, I upload them to my computer. If I'm recording from my phone, I simply AirDrop the files to my desktop.
Once all of the clips are on my computer, I edit them using iMovie.
After I'm done editing, I'll save the final version and export it.
It's a good practice to save the final version to an external hard drive in case your computer crashes.
Pro Tip: I export at the highest quality possible. This makes exporting and uploading to YouTube longer, but the quality of my videos are so much better. This means 1080P HD.
I have a template in place that makes editing quick and easy. This also ensures that my videos remain in a consistent format.
After the file is saved, I'll upload the video directly to YouTube. As it's uploading I'll put finishing touches on the thumbnail for the video in Canva.
If I remember, I'll take my thumbnail pictures before I record. Other times I forget and will just use a screenshot from the video itself.
If you don't upload your own thumbnail, YouTube will choose one for you.
I have a template for my thumbnails in Canva that make the process of creating one quick and easy.
If I haven't done so already, I'll also write a quick description to go into the description box.
I use Tube Buddy to help figure out what tags to use and keyword to include for better search optimization.
What to do after uploading a video
After I upload a video and it goes live, I do a few things.
I'll watch the video in its entirety while it's in private mode. This allows me to make sure it's showing properly and it also counts as a view.
I like the video. Liking a video helps YouTube to know that people are interested in it. So I like it to start the party, so to speak.
After it's live, I'll leave a comment basically explaining what the video is about. I'll pin that comment to the top so that people who don't read the description can see it in the comments.
Share it on social media. You'll find that many views don't actually come from people who are subscribed to you. There are people who may watch consistently but, for whatever reason, never subscribe. So to help spread the word, I simply share my videos on my social media.
Respond to comments. I have a YouTube Studio app on my phone that allows me to see an respond to comments. This helps with engagement–another factor in helping your videos get seen.
Tips for Starting a YouTube Channel for Beginners
The best advice that I can give to be successful with the channel is to be consistent and have fun with it.
The moment that you start looking at YouTube solely to make money, it becomes a chore that you are a slave to. Don't make that mistake.
There are so many other ways that you can make money online that are a lot easier than YouTube, so make sure you're doing it for the right reasons.
Take this advice on how to start a YouTube and channel and remember to check back for part two of this post where I'll share how you can start making money from your new channel.
Related Posts to Starting a YouTube Channel: