When it comes to figuring out how to look put together, you don't have to spend a lot of money. What's even better is that it doesn't even take a lot of time!
I'm of the persuasion that if you look good, you feel good about yourself. This means that you're more confident to go after what you want in life!
I also believe that it shouldn't take a whole lot of money or time to look good. So, in this post, I'll be sharing 7 of my favorite hacks to look put together and polished in no time…even on a tight budget!
Related Posts
How to Look Fashionable without Going Broke
Save Hundreds Shopping with This App
7 Hacks to look put together and polished
1. Groom your eyebrows
They say that your eyes are the windows to your soul, so make sure they look welcoming with some nicely groomed eyebrows.
Although keeping your eyebrows tamed and maintained can get costly, there are much cheaper alternatives than going to a professional.
Periodically, I like to tweeze my own brows to keep them cleaned up. But if you're not a fan of tweezing, you can always use an eyebrow archer instead.
Filling in your eyebrows also helps give them a more polished and kept appearance. When doing so, make sure that you're not going too heavy or dark on the eyebrow pencil or powder. The goal is to look polished, not end up with cartoon eyebrows.
Budget-friendly eyebrow grooming tools
2. Keep your nails manicured
Your hands are one of the first things that people will notice about you. That includes noticing if you have chipped fingernail polish or a broken nail.
If you want to look put together and polished, then you need to make sure your nails are well kept.
This doesn't mean that you have to spend hundreds of dollars each month going to the nail salon. Simply clipping and filing your nails on a regular basis and moisturizing your hands makes a huge difference.
If you choose to wear nail polish, go with a clear or natural-looking color so that you can stretch out your wear. Chips in your paint are far less noticeable when you have a natural-looking color.
Budget-friendly manicure supplies
Here are my go-to nail polishes and colors to look even more polished:
Another alternative is hopping on the press on nail trend. Now, I don't mean your mom's Sally Hansen nails. Today's press-on nails are far more fashionable with more than just your french tip. Here are some examples of what's available now:
3. Brush and comb your hair
Nothing screams unkempt more than disheveled hair.
Having your hair looked polished doesn't mean that you need to book at $500 appointment at the salon. Simply combing your hair into a bun can easily elevate your look.
The key, though, is making sure everything is sleek and polished. To give yourself a more sleek and polished look, always make sure that your roots are either tamed or covered.
I like to do this by either wearing a head band or using edge control or gel–in which case, a little goes a long way.
When I don't feel like doing my natural hair or need a quick, go-to style, I'll also wear wigs.
Although wigs can get expensive, there are some cheaper alternatives that will still give you a put-together look. If you're crafty, you can even make your own wigs!
Budget-friendly hair grooming tools
Here are my must-have tools for keeping my hair put together and polished on a budget:
4. Wear clothes that fit
Ill fitting clothes is another sure way to not look put together. Simply put, your clothes should fit.
This means that they shouldn't be too tight or too loose.
You don't have to get your clothes tailored for this to be the case. Finding clothes that fit simply requires that you know and understand your measurements and body shape. You can check out this quick guide to finding clothes that fit.
A huge part of having proper fitting that often gets overlooked is having proper undergarments. Not only do you need outwear that fits, but your undergarments need to fit properly as well.
This means that you're properly fitted for a bra and you are wearing it correctly. This also means wearing the appropriate underwear for your outfit.
Proper undergarments can get costly, but you can save using Rakuten.
Rakuten allows you to get cash back for your purchases and looks for coupons and deals that can be applied at checkout. They'll also let you know if an item can be bought for a lower cost elsewhere.
5. Iron your clothes and keep a lint brush handy
It should go without saying, but wrinkles can really kill an outfit. And, as much as you may dread it, if you want to look well put together, you'll need to get rid of them.
The most budget friendly way to do this is by setting aside time to iron your clothes each week.
This includes your jeans and t-shirts, too. Those can be the biggest culprits when it comes to wrinkles.
While you're at it, keep a lint brush handy.
You may not notice it while dressing, but the sun will reveal all of your lint secrets. It's best to keep a small lint roller handy to get rid of the hair, fur, and other random fuzz.
A great way to keep your clothes looking fresh is to also use an electric fabric shaver. This will get rid of those annoying fabric balls due to constant rubbing.
Budget-friendly tools to upkeep your clothes
6. Keep your shoes cleaned
Another key to ensuring that you look put together is by making sure your shoes are clean and well kept.
Ultimately, your shoes complete an outfit. If your shoes aren't up to par, neither is your look.
This doesn't mean that you have to meticulously clean your shoes with a toothbrush. It simply means that every once in a while, you should wipe your shoes down and clean them.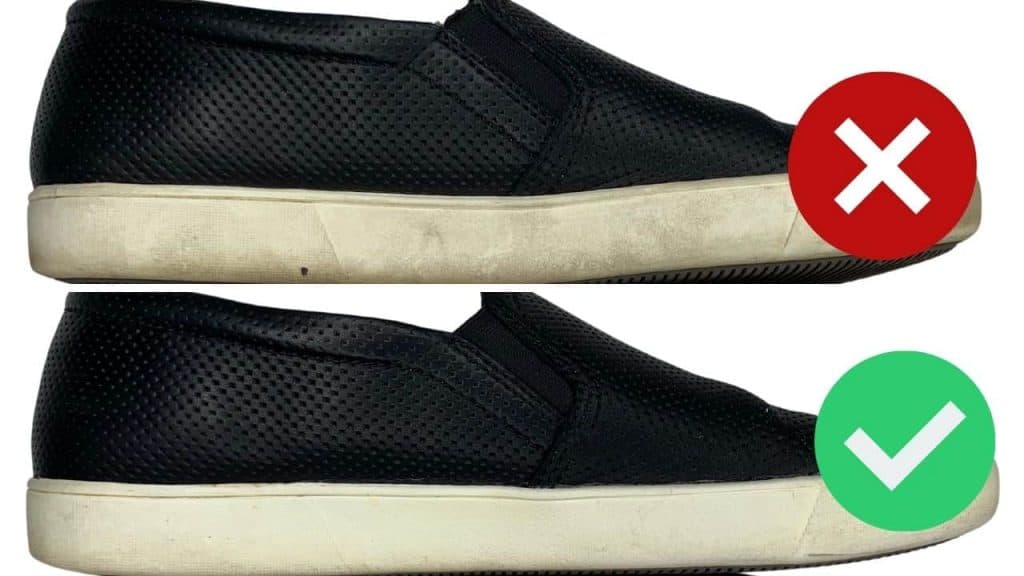 When it comes to cleaning your shoes, you need to make sure that you have the right tools. Leather and suede shoes need to be cleaned with the proper solution so that you don't ruin them. For everything else, you can generally use warm, soapy water.
Budget-friendly tools to upkeep your shoes
7. Go for solid colors
If you're going for a more elevated and expensive look, go for solid, neutral colors. Nothing screams "chic" more than a neutral base with accessories.
You don't have to overdo it with a bunch of prints and frills. Keeping it basic will always ensure that you look polished.
I personally love black since it's also a slimming color to wear.
If you want to add a fashionable flair, you can layer with a scarf (when it's cool), a jacket or blazer, a belt, or some statement piece.
BONUS: Wear (stud) earrings
Earrings are like the cherry on top when it comes to looking polished.
I recommend investing in some stud earrings as a go-to for any outfit. You can buy an assortment for really cheap at many of your fashion stores or online.
How can I be comfortable and put together?
Being put together doesn't have to mean uncomfortable. You can look put together wearing sweatpants and a tee-shirt with the hacks that I've shared. It's all about making sure you're neat and polished.
Nonetheless, wearing athleisure is a great way to be comfortable but still put together. The key is sprucing up your look so that you don't look like your coming from the gym.
How can I look classy at home?
We all want to be comfortable at home, but it doesn't mean that you have to look put away. You can still look classy at home by wearing clean, well-kept clothes.
That means tossing the overside T-shirts with holes in them and the pants with bleach stains. You don't have to dress up, but you should at least look presentable for yourself.
Ways to look fashionable on a budget
Now that you know how to look put together, its time to add a fashionable twist to your wardrobe.
This also doesn't have to require a lot of funds.
Check out ways that you can look fashionable without breaking the bank!