*This post may have affiliate links, which means I may receive commissions if you choose to purchase through links I provide (at no extra cost to you). Additionally, as an Amazon Associate I earn from qualifying purchases. Please see my Privacy & Disclosure for more information.
You've probably heard that babies cost a lot of money. Spoiler alert: It's true. So how exactly do you financially prepare for one?
Well, let me level your expectations a bit…
It's a lot more to it than just saving money. Financially preparing for a baby takes into account all aspects of your finances. This means looking at your debt, insurance coverage, and more. (I'll get into the details later in the post, so keep reading).
Nine months will come and go before you know it, which means that you only have a limited time to pull things together. Lucky for you, I've laid out exactly what you need to do in order to be prepared for your baby financially.
Let's start with savings.
Related Posts to Preparing for a Baby Financially:
Should you save money before having a baby?
The obvious answer here is, yes. You want to have money put aside to cover the costs related to delivering your baby and subsequent expenses. Don't forget that you, as the mom, will also incur costs as well.
The things that you need to save for fall into these main categories:
So as you're thinking about what you need to save for, remember that it isn't just about delivery. You'll have expenses leading up to the big day and after.
Hopefully, you have proper insurance coverage that can help offset some of these costs. If not, you can always save up so that it's not a huge financial burden for you or your family.
How much should you have saved before having a baby?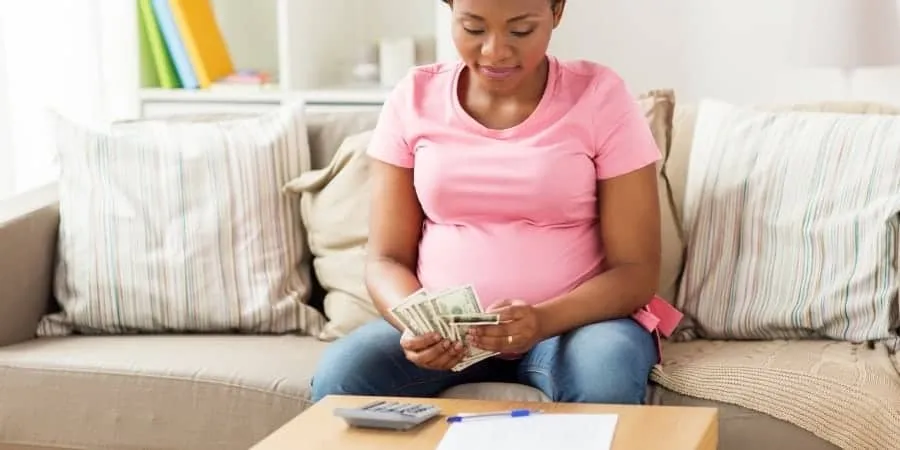 You should save as much as you can. At the end of the day, something will always be better than nothing. But, if you want to get a specific number, start with having money set aside for delivery.
The average cost to deliver a baby in the US is between $5,000- $11,000. So if you want to cover the cost of delivery alone, you'll want to save at least this much. This cost will vary based on how you deliver (vaginal or cesarian), where you deliver, and if there are any complications.
It's important to note that your insurance may cover these costs, so it could be less. For instance, I paid $7,000 out of pocket to cover delivery and hospital expenses for my daughter. Whereas, I've known other moms to pay absolutely nothing because it was covered by insurance.
What should you do financially before having a baby?
Before your baby arrives, here are a few things that you can do to become financially prepared. Remember that it's not all about saving money. It's about looking at your total financial picture and making sure that you have things in place to take care of your new child.
Here's what you need to do…
9 Steps to Prepare for a Baby Financially
1. Get a life insurance policy
The first thing that you need to do in order to financially prepare for a baby is to get life insurance.
Life insurance is a way to cover end-of-life expenses and to replace your income in case of sudden death. It ensures that your children do not have to worry about finances and that they have money available to be taken care of.
There are many different kinds of life insurance policies as you can get—including term life insurance and whole life insurance options.
Regardless of which type you choose, you want to have life insurance so that your children are financially covered in the case of an emergency.
2. Get a will & estate plan
A will outlines what happens to your kids in the event of your untimely death. Additionally, it gives direction on how your assets, including money, will be handled and who will handle it.
Though there are tons of websites online where you can create a will, it's much better to have an attorney walk you through your specific situation and create a plan and just for you.
Even if your child isn't born yet, you can still have your attorney draft your documents to include future children.
It isn't the most joyous thing to talk about with your family and your friends, but it is a necessary conversation to have to financially prepare for having a baby.
3. Check your medical insurance coverage
The third thing that you want to do is to check your medical insurance coverage.
Before you have a baby, or if you're thinking about having a baby, it is important to understand what is covered by your insurance and what is not.
This includes inquiring about prenatal doctor's appointments, ultrasounds, labs, labor & delivery. You want to know if you'll have to pay for these things upfront so that you can start saving and making adjustments to your budget in order to cover those expenses.
Ask what exactly is covered so that you're not taken by surprise or paying for things that you don't have to pay for.
The other thing that you want to understand is how much it will cost to add a dependent to your health insurance policy. This will be an additional expense that you'll want to plan for, as your baby will need coverage once born.
You may also want to consider disability insurance. In some cases, it may cover loss of income due to being disabled from pregnancy or birth complications.
4. Research daycare costs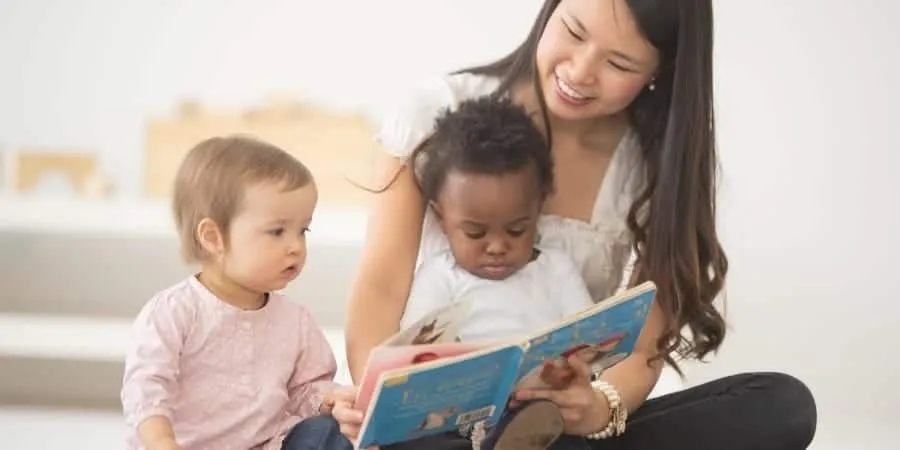 Childcare is expensive, so it's important that you have a plan to pay for it.
You'll find that daycare costs will vary based on where you live. The average cost is a whopping $1200 dollars in my area, so research to find out what costs are near you.
If you're not able to stay at home with your baby just yet, start looking into daycare costs as soon as possible. Daycares can book up quickly, so it'll help to get a head start on saving and securing a slot.
Alternatively, consider if you want to hire a nanny. You may find that a nanny may actually be cheaper than doing daycare.
Do your research and understand what you can afford and plan accordingly.
5. Talk to your employer about your options
The fifth thing that you want to do is actually talk to your employer about your options and your benefits.
Find out if you actually get maternity leave, if you have to take unpaid time off, or if you need to apply for FMLA. In either scenario, ask how much time you'll actually get off.
These are all things that you need to understand before you have a baby so that you can make an informed decision.
If your income will be reduced while you're out or if you won't get paid, you'll need time to save and/or pick up additional work to prepare for the income loss.
If you're the father, go talk to your human resources department to find out if you get paternity leave and if it is paid. Or perhaps you have to take unpaid time, FMLA, or vacation. You won't know until you ask.
You also want to talk to your benefits department, because there may be incentives that you get to help with costs, such as daycare reimbursement.
Make sure you talk to your employer to find out what your benefits and options are.
6. Save for expenses
It should go without saying, but you absolutely must start saving as soon as possible.
In addition to the aforementioned expenses, you'll want to start saving for other expenses that you'll incur.
Here are a few items that you'll need to set money aside for:
Maternity clothes
You want to start saving for maternity clothes, as you'll find that you may grow beyond your ability to wear your current clothes.
You're going to have to get maternity bras, pants, and other items to help you through your pregnancy. I recommend buying things like maxi dresses because those are clothes that you can wear during pregnancy and after.
Baby items and expenses
There will be items that you must purchase for your baby before they are born. Namely, you'll need a car seat to even leave the hospital, along with diapers, and clothes.
Though you may receive gifts from friends and family before your new arrival, it's always a great idea to have the funds just in case you don't.
I recommend opening a bank account specifically for baby-related expenses.
You can use this account to start setting money aside and as a place for monetary gifts that you receive specifically for the baby.
You'll be able to make purchases directly from these earmarked funds—making money management organized.
Health Savings Account (HSA)
If you have a high deductible health insurance plan, you're probably eligible for a health savings account (HSA).
An HSA is a tax-incentivized account that allows you to deposit funds tax-free while also reducing your taxable income. You are able to use this account exclusively for health-related expenses.
Each year, you can max out the savings limit on this account and allow funds to roll over to the next calendar year.
Ultimately, the more you can put in your HSA (to the allowable yearly limit), the more money you'll have saved to pay for qualified medical expenses and the less you may have to pay in taxes.
Education Savings Account
If you want to take things a step further, you can even begin saving for your child's college. This, of course, isn't mandatory, but if you can save, why not?
You can leverage an Education Savings Account (ESA) to do so. This is an account specifically for saving for education and educational expenses. This can also be applied to their schooling before college as well.
There are other savings accounts, like the 529, that you can leverage to save for your child's education. However, an ESA can be opened for an unborn child. You can also open a traditional savings account for your baby to start putting funds away.
7. Pay down debt
The seventh and final thing that you want to do to financially prepare for a baby is to start paying down debt to free up cash. The best thing that you can do to prepare is to pay down debt so that it is one less financial burden to worry about.
You may not be able to pay everything off before the baby comes, but pay down what you can so that you can free up cash.
Consider paying down your credit card debt, student loans, and other large debts that may be tying up your cash. Ultimately, you don't have to get into more debt in order to have a child. So freeing up cash will be critical to ensuring that you don't.
Check out these resources for paying off debt.
8. Pick up a side hustle
Now might sound like a crazy time to pick up a side hustle, but if you need to make some extra cash you should consider it.
This doesn't mean that you need to pick up a second job or work ridiculous hours. There are ways to make extra money online that don't take up too much time or cost anything. In fact, I was able to earn money selling digital products while in labor.
Consider side hustles like:
These are all ways that you can start making money online without taking up a lot of time, energy, or money. You can also look into these home-based small business ideas for moms for more ideas.
9. Create a family budget
If you haven't done so already, you'll want to create a family budget. Having a budget will help you manage your money and plan your family finances.
You'll want to include the new expenses that you'll have with your baby in your budget. This should include, but isn't limited to:
Formula (if applicable)
Clothes
Diapers
Toys
Hopefully, you'll be able to get some of these items at your baby shower to help reduce some of your recurring costs. So be sure to put them on your baby registry. If not, just remember to budget for these expenses.
Can you ever be financially ready for a baby?
If you do all of the things mentioned above, you'll be in a great place financially for your baby. There will always be the unexpected, but becoming financially secure will help you navigate these curveballs.
Don't fret if you don't have all of these things done beforehand. None of these things are prerequisites to being a good parent.
There are so many more things that you need to do to get ready for your baby's arrival, so don't let finances be a stressor.
I hope that this article was helpful for you as you financially prepare for your baby.
Latest posts by Fo Alexander
(see all)