You've probably heard that babies cost a lot of money. Spoiler alert: It's true. So how exactly do you financially prepare for one?
Well, let me level your expectations a bit…
There's a lot more to it than just saving money. Financially preparing for a baby takes into account all aspects of your finances. This means looking at your debt, insurance coverage, and more. (I'll get into the details later in the post, so keep reading).
Finding out that you're pregnant with your first baby can be both exciting and scary at the same time. But what's even scarier is the cost to actually have a baby.
I remember receiving the hospital estimates for my first child and being in utter shock. I didn't understand how people had multiple kids with the cost being so high!
Although my husband and I had saved up, we weren't prepared for what it would actually cost to have a baby. Let's just say, that the second go around, we saved, planned, and used many of the tips that I'll share in this post.
Going into parenthood financially unprepared can leave you in debt and in bad financial shape. So in this post, I want to share some tips for how to have a baby on a budget.
Remember that financially preparing for a baby isn't just about saving money to cover expenses. It's about looking at your total financial picture and making sure that you have things in place to take care of your new child.
With that said, I also share other ways to financially prepare for a baby.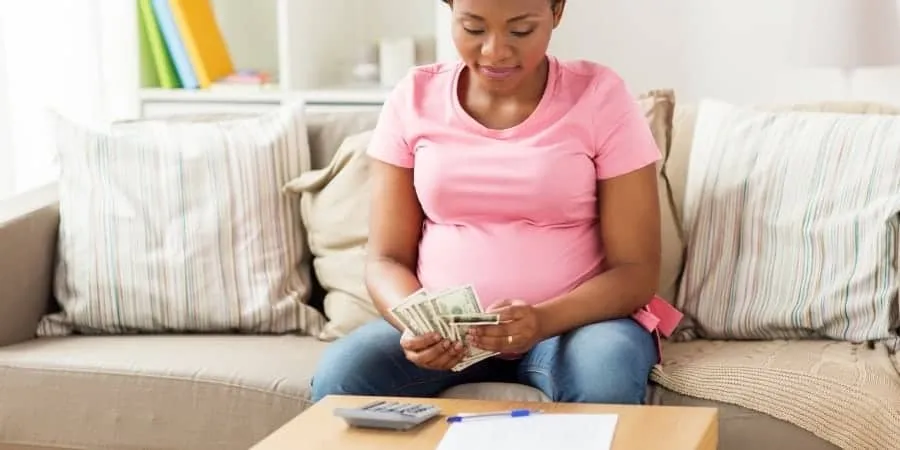 Should you save money before having a baby?
The obvious answer here is, yes. You want to have money put aside to cover the costs related to delivering your baby and subsequent expenses. Don't forget that you, as the mom, will also incur costs as well.
The things that you need to save for fall into these main categories:
So as you're thinking about what you need to save for, remember that it isn't just about delivery. You'll have expenses leading up to the big day and after.
Hopefully, you have proper insurance coverage that can help offset some of these costs. If not, you can always save up so that it's not a huge financial burden for you or your family.
How much should you have saved before having a baby?
The simple answer is that you should save as much as you can. At the end of the day, something will always be better than nothing.
Nonetheless, if you want to get a specific number, start with having money set aside for delivery. Outside of the ongoing costs of caring for a baby, delivery is the biggest expense that you will have when it comes to your pregnancy. So finding ways to save here will be important.
The average cost to deliver a baby in the US is between $5,000- $11,000 and varies based on how you deliver (vaginal or cesarian), where you deliver, and if there are any complications. Now, it's important to note that your insurance should cover most of these costs, so it could be less.
For instance, I paid $7,000 out of pocket to cover delivery and hospital expenses for my daughter. Whereas, I've known other moms to pay absolutely nothing because it was covered by insurance.
If possible, save as much as you can to cover delivery costs without going into debt. With that said, here are my tips for having your baby on a budget.
35 New Parent Tips For Having A Baby On A Budget
As you're budgeting for your baby, there are several things that you'll need to consider. For that reason, I've broken these into four main categories:
So let's dive into these tips for having a baby on a budget!
1. Create a baby budget
You'll want to kick things off by creating a baby budget based on the categories that I've shared. Having a budget will help you plan for the many expenses you'll have during your pregnancy and after the baby is born.
If you don't have one already, don't fret. You can grab our Baby Bump Printable, which includes a baby budget!
2. Check to see what's covered by insurance
Before you have a baby, or if you're thinking about having a baby, it is important to understand what is covered by your insurance and what is not.
This includes inquiring about prenatal doctor's appointments, ultrasounds, labs, labor & delivery. You want to know if you'll have to pay for these things upfront so that you can start saving and making adjustments to your budget in order to cover those expenses.
Ask what exactly is covered so that you're not taken by surprise or paying for things that you don't have to pay for.
3. Stay within your insurance network
With that said, you want to stay within your network for insurance. This means only going to doctors that are covered by your insurance plan.
You should be able to access a list of providers from your insurance company's website. Or, just give the doctor's office a call to see if they fall into the network.
4. Decline any unnecessary exams or procedures
As much as we hate to believe it, the medical system is a business. So, unfortunately, sometimes they'll try to sneak in a bill or two on you.
This was the case during my second pregnancy. I was told that I needed to have special monitoring done when, in fact, I was healthy enough to forego them. Instead of continuing to pay for them and having my medical bills rack up, I decided to decline any future monitoring.
It's so important that you advocate for yourself, not just to save money, but so that you aren't subject to unnecessary procedures. Ask questions and be sure to speak up.
5. Don't buy unnecessary maternity clothes
Maternity clothes are known for being ridiculously overpriced. The truth is that they aren't necessary. Instead, the budget-friendly alternative is to get larger, stretchier clothes.
For both of my pregnancies, I simply wore these maxi dresses from Amazon. These were dresses that I knew I could wear even after pregnancy. I grabbed different colors so that it wouldn't get boring, but this saved a ton of money.
6. Consider a home delivery
Once upon a time, it was commonplace to deliver at home. Even during the pandemic, many moms considered this a viable option for their health and safety.
Although it's not the most popular option, home deliveries still exist. So if you want to save on delivery costs, consider a home birth with the aid of a midwife. In some cases, insurance will cover the cost of a midwife and it can be cheaper.
You should only consider this option if you have a low-risk pregnancy and are cleared to do so.
7. Avoid a long stay at the hospital
Remember that the hospital is not a hotel. So don't plan for an extended stay unless it's absolutely necessary.
Your insurance will only cover a certain number of days in the hospital, so be aware of what that amount is. Most new moms don't know that you can leave the hospital as soon as you and the baby are cleared.
So request that all tests and monitoring be done as soon as possible so that you can be released. For my second child, I was able to leave the hospital on the next day and go home to recover.
8. Don't check in until you're in active labor
Just as you don't want to stay longer than necessary, don't admit yourself before it's time.
I made this mistake with my daughter. We checked in the night before, only for her not to arrive until the next day. That landed me a full day's charge to just lay in the hospital bed.
The truth is that I could have labored at home a little longer—had I been prepared for what to expect. Nonetheless, with my second baby, I labored at home for as long as possible before going to the hospital.
9. Bring your own pain medicine
Note that this tip only applies to post-delivery, while you're recovering. In fact, this was actually a recommendation from a nurse while at the hospital.
Since they were billing me a ridiculous amount for every aspirin pill that I took, she recommended just buying some over the counter. She then advised on the equivalent dosage to take.
So while you're packing your hospital bag, throw in some over-the-counter pain medication to help after delivery. Be sure to keep the staff informed of what you're taking.
10. Try an unmedicated delivery
Speaking of pain, if you want to have a baby on a budget, consider an unmedicated delivery. Though epidurals are commonplace in the US, there are many countries where unmedicated childbirths are common.
The cost of an epidural shot is a minimum of $1,000 in most states. This doesn't include the cost of the anesthesiologist performing the injection!
One way to avoid this added expense is by opting to have an unmedicated childbirth. As painful as it may seem, it's certainly possible.
I suggest reading the book Supernatural Childbirth if you want help preparing for an unmedicated childbirth.
11. Take supplies from the hospital room
The best advice that I was given was, "Take everything from the hospital room." That is, of course, if you choose to have a hospitable birth.
In that case, they'll include diapers, formula, and postpartum recovery essentials in the total cost of your stay. It's already been paid for, so take it all!
I'd even ask for additional items if they have it. Most nurses are kind enough to just throw them in.
12. Breastfeed (if possible)
Not every mom wants to or can breastfeed. But, if you are willing and able, breastfeeding is another way to have your baby on a budget.
Depending on the brand that you choose, formula can average upwards of $2,000 or more each year! Whereas breast milk is obviously free.
You can exclusively breastfeed, combine it with pumping, or exclusively pump. The good news is that a breast pump is typically covered by insurance, so you shouldn't have to worry about paying for one.
Here are some sites that offer free breast pumps with insurance:
Aeroflow Breastpumps (I personally used this site to order my last breast pump)
Medela (I've used Medela pumps and would recommend)
13. Get free formula samples online
Speaking of formula, you can always get free samples. I've already shared that you can grab some from the hospital, but you can also sign up for samples online.
Most of the top brands offer free samples and discounts directly from their website. Here are some to sign up for:
If you have a preference beyond those listed above, simply Google the brand you want and add "free samples" to the end of your search.
You can also sign up for FreeFormulaExchange.com, which connects families with formula to those in need.
14. Ask your doctor for samples
Since you'll be frequenting the doctor during and after your pregnancy, it's a great chance to ask for samples. Doctors' offices always have tons of samples for you and for baby.
My kida' pediatrician usually keeps samples at the front desk. On each visit, I'll grab a few of the things that I think I'll use. In most cases, I do and it saves having to buy things out of pocket.
So don't forget to ask for whatever samples are available!
15. Opt for the generic brand formula
Another way to save on formula is to opt for the generic brand. You can save as much as 40% by simply switching to a generic brand on certain items.
Having worked in manufacturing and merchandising, I can attest to the fact that many name-brand items are manufactured alongside your favorite brands.
Same product, different label. In fact, many major brands make equivalent products under different brand names.
So don't be shy about buying generic brand formula. It's certainly something that we did with my kids to cut costs.
16. Sign up for free samples
Formula isn't the only thing that you can get free samples of. There a literally free samples for everything that you'll need—from baby wash to diapers.
Here are a list of free baby stuff that you can grab:
17. Sign up for registries
Starting a registry is a great way to allow people to purchase items that you need. But the other added benefit of a registry is getting free samples.
Some registries may require a minimum dollar amount to be purchased from the registry before you're eligible, while others may charge shipping. Nonetheless, the cost is nominal for the products that you'll receive.
Here is a list of registries to sign up for to get free items:
A great website that allows you to consolidate everything into one place is MyRegistry.com. You can sync up your registries from different retailers into one place and just share the central link.
I also recommend reading our ultimate baby registry checklist article which lists items that you should put on your register.
Also, don't be shy about putting big-ticket items on your registry. There's usually someone who's willing to help purchase the bigger items like cribs and strollers.
18. Claim your registry completion offers
In addition to the free items that you're able to get when you start a registry, there are also perks for completing them as well. Most major registries offer discounts once you have completed purchasing items from the registry.
Amazon – 15% discount on orders up to a combined value of $2,000, for a maximum discount of $300.00
Target – 15% off everything left in your registry, 8 weeks before Baby's expected arrival.
Pottery Barn – 15% completion discount, valid for two months prior to and six months following your event date.
There are, however, some stipulations before the discounts can be activated. For instance, Amazon states:
"The Completion Discount redemption window begins 60 days prior to the Arrival Date you entered in your Baby Registry and expires 90 days after the Arrival Date. Your registry must be active for at least 14 days to be eligible for the discount."
Target and Pottery Barn have similar stipulations. I recommend checking out this article where one mom shares her hack for saving more than $1,000 using registry completions.
19. Sign up for rewards program
Another great way to save and have your baby on a budget is to sign up for reward programs. These programs offer discounts, perks, and even free items when you purchase items and reach milestones.
Here are some reward programs to sign up for:
While you're signing up for rewards programs, don't forget to sign up for cash-back apps as well.
20. Use cash-back apps
One of my favorite ways to save money is with cash-back apps. This is real money that goes back into your wallet that you can put toward other items for your baby.
I used these throughout my pregnancy and beyond! My favorite cash-back apps to use are Rakuten and Ibotta. You even get $30 when you sign up for Rakuten and make a qualifying purchase within 90 days of joining.
As you're shopping online or in-store, you can apply discounts from the apps and get a percentage of your total back to you in cash.
21. Use coupons
If you decide to sign up for free samples, you'll definitely be receiving coupons. Don't forget to use these while you're shopping! It's a quick and easy way to save money on items before or after the baby is born.
22. Homemake your baby food
As your baby gets older and starts eating solid foods, you may want to make your own baby food. Just like formula, baby food can get expensive. It's unfortunate when purées are very easy to make.
This is what I did for both of my kids to avoid having to buy baby food from grocery stores that are loaded in preservatives.
Here's everything that I used:
The Complete Baby & Toddler Cookbook
I was able to batch-make baby food that would last a few days or that could be put in the freezer. This will save you time and money.
23. Consider reusable diapers
You can spend around $70-$80 per month on disposable diapers. You can cut this cost by going to cloth diapers. Not only do cloth diapers cut costs, but they also help reduce waste and are better for the environment.
Though cloth diapers will require an upfront investment, they are reusable and can grow with your baby. In fact, you can find a set of cloth diapers for a fraction of what you'll pay monthly for disposable diapers.
Besides the actual diapers, though, you'll want to invest in a diaper sprayer to clean soiled diapers before going in the wash.
If you're interested in taking this route, I recommend reading this article on cloth diaper care for more tips and tricks!
24. Buy in bulk
Even if you choose not to use cloth diapers, there are other ways to save. One way is to buy in bulk.
Now, I'm a huge fan of club memberships when it comes to purchasing items like diapers, wipes, and other items that you'll need in large quantities.
You can save on the cost of these items by purchasing them in bulk. You'll save even more when you go with the store brand, like Sam Club's Member's Mark brand.
25. Buy second hand
You can always find baby items at thrift stores, consignment shops, yard sales, or even on Facebook Marketplace. Secondhand is a cheaper, more economical way to purchase baby items.
You can always find things in good condition and sometimes even new! I know that we've donated tons of brand-new baby clothes to places like Goodwill over the years. So you may even luck up and find some big-ticket baby items for a steal!
The reality is that babies grow fast. So investing tons of money in clothes that they'll only wear a few times isn't a great way to save money.
26. Accept hand-me-downs
Do you have friends or family with older kids? Ask for the hand-me-downs. This is definitely something that I took advantage of with friends and family. Don't forget to return the favor after your kids grow out of their clothes!
27. Shop sample sales
Another little-known way to have a baby on a budget is to shop sample sales. As someone who actually worked for a baby clothes merchandiser, I never paid full price for my kids' clothes. Ever.
In fact, here are the kinds of prices that you can get at a sample sale!
I was able to cloth both of my kids through their toddler years from sample sales, hand-me-downs, and gifts from family members. So if you happen to come across a sample sale in your area, be sure to go!
Merchandisers and retailers typically have these to get rid of excess inventory and production samples.
28. Keep the baby clothes basic
When it comes to clothes, save money by keeping it basic. There's no need to spend money on fashionable baby clothes, only for them to be covered in drool, spit up, and baby food.
I kept both my kids dressed in onesies and sleep-n-plays. They were simple, practical, and inexpensive options.
29. Have a baby shower
Having a baby shower is one way for others to chip in to help purchase some of your much-needed items. But don't worry about this being another added expense. In most cases, someone else will host it or you can simply have a virtual baby shower.
In the case of a virtual baby shower, guests can send gifts in the mail and you just open them during the Zoom baby shower.
If you need help figuring out how to have a virtual baby shower, you can read our article on how to plan & host a virtual baby shower.
30. Skip on the nursery decor
I'm sure Pinterest may have you swooning over nursery decor, but the reality is that you don't need it. And, if you're co-sleeping it's a complete waste of money.
Although my kids transitioned to their own room pretty quickly, I never saw the benefit of decorating their nursery. It was just an added expense and another thing that I didn't have the time or energy to do.
My recommendation is to keep it basic or don't decorate at all.
31. Avoid buying special baby furniture
Expect baby furniture to be marked up simply because it's baby furniture. The truth is that there's absolutely nothing special about baby furniture—particularly dressers. So don't pay the up-charge!
Instead, find some quality furniture that can grow with them over the years— if you even decide to buy furniture. The alternative is always making the most out of what you already have and buying plastic drawers instead. We use these with both kids and now reuse them for other items.
Nonetheless, if you are going to buy furniture, consider buying second-hand.
32. Repurpose items in your house
Another great way to cut costs is to repurpose items in your house. For example, I repurposed baskets in my house store diapers. Or, instead of buying a changing table, just use your dresses and a changing pad.
33. Keep toys to a minimum
It's easy to go overboard with toys for your baby. You'll soon find that they only hold their attention for a few minutes and then they go forgotten. With that said, don't waste money on a bunch of toys.
Consider purchasing a few that will be good for sensory and their overall development. Otherwise, keep the toy spending to a minimum.
34. Attend baby shows
If you live near a big city, you're bound to come across a baby show. These are great events to find baby items at reduced prices. For instance, my city has a huge children's consignment show every year.
These shows allow you to grab new or gently used clothes, toys, equipment & gear, and even maternity clothes. So be sure to look up events in your area.
35. Return items
If you received items that you won't use or if you have too many, be sure to take them back to the store. In most cases, you'll be able to receive a store credit that you can use toward something else or make an exchange.
This really comes in handy with diapers. You don't want to be stuck with a box of newborn diapers that your baby can no longer fit. Instead, take it to the store that it was purchased from and exchange it for the size you need.
Target is also infamous for taking back worn Cat & Jack clothing that your kids have outgrown for a refund within a year.
What should you do financially before having a baby?
Having a baby on a budget is a lot more to it than just saving money. Financially preparing for a baby takes into account all aspects of your finances. This means looking at your debt, insurance coverage, and more.
Nine months will come and go before you know it, which means that you only have a limited time to pull things together. Lucky for you, I've laid out exactly what you need to do in order to be prepared for your baby financially.
Here's what you need to do…
9 Steps to Prepare for a Baby Financially
1. Get a life insurance policy
The first thing that you need to do in order to financially prepare for a baby is to get life insurance.
Life insurance is a way to cover end-of-life expenses and to replace your income in case of sudden death. It ensures that your children do not have to worry about finances and that they have money available to be taken care of.
There are many different kinds of life insurance policies as you can get—including term life insurance and whole life insurance options.
Regardless of which type you choose, you want to have life insurance so that your children are financially covered in the case of an emergency.
2. Get a will & estate plan
A will outlines what happens to your kids in the event of your untimely death. Additionally, it gives direction on how your assets, including money, will be handled and who will handle it.
Though there are tons of websites online where you can create a will, it's much better to have an attorney walk you through your specific situation and create a plan and just for you.
Even if your child isn't born yet, you can still have your attorney draft your documents to include future children.
It isn't the most joyous thing to talk about with your family and your friends, but it is a necessary conversation to have to financially prepare for having a baby.
3. Check your medical insurance coverage
The third thing that you want to do is to check your medical insurance coverage.
Before you have a baby, or if you're thinking about having a baby, it is important to understand what is covered by your insurance and what is not.
This includes inquiring about prenatal doctor's appointments, ultrasounds, labs, labor & delivery. You want to know if you'll have to pay for these things upfront so that you can start saving and making adjustments to your budget in order to cover those expenses.
Ask what exactly is covered so that you're not taken by surprise or paying for things that you don't have to pay for.
The other thing that you want to understand is how much it will cost to add a dependent to your health insurance policy. This will be an additional expense that you'll want to plan for, as your baby will need coverage once born.
You may also want to consider disability insurance. In some cases, it may cover loss of income due to being disabled from pregnancy or birth complications.
4. Research daycare costs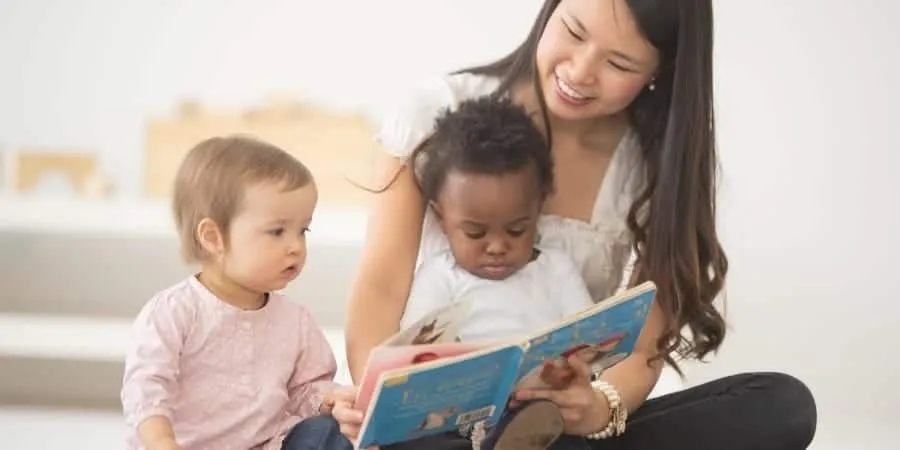 Childcare is expensive, so it's important that you have a plan to pay for it.
You'll find that daycare costs will vary based on where you live. The average cost is a whopping $1200 dollars in my area, so research to find out what costs are near you.
If you're not able to stay at home with your baby just yet, start looking into daycare costs as soon as possible. Daycares can book up quickly, so it'll help to get a head start on saving and securing a slot.
Alternatively, consider if you want to hire a nanny. You may find that a nanny may actually be cheaper than doing daycare.
Do your research and understand what you can afford and plan accordingly.
5. Talk to your employer about your options
The fifth thing that you want to do is actually talk to your employer about your options and your benefits.
Find out if you actually get maternity leave, if you have to take unpaid time off, or if you need to apply for FMLA. In either scenario, ask how much time you'll actually get off.
These are all things that you need to understand before you have a baby so that you can make an informed decision.
If your income will be reduced while you're out or if you won't get paid, you'll need time to save and/or pick up additional work to prepare for the income loss.
If you're the father, go talk to your human resources department to find out if you get paternity leave and if it is paid. Or perhaps you have to take unpaid time, FMLA, or vacation. You won't know until you ask.
You also want to talk to your benefits department, because there may be incentives that you get to help with costs, such as daycare reimbursement.
Make sure you talk to your employer to find out what your benefits and options are.
6. Save for expenses
It should go without saying, but you absolutely must start saving as soon as possible.
In addition to the aforementioned expenses, you'll want to start saving for other expenses that you'll incur.
Here are a few items that you'll need to set money aside for:
Maternity clothes
You want to start saving for maternity clothes, as you'll find that you may grow beyond your ability to wear your current clothes.
You're going to have to get maternity bras, pants, and other items to help you through your pregnancy. I recommend buying things like maxi dresses because those are clothes that you can wear during pregnancy and after.
Baby items and expenses
There will be items that you must purchase for your baby before they are born. Namely, you'll need a car seat to even leave the hospital, along with diapers, and clothes.
Though you may receive gifts from friends and family before your new arrival, it's always a great idea to have the funds just in case you don't.
I recommend opening a bank account specifically for baby-related expenses.
You can use this account to start setting money aside and as a place for monetary gifts that you receive specifically for the baby.
You'll be able to make purchases directly from these earmarked funds—making money management organized.
Health Savings Account (HSA)
If you have a high deductible health insurance plan, you're probably eligible for a health savings account (HSA).
An HSA is a tax-incentivized account that allows you to deposit funds tax-free while also reducing your taxable income. You are able to use this account exclusively for health-related expenses.
Each year, you can max out the savings limit on this account and allow funds to roll over to the next calendar year.
Ultimately, the more you can put in your HSA (to the allowable yearly limit), the more money you'll have saved to pay for qualified medical expenses and the less you may have to pay in taxes.
Education Savings Account
If you want to take things a step further, you can even begin saving for your child's college. This, of course, isn't mandatory, but if you can save, why not?
You can leverage an Education Savings Account (ESA) to do so. This is an account specifically for saving for education and educational expenses. This can also be applied to their schooling before college as well.
There are other savings accounts, like the 529, that you can leverage to save for your child's education. However, an ESA can be opened for an unborn child. You can also open a traditional savings account for your baby to start putting funds away.
7. Save for emergencies
If you don't have an emergency fund already, now is a good time to create one. Things come up, especially with kids. It's a great idea to have money set aside in case of an emergency.
Having an emergency fund means that you don't have to go into debt to cover unexpected expenses. This helps you avoid massive amounts of credit card debt.
8. Pay down debt
The best thing that you can do to prepare is to pay down debt so that it is one less financial burden to worry about.
You may not be able to pay everything off before the baby comes, but pay down what you can so that you can free up cash.
Consider paying down your credit card debt, student loans, and other large debts that may be tying up your cash. Ultimately, you don't have to get into more debt in order to have a child. So freeing up cash will be critical to ensuring that you don't.
Check out these resources for paying off debt.
9. Pick up a side hustle
Now might sound like a crazy time to pick up a side hustle, but if you need to make some extra cash you should consider it.
This doesn't mean that you need to pick up a second job or work ridiculous hours. There are ways to make extra money online that don't take up too much time or cost anything. In fact, I was able to earn money selling digital products while in labor.
Consider side hustles like:
These are all ways that you can start making money online without taking up a lot of time, energy, or money. You can also look into these home-based small business ideas for moms for more ideas.
10. Create a family budget
If you haven't done so already, you'll want to create a family budget. Having a budget will help you manage your money and plan your family finances.
You'll want to include the new expenses that you'll have with your baby in your budget. This should include, but isn't limited to:
Formula (if applicable)
Clothes
Diapers
Toys
Hopefully, you'll be able to get some of these items at your baby shower to help reduce some of your recurring costs. So be sure to put them on your baby registry. If not, just remember to budget for these expenses.
Is it possible to have a baby on a budget?
Yes! It's absolutely possible to have a baby on a budget and to be financially prepared. Especially if you follow the tips shared in this article.
The great thing is that you're reading this article and planning ahead.
Remember, there will always be the unexpected, but becoming financially secure will help you navigate these curveballs.
Don't fret if you don't have all of these things done beforehand. None of these things are prerequisites to being a good parent.
There are so many more things that you need to do to get ready for your baby's arrival, so don't let finances be a stressor.
I hope that this article was helpful for you as you financially prepare to have your baby on a budget.