The holidays are right around the corner. That means that you're probably wondering how to budget for Christmas gifts.
Although it's the season of giving, you don't have to break the bank.
With the right planning, you can get through the holidays with your budget and sanity intact.
Keep reading to get the best tips, tricks, and hacks for Christmas shopping on a budget.
How much does the average person spend on gifts for Christmas?
According to the National Retail Federation, American families spend an average of $648 for holiday gifts alone. This doesn't include an additional $350 for decoration and other non-gift-related items.
But just because that's the average doesn't mean that it's how much you should be spending.
So what should you budget instead?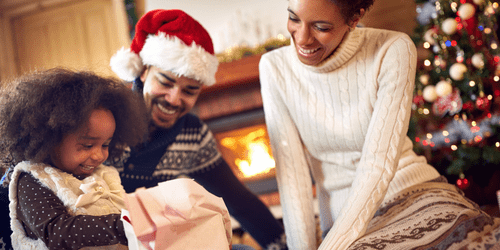 How much should you budget for Christmas gifts?
Well, your Christmas budget will depend on how many people you're buying for and what you're actually comfortable with spending.
So
So don't feel pressured to spend more than you can afford. You don't want to get into debt that you'll find yourself paying off later.
How to Buy Christmas Gifts on a Budget
Ready to start buying those gifts? Here's how you buy holiday gifts on a budget!
1. Open a bank account specifically for Christmas
If you want to ensure that you stay within your budget, open a bank account specifically for Christmas spending.
This is known as a sinking fund.
The money that you put in this account is specifically for purchasing Christmas gifts and related items. So whatever you have in the account is what you have to spend.
You can use a checking account so that you have a bank card, but remember to keep this separate from your other accounts. Or, if you use a savings account, you can simply transfer the funds that you need.
2. Write out exactly who you're buying for
The most important step to staying within your budget is having a list of who you're buying gifts for.
Depending on the size of your family., this may actually be a difficult task.
If you come from a family that's used to everyone getting gifts, but it's not in your budget, that'll need to be something that you communicate.
Don't be ashamed to stick to your budget by reducing your list.
You may even consider suggesting the idea of a simple gift exchange where each person is only responsible for one gift.
One way to reduce your list size is by grouping families and couples together. That way you can get one gift for the whole family or for a couple.
3. Put a limit on how much you're spending for each person
Once you have your list of who you're buying for, set a limit on how much you'll spend on each person or family.
Knowing this limit will help narrow your search for gifts that will fall within that range. This may mean that you'll have to get creative with your search.
Fortunately, most retail sites allow you to filter your search based on price.
4. Track your spending
Once you start purchasing gifts, it's super important to track your spending just like you would any other budget.
Lists who you bought for, what gift you purchased and from where, and how much the total was.
This not only gives you a running total of how much you've spent so far, but you can also reference it in future years to know what you got someone.
5. Budget for wrapping paper, cards, postage, and gift bags
In most cases, you aren't just going to give a bare gift. So make sure you account for the cost of wrapping paper, postage, cards, and gift bags.
To save on these extra items, consider shipping directly from online retailers and taking advantage of their wrapping services.
It's also a good idea to keep a stash of gift bags that you receive over the years and reuse them for every occasion, especially Christmas.
If I have to buy any new ones, just go to your local dollar store and snag a few for less.
6. Recycle gifts
Let's be real, you don't use every gift you get. Don't let it go to waste.
If it's better suited for someone else, just recycle it and give it forward.
7. Shop sales
It should go without saying, but try to find your gifts while they're on sale.
If you're saving all year round, you can take advantage of sales throughout the year– not just Black Friday.
One way to save is to use cash-back apps, like Rakuten. Not only do that have special discount codes that you can apply to your purchase, but you can also earn cash for shopping.
Final Thoughts on Budget Holiday Shopping
Christmas comes every year, so don't get caught off guard with your finances. Use these tips to plan and have a debt-free holiday season!