Are you looking for an easy way to earn cash back for your purchases?
If so, keep reading to learn how Ibotta works and how you can use it to earn cash!
Ibotta is one of the three apps (Rakuten & Fetch Rewards) that I use to earn cashback and rewards for everyday purchases.
Trips to the grocery store or even Walmart can get your several dollars back by simply scanning your receipt. Within 24 hrs, you'll have the money credited to your account that can be withdrawn and sent to your bank account!
It's literally that easy!
But before I jump into the details of how Ibotta actually works, let me first tell you what it is…
What is Ibotta?
Ibotta is one of many free cashback apps that are sweeping the consumer world.
Much like Rakuten or Fetch Rewards, you're incentivized to purchase from your favorite brands and retailers through the app.
Ibotta partners with over 1,500 stores that you can select from when using the app to make a purchase.
How does Ibotta work?
Ibotta has several options that you can choose from to use the app.
You can use it to shop online and get savings or you can use it for in-store shopping.
Each of these features works differently, so I'll explain them all.
Before you can use any of them, though, you'll need to download the Ibotta app and browser extension.
Note: At the time of this article, some of these features are still being rolled out and may not appear on the app just yet.
How the Ibotta App Works
The Ibotta mobile app is designed to be used for in-store purchases. You can use the app while shopping or after a shopping trip by scanning your receipt.
To begin using the app,
Download the app by searching for 'Ibotta' in your phone's App Store.
Once downloaded, open the app and create an account.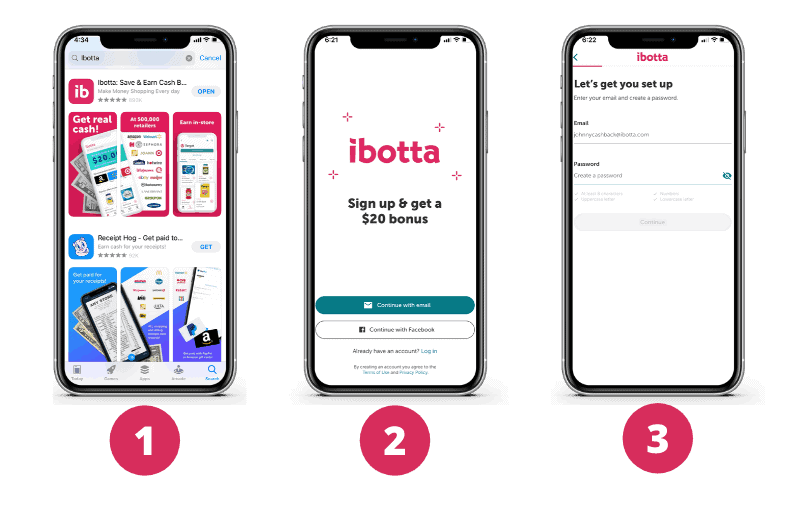 How to Pay with Ibotta
Once you've downloaded the app and created an account, you may now link your debit or credit card to enable the pay feature.
Here's how:
Got to Account, then select payment Payments
Add your debit or credit card information
Save and you can now pay with the app
When you're ready to pay with the app, simply select the retailer that you are shopping at.
The app currently had 50 stores to choose from. You can see the full list in the Pay with Ibotta section of the app.
After selecting your store, simply input the total amount of your purchase into the app.
Select Continue purchase, then hit Charge.
You will be given a digital gift card that can be scanned at the register to pay for your purchase. You'll also immediately receive your cash back.
There are no additional fees charged for using this feature. The app also uses bank level encryption to secure your card data.
How to Link your Loyalty Account in Ibotta
Linking your loyalty accounts with Ibotta makes earning your cashback even easier.
To link your accounts,
Select the retailer that you would like to link
Select, Link Store account
Input your login information for the store you are linking to
Wait up to 24hrs for the account to link
After your loyalty account is linked, you can add offers from the store to your app. At checkout, you may use your loyalty card or the app to receive instant cash back for qualifying purchases.
How to Submit your receipt in Ibotta
Don't worry if you don't have a loyalty card or account. In this case, you can simply scan your receipt after your purchase.
If you have qualifying items, your cashback will be added to your account within 24hrs.
You may add offers for items that you intend on purchasing to your account before heading to the store. Or, the app will automatically identify offers that you qualify for once your receipt is scanned.
In either case, the receipt must contain qualifying items to receive cash back.
Sometimes there are offers that don't require an item to be purchased. Instead, if you simply scan your receipt you'll receive bonuses.
Scanning your receipt is simple, here's how:
How Ibotta Works for Online Shopping
Similar to its competitors, like Rakuten, Ibotta can also be used for online purchases. This includes purchases made on your computer or from your phone.
How to use Ibotta's Browsing Extension
Ibotta's browser extension is currently available for use with Google Chrome. To download, visit the Chrome store here.
Add the Ibotta shopping extension to your browser
Sign into your account
Now, when you shop for groceries online or use food delivery services, the extension will pop up for you to activate for cash back opportunities.
When the pop-up appears, simply click Activate to take advantage of the offers.
How to Shop Online with Mobile App
You can take advantage of this same feature to shop online through the app.
To do so, simply browse through the list of available retailers, select the one that you would like to shop with.
You will be redirected to their site and automatically receive cash back from your purchase.
FAQs about How Ibotta Works
How does Ibotta make money?
So exactly what's in it for Ibotta? Why would they give you free money just for using an app?
Well, like all other cashback apps and sites, Ibotta earns commissions from the companies listed on their app.
They get paid to send you to those stores to shop even though you'd probably shop there anyway. As the user, you get a percentage of those earnings.
Ibotta also sells your non-identifying information third parties; however, you have the ability to turn off this feature in your preferences.
How do you get your money from Ibotta?
When you register with Ibotta, you can sink either your bank or a Paypal account to receive payment.
Once your account reaches $20, you can transfer your funds and receive cash or redeem it for a gift card to select stores
Is the Ibotta app safe?
Ibotta is safe to use. The app uses 256-bit bank-level encryption to protect your information.
You also have the option to update your preferences such that your information is not sold.
To update this preference, select Account > Preferences > Do not sell my personal information. Toggle this off.
Does Ibotta cost money?
Ibotta is free to use.
Which is better Rakuten or Ibotta?
This answer is solely a matter of preference. Although Rakuten partners with significantly more retailers and brands than Ibotta, the latter has more than 40 times the number of downloads.
Within the App Store for iPhone, Ibotta has a 5-star rating with nearly 900k downloads. Rakuten only boasts 4-stars and roughly 30k downloads at the time of this post.
Is Ibotta worth using?
As someone on the journey to financial freedom, I leverage this app to make extra cash when I do shop. So I believe that using these kinds of apps is worth it.
If you're interested in finding small ways to impact your finances, then it may be worth using for you as well.
Posts related to how Ibotta works