Learning high income skills is a great way to increase your income and even make money online.
But, exactly what is a high income skill? Well, high income skills are skills, techniques, and even knowledge that is considered high value in the marketplace. This means that companies and individuals will pay a significant amount of money for someone who possesses these skills.

As you might imagine, the most profitable skills to learn are usually in the tech industry, but not all are!
In this post, I'll share seven high income skills that you can learn without a degree and that you can leverage to make money online.
Now before we get started, go ahead and grab my free guide, where I teach you how to package your skills and your expertise to make money online.
It'll teach you how to use any of the skills that I talk about in this post, package them into a product or service so that you can start making money online.
Alright, let's jump in…
Related posts to read
7 High income Skills that you can learn for free (or low cost)
The great thing about these skills that I'm going to share is that you don't have to get a degree in them to use them to your advantage.
Additionally, you can learn most of them for free or at a low cost. You can learn them on your own through courses, books, or other training, apply them and start increasing your income immediately.
Here are 7 high paying skills to learn:
Copywriting
Data Analytics
Digital Marketing
Web Design & Web Systems
Sales
Foreign Language
Project Management & Organization
1. Copywriting
The first high income skill that you can learn, that does not require a degree, is copywriting. Now copywriting is just another fancy way of saying writing.
I'm sure you're wondering what a copywriter does. Copywriters write to persuade people to take a specific action, typically to buy something.
As a copywriter, you can earn money to write sales pages for brands, copy for Facebook ads, product descriptions, and even social media captions. If you can use your words to convert readers into paying customers, then this is a great avenue for you.
It is a skill that you're able to transfer, both online, and in the workplace, copywriting is definitely one of those skills.
You can read my article on how to become a freelance copywriter to learn more.
Copywriting course
Now, obviously, with copywriting, it takes more than just your normal everyday writing, you should take time to hone this skill at hone this craft so that you can become better and ultimately earn more money.
I recommend a course called Earn More Writing. This course teaches you how to make money as a freelance writer. You can take it and learn the skills that you need in order to make money as a copywriter or a freelance writer.
2. Data Analytics
The second high income skill that you can learn is data analytics.
This is actually a part of my corporate background and I've actually managed a data analytics team. So I know a little bit about what I'm talking about here.
Data analytics is really just being able to look at the numbers and figure out what's going on in a business and a process—basically making a deduction and using your reasoning skills to figure out what the numbers are telling you.
Numbers drive everything. Numbers, drive businesses, their bottom line, production—numbers literally drive the world. So if you're able to look at those numbers, analyze them and figure out what's going on and how to make improvements, then you have a skill that everyone wants to have in their business.
You can get a degree in data analytics or some kind of formal collegiate training, but it's definitely not necessary. You can get certifications in data analytics that will suffice.
Data analytics course
If you want to use this skill online, you can do something as simple as getting a certification with Google. Google offers a data analytics training course that is completely free.
They basically teach you how to use their analytics, Google Analytics, to figure out things that are happening on your website, figure out ways that you can improve it, understand your audience, so much information that you can use to your advantage or to help another business. If you have an interest in numbers, you're good at analyzing, and statistics interests you, then data analytics is definitely a skill that you want to acquire.
3. Digital Marketing
The third high income skill that you can use to increase your income and make money online is digital marketing.
The online space is literally a digital marketing playground. Everything that you see is a part of some kind of marketing, whether it's to get you to watch something, to buy something, or to get you to subscribe to something. Digital Marketing is everything these days.
If you can learn skills like Facebook ads, Pinterest ads, even Google ads, you have a skill that is coveted.
Companies spend millions of dollars in marketing and advertising in the online space, especially on social media platforms. So if you learn this skill, you can then market this and become a Facebook ads manager or Pinterest ads manager and make buku of money.
This is a skill that I am learning on my own. I'm taking courses on it so that I can become proficient at it for my own business. But you could essentially learn it and use it to help other businesses.
Digital Marketing Courses
A lot of courses around advertising on Facebook or Pinterest can be a bit costly. But I've found some that very low cost, but very good ad courses that you can take that I would recommend.
These are the courses that I recommend: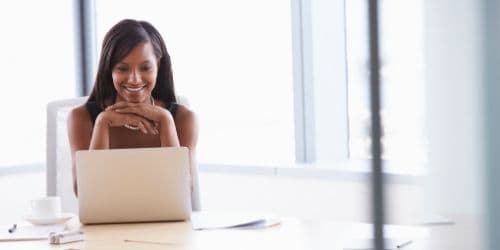 4. Web Design & Web Systems
The fourth high income skill that I would recommend that you learn is web design and web systems. This means building websites and learning the back end systems that go into websites and running an online business.
This includes customer relationship management systems, project management systems, and even email management & marketing systems. Those are all things that you could learn skills that you can gain that can help you create an online business as perhaps a virtual assistant, a web design a technical virtual assistant, these are all ways that you can make money online and be able to earn a high income would be skills.
I have worked as a technical VA, where I've gone in and I've made modifications to people's websites, I've helped them with their systems, and I've set up systems for them. You can make a lot of money with that skill.
Even though a lot of people are online and they have websites, not a lot of people really know how to navigate the back end of their website, or the systems that are needed to keep them functioning. So if you can learn these skills, you can definitely position yourself well online to make a lot of money.
Web Design Course
There are tons of courses available online related to web design–many of which may be free. However, when it comes to this skill, I recommend finding a course where you can get support.
I recommend checking out the Web Design Studio Accelerate by my friend John Sauders. He's built a multi-six figure business building website with an efficient process. In fact, one of John's sites is actually where I got started with freelance writing.
Right now, John is running a 50% off sale on the Web Design Studio Accelerator course. It's definitely worth checking out!
5. Sales
The fifth skill that you can learn is sales.
Sales is a skill! Knowing how to sell, knowing the right words to say, and knowing the psychology of selling and buying habits takes effort.
Regardless, it is a skill that you can learn and if you can learn it, you can use it in so many ways. Not only can you use it to become a salesperson that makes a lot of money, but you can also use it to then teach people how to sell or to even use it to sell your own products.
Sales is definitely something that I have been learning over the years. I've spent time learning how to sell properly and how to position my offer. But learning how to sell is definitely a skill that you could use to increase your income and to make money online.
6. Foreign language skills
I think that everyone should learn a foreign language. Not only is it a high income skill, but it is a good skill to have in general.
Research shows that companies pay anywhere between 5% to 20% more for people who are bilingual. Knowing this, having another language in your back pocket is definitely something that you can use to increase your income.
Now when it comes to making money online, you can use a skill to tutor or to teach.
Foreign Language Course
One of my favorite sites to use to help with learning a new language is Duolingo. It's free to use and they use games to help you learn. It's super easy and fun to do.
7. Project Management and Organization
Project management and organization is an all around great skill to have. But, when it comes to making money, it is also a high income skill.
Doing a quick Google search will show that project management jobs can make in the high $90Ks to multi six figures. That's high income!
The great thing about it is that if you have these skills, you can also leverage them online as a virtual assistant or online business manager. I personally know VAs who make over $75K and online business managers who make over $100K.
The crux of what people in these fields do is being great at managing tasks, having solid processes and systems, and being organized.
Virtual Assistant Course
If you want to use this skill online, I recommend checking out the Become Booked Out Webinar by Abbey Ashley of Virtual Savvy. She is pretty much the go-to person for all things virtual assistance and starting a VA business.
Abbey started her own virtual assistant business in 2016 and was able to double the salary from her full-time corporate job, working only 20 hours a week. Since then, she's grown into a multi-seven figure business!
She now helps others start their own VA business. She also has a free virtual assistant checklist & starter kit that you can grab as well.
Final thoughts on these most profitable skills to learn
As you can see, these are skills that the average person can learn. You don't need any special expertise to learn then and you don't even need a lot of money.
These are the only ways that you can earn a high income, specifically online. Consider other things like blogging, proofreading, and even starting a YouTube channel if you want to make money online.