Looking for Fall activities for kids? Trying to find something that'll keep them busy?
You're in luck!
I'm sharing over 50 ideas that you can use to keep your kids busy at any age.
I get it. It's always sad when summer's over, but there's plenty to look forward to with the change in seasons.
Children of all ages still need enriching activities to entertain them. For older children, this might mean coming up with arts and crafts to keep little hands busy on weekends, and for younger kids, Fall is another wonderful opportunity to learn and explore the changes in nature. 
What is a fun fall activity?
Fall is a beautiful time of year with rustic tones, leaves falling from the trees, and the weather getting cooler. What a fantastic backdrop of nature to use as inspiration for your indoor and outdoor activities!
And with holidays around the corner, there's so much to get excited about. 
While the promise of the holiday season can tempt us into dipping into our wallets, know that there are dozens of frugal ways to spend quality time with your family without breaking the bank. 
What are the best affordable fall activities for kids?
I've split our list of Fall activities for kids into those they can enjoy indoors and outdoors.
If you're lucky, there may even be a little sunshine in Fall. But don't worry if there's a downpour – I've included plenty of options for holing up at home too.
Whether your little ones are babies or teens, I've got something for everyone, so let's dig in and create some family goals for Fall. 
Best outdoor autumn activities for kids
Put on your rain jackets and rain boots, and get ready to enjoy the fresh air with these outdoor autumn activities for kids. 
1. Collect apples and acorns
Autumn is the perfect time for gathering apples and acorns. Grab a basket, go on a nature walk and see how many you can find. You can use them for fall decorations when you get home!
2. Pick pumpkins
Nothing screams Fall better than pumpkins but don't worry if you've not grown your own. Head to a local pumpkin patch and let the kids choose their favorites. You can use them to carve jack-o-lanterns or bake pies later.
3. Build a catapult
Catapult-building is an excellent activity for older kids. Scavenge around the yard for some sticks and leaves, then see how far you can launch them! Make sure you supervise this activity and check that the catapults aren't being aimed at each other or anywhere dangerous.
4. Collect fall leaves
Head out to your local park, forest, or just down the street and see how many different types of leaves you can find. Once you're home, get creative and turn them into leaf rubbings, garlands, or wreaths.
5. Go backyard camping
Backyard camping provides all the fun of real camping but is close to the creature comforts of home. Set up a tent in the garden and sleep under the stars. 
6. Plant bulbs for spring
Tulips, daffodils, and crocuses are just some of the bulbs you can plant in autumn. It's not too hands-on for the kids, but they'll be excited to see the fruits of their labor in spring.
7. Go stargazing
With the weather cooling down and evenings getting longer, Fall is a great time to go stargazing. Wrap up warm, lie back on a blanket and see how many constellations you can spot.
8. Go puddle jumping
Puddle jumping is a great way to let off steam on a rainy day. Get your splash on but don't forget your boots and raincoat. 
9. Enjoy s'mores in your backyard
S'mores are a classic camping treat, but you don't need to be in the woods to enjoy them. Build a fire in your backyard (or use a portable firepit) and toast some marshmallows. Sandwich them between two crackers with a piece of chocolate, and enjoy. 
10. Watch the fireworks
Fireworks displays are usually free and make for a great Fall activity. Check your local paper or do an internet search to find out when and where the nearest show is.
11. Build a bonfire
If you have a fire pit, build a bonfire! Sit around the fire, roast some marshmallows, and enjoy each other's company. The whole family will love it during those cooler evenings.
Best autumn activities at home
As much as we love being outside in the autumn, sometimes it's just too cold! There's nothing better than cozying up indoors and making family memories. Try the following ideas to keep you entertained. 
12. Soap carving
Give each person a bar of soap and some safe carving tools, then let them get creative! Check out Pinterest for inspiration on what you'd like to create – maybe a beautiful rose, a fish, or a spooky pumpkin. 
13. Make your own candles
To make candles, you'll need some beeswax, wicks, and candle molds (or you can use old yogurt pots, for example). Melt the beeswax, then pour it into the molds. Add fragrances like autumn spices or cinnamon. Once it's cooled and hardened, you can remove the candles from their molds and enjoy the flickering light. 
14. Paint rocks to decorate your doorstep
Collect some rocks from your garden, then clean and dry them. Once they're ready, get creative with paint, sparkles, and other decorations. These make great gifts for friends and family, or you can keep them to spruce up the entrance to your own home.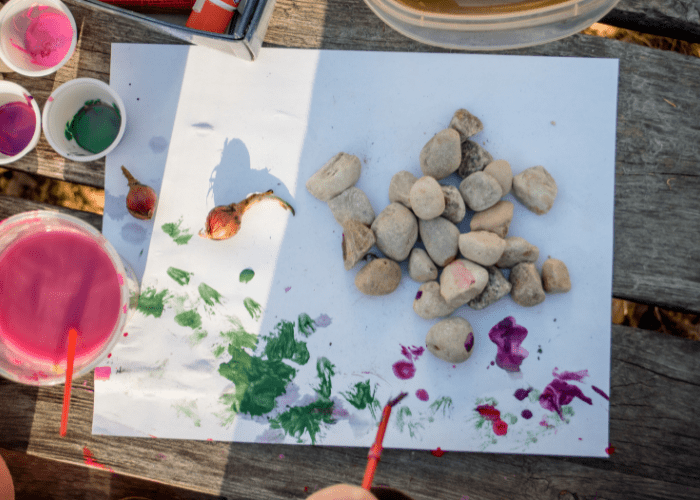 15. Tell spooky stories to each other
As we approach Halloween, there's nothing better than being spooked! One person starts by telling a story, and then the next person continues it. The goal is to make the story as spooky as possible. You can also use prompts like "I was walking through the woods when I saw a…"
16. Learn to knit a scarf 
You'll need yarn, knitting needles, and patience for this one! Once you've learned the basic stitches, you can knit all sorts of things like hats, gloves, and even blankets. But a scarf makes for a great first knitting project – check out YouTube tutorials to get started. 
17. Make a pinecone bird feeder 
All you need is some peanut butter, birdseed, and a pinecone. Spread the peanut butter on the pinecone, then roll it in birdseed. Hang it from a tree or bushes in your garden, and wait for the birds to come!
18. Dip apples in caramel
This is a delicious fall treat that's easy to make at home. Simply melt some sugar and cream together, then dip your apples in the mixture. Let them cool on a sheet of wax paper, then enjoy!
19. Dye pumpkin seeds
Simply boil the pumpkin seeds until they're soft. Once they're cooled, you can dye them using food coloring or natural dyes, then leave to dry. Finally, roast your colorful treats in the oven for a delicious snack.
20. Make leaf rubbing art
Collect some leaves from outside, then lay them on paper. Use a crayon to rub over the top of the leaves, and you'll see the shape of the leaves appear on the paper. You can use different colored crayons to make a pretty design or keep it simple with just one color.
21. Play autumn bingo 
You can find free bingo cards online, or you can make your own. Once you have your cards, use leaves, acorns, or other small objects to mark the squares as you call them out. The first person to get five in a row is the winner!
22. Make a gratitude jar
Find a jar and some pretty autumn-themed paper; each day, take turns writing something you're grateful for on a slip of paper. Once the jar is full, you can read all the wonderful things that have happened over the past few months. Be prepared for some happy tears!
Best autumn activities for school-age kids
School kids need activities that provide the perfect balance between stimulation and entertainment. Here are some of our top picks!
23. Write a suspense story 
Harness your child's natural creativity by getting them to write a suspenseful story. They'll set the scene, incorporate plenty of twists and, of course, come up with a spine-tingling ending. 
24. Write a report about the history of hot chocolate
Another creative activity is to research the history of hot chocolate and write out how to make it. Enjoy a cup together, snuggle under a blanket, watching your favorite movie as a reward.
25. Make a cozy fall soup
This activity requires some adult supervision, but it's a great way to get kids involved in cooking. Let them choose their favorite fall vegetables, then help them to chop them up and add them to the pot. Once you've cooked the soup, ladle it into bowls for a nutritious supper.
26. Decorate your front porch
Get the whole family involved in decorating your front porch for Fall. You can hang autumn-themed banners, put out pumpkins and gourds, and even add fall-scented candles. It's a great way to get into the festive spirit!
27. Make a festive wreath
Wreath-making is perfect for those who love getting crafty. All you need is wire, fake leaves, berries, and a hot glue gun. Once you've made your wreath, you can hang it on your front door or inside your home. 
28. Bake pumpkin pie
This classic fall dessert is easier to make than you might think. Simply blind bake a store-bought pie crust, then mix together canned pumpkin, eggs, sugar, spices, and evaporated milk. Pour the mixture into the crust and bake until set. If you prefer to follow a recipe from scratch, try this one!
29. Paint acorns
Collect some acorns from outside, then wash and dry them. Once they're dry, let your kids paint them however they like. You can use them to decorate your home or string them up to make a pretty Fall garland.
30. Make pine cone hedgehogs
These little guys are so cute, and they're straightforward to make. All you need is some pine cones, acorns, googly eyes, and hot glue. Once you've put all the pieces together, your hedgehogs will look fab sitting on a windowsill or shelf.
31. Build an apple bobbing station
This activity is perfect for a Fall birthday party but is equally fun on a quiet Sunday afternoon. Simply fill up some tubs with water, then add some apples. Let your kids try to catch the apples with their teeth – it's more challenging than it looks! To avoid spreading germs, have a dedicated tub and apples for each person.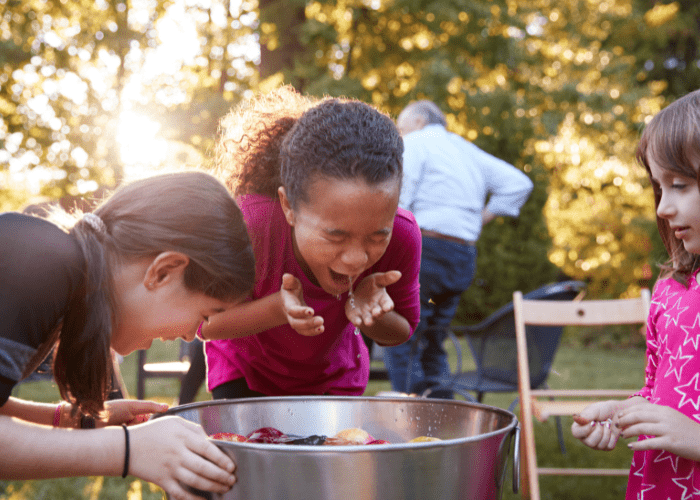 32. Conduct float or sink experiments
Science is always a hit with kids, and there are lots of fun Fall-themed experiments you can do at home. One simple experiment is to fill up a bowl with water and add different Autumn leaves to see if they float or sink. You can also experiment with pumpkins, acorns, and pine cones.
33. Write down what you're thankful for
With Thanksgiving approaching, now is the perfect time to talk about thanks. Get your kids to understand why we give thanks and also think about what they're thankful for.
Give them each a piece of paper and a pencil, then let them write down everything they can think of. You can hang their lists up as a reminder of all the good things in life. 
Best autumn activities for babies
Your kiddies are never too young to explore the changing seasons. Although these activities are parent-led, there's plenty to get your teeth stuck into this Fall.
34. Play with pumpkin pie play dough
This homemade play dough smells like pumpkin pie and is straightforward to make. Simply mix some flour, salt, cream of tartar, water, oil, and pumpkin puree. Once it's all mixed, let your baby play to their heart's content!
35. Make a fall sensory bottle
Sensory bottles are great for babies and toddlers, as they're filled with different textures and colors. To make yours Fall-themed, simply fill a clear bottle with Fall leaves, berries, and acorns. You can also add some water to make it extra sensory. 
36. Go on a leaf hunt
If your baby is starting to crawl or walk, this activity is perfect, but it's also suitable if they're watching you from the pram or stroller. Simply head outside and see how many different leaves you and your little one can find. You could even try to match them up to the colors of the leaves on the trees!
37. Play in a popcorn kernel sensory bin
This one is messy but so much fun! Simply fill a large tub or tray with popcorn kernels, then add some Fall leaves and acorns. Your baby can explore the different textures and colors, and you might even be able to sneak in a bit of learning too. 
38. Paint leaves
Water painting is always a hit with little ones, and it's perfect for exploring the colors of Fall. Simply collect some leaves from outside, then let your baby paint them with water. You could even try mixing different colors to see what happens!
39. Build a pumpkin tower
If you've gathered a hoard of pumpkins this year, let's see if you can build a mountain with them. Start with the largest pumpkin in your set and balance a smaller one on top. Keep going until the tower falls. This also works well with other Fall fruits and vegetables, such as squash, apples, and potatoes.
40. Decorate pumpkin people with clothes and accessories
Use up any odd socks, clothes, or accessories you have lying around the house in this activity. Simply dress up your pumpkin people however you like and get creative! You could even take some photos of your creations to look back on in years to come.
41. Make pumpkin puree for baby food and smoothies
If you're weaning your baby, you're in luck. Pumpkin puree is tasty, easy to make, and highly nutritious. Simply roast a pumpkin in the oven, then blend it until it's smooth. You can then freeze it in ice cube trays for future use.
42. Visit a local petting farm
Autumn is the perfect time to visit a petting farm as the animals are usually very active. Your little one will love getting up close and personal with all the different animals, and they might even get to stroke a couple!
43. Play in a pile of leaves
There's nothing better than heading outside, finding a big pile of leaves, and diving right in! This activity builds gross motor skills and will bring a smile to your little one's face. If they're not yet mobile, baby can watch with delight as Mommy dives in!
44. Read fall-themed books
Visit your local library and stock up on some great Fall reads. There are plenty of books available that are perfect for this time of year, so take your pick! Need inspiration? Try "The Leaf Thief", or "Awesome Autumn."
Best fall activities for kids at Halloween
If you celebrate Halloween, here are some great Fall activities you and your little ones can enjoy leading up to it. 
45. Make Halloween slime
Halloween slime is an important STEM activity, honest! This recipe describes how to fill a small container with clear glue, glitter paint, baking soda, lens solution, and googly eyes, then leave it to set! It's pretty gross, but more importantly, it's super fun. 
46. Watch your favorite fall movies
Halloween is the perfect time to watch some of your favorite scary movies together. Make some popcorn, snuggle up on the couch and enjoy some classics.
47. Learn the "Thriller" dance steps
Michael Jackson's "Thriller" is the ultimate Halloween anthem, so why not learn the dance steps together? You can find plenty of instructional videos online, then practice in your living room until you're ready to perform for an audience.
Record and upload to your family group chat to entertain your extended family! 
48. Make your own trick-or-treat costume
Halloween is the perfect opportunity to get creative and make your own costumes. There are plenty of easy and cheap ideas out there. Check out Pinterest for some inspiration, then get to work! 
49. Create a Halloween playlist
You'll need a great playlist to get the party started if you're throwing a Halloween party (or even if you're not!). The options are endless! Include all your favorites, then enjoy dancing around the living room together. 
50. Put together candy bags for your friends 
Instead of waiting for trick-or-treaters to come to you, why not take candy to them? Fill candy bags with sweet treats and drop them off to your besties in the neighborhood. 
51. Go on a scavenger hunt
Are your older kids up for the challenge? Write down a list of Halloween-themed items (black cat, pumpkin, spider web, etc.) and see how many they can find around the house or neighborhood. The first one to find all the items wins a prize!
52. Have a Mummy race
All you need is a couple of toilet rolls and some tape. Get creative with your wrapping and see who can turn their partner into a Mummy the quickest – then pit them head to head in a race!
53. Play Pumpkin golf
Carve a large hole into the side of your pumpkin, grab your golf clubs and take aim. How many shots will you take to get the ball into the pumpkin? The smaller the hole, the more challenging (and frustrating!)
54. Carve pumpkins
From choosing the perfect pumpkin at the pumpkin patch to carving out the eyes and mouth, there's plenty of fun to be had when carving pumpkins. Let the kids get involved with scooping out the insides, then get creative with your designs. Will you go for a classic jack-o'-lantern face or something more unique?
55. Paint pumpkins
Painting pumpkins is an excellent alternative if you're not into the whole carving thing. You can either freehand some designs or use stencils to create something impressive.
Put them on display in your front yard and wait for the compliments to come rolling in. Warning: don't use washable paint if you plan to put them outdoors – acrylic paint works best. 
Fall activities for kids FAQs
Still got more questions about Fall activities for kids? Don't worry – I've got you covered. 
How can you prepare for the change in weather?
Depending on where you live, the change in seasons can happen quite abruptly. It's worth checking the weather forecast, so you know what's coming up. But otherwise, just make sure you have some warm clothes for the colder days and lighter clothes for when it's sunny.
It's also worth stocking up on some Fall crafting supplies toward the end of summer, so the first rainy day isn't too much of a shocker. 
What fall activity supplies do you need?
If you're excited by some of the Fall crafting activities I've mentioned, it's worth stocking up on supplies like felt, glue, paint, and googly eyes.
You can usually find most of these things cheaply at your local dollar store. Pumpkin stencil kits are also popular, and it's best to buy them well before Halloween, as supplies run out fast. 
If wreath-making is your thing, be sure to buy wire, ribbon, and artificial leaves in autumnal colors. And don't forget the hot glue gun! 
Are fall activities for kids safe?
As you'd expect, the majority of fall activities for kids require some level of parental supervision.
For example, children must always enjoy fireworks with an adult present and should carve pumpkins with supervision and the help of an adult when it comes to cutting.
If you're using sparklers, make sure everyone has a bucket of water to hand and extinguish them properly when you're done. And if you're placing candles inside your jack-o'-lantern, be extra careful and never leave them unattended.
A better alternative is to use battery-operated candles instead of an open flame.  
In short, use your common sense! If an activity feels unsafe, it's probably best to give it a miss.
Are you ready to try these top fall activities for kids?
Even though I've listed 55 cheap and easy fall activities for kids, the good news is these are just a few of the many wonderful things you can do with your kids this fall.
There's no limit to the memories you can create with your family, so go with the flow and make the most of this magical time of year.