If you're looking for ways to make money online, Etsy dropshipping may be a great choice.
Not only is Etsy an easy marketplace to get started with selling online, but dropshipping on Etsy makes things even easier.
Imagine never having to store inventory or even worry about shipping. With Etsy dropshipping, you can simply design the item and have someone else fulfill it for you.
It's really that simple.
In this post, I'll share exactly how Etsy dropshipping works and how you can leverage it to make money online.
What is dropshipping?
Dropshipping simply means that a company handles the manufacturing and fulfillment of products that you sell.
In some cases, this means that you provide the design for them to produce, while other times you're simply selling one of their products with your logo or design on it.
The concept of dropshipping isn't new. Thousands of people have built e-commerce businesses from this simple concept.
The ability to find reputable companies online that will do dropshipping for you has made e-commerce accessible to more people, including me. I use dropshipping to fulfill T-shirts that I have designed and to have my books printed and fulfilled.
Marketplaces like Etsy, Amazon, and eBay allow sellers to integrate with dropshipping sites to sell their products.
How Etsy dropshipping works
Once upon a time, Etsy was a marketplace exclusively for handmade items. Though you can still sell handmade items on the platform, they have since evolved to accommodate dropshipping.
This, along with digital product capabilities, opened up the platform to a lot more sellers.
Now, if you have a unique T-shirt idea, but don't have a screen printing press, you can leverage a third-party site to create and fulfill them for you.
Etsy allows you to integrate your shop with these 3rd party on-demand fulfillment companies to handle your orders.
Etsy dropshipping rules: Does Etsy allow dropshipping?
Though Etsy does not explicitly mention dropshipping in their seller policy, it does fall into the category of things that can be sold on the platform.
Handmade items sold on Etsy must be either made and/or designed by the seller. This means that in order to dropship, you must design your item.
For example, if you want to sell a mug, you must design the quote or graphic that will be put on it. You can't simply sell a pre-designed mug. That would be considered reselling, which isn't allowed.
If you are dropshipping, you must disclose that you're working with a production partner. This is the company that is actually producing the goods for you.
Now that you know the rules for dropshipping on Etsy, let talk about how to get started!
Best dropshipping & print-on-demand companies for Etsy
It's important to note that Etsy does not include a list of dropshipping companies within their list of integrations. This means that you'll have to do your own research to find out which companies will work best for you and the products that you want to sell.
The most popular print-on-demand companies for Etsy dropshipping include:
Printful
Printful is by far the best and most widely known print and embroidery-on-demand company for dropshipping. I have used Printful for years and have not run into an issue with their quality or fulfillment.
Their site easily integrates with Etsy—allowing you to push and manage products from either platform. You also have a large catalog of products to choose from, including apparel, stationery, mugs, and home items.
Printful is extremely easy to use. In fact, I'll walk you through setting up a product to list on Etsy later in the post.
Printfy
Printify is another popular dropshipping site that integrates with Etsy. Their catalog is very similar to Printful, although they have a few more items, like tumblers, that the former does not have yet.
The appeal with Prinitfy is that they generally offer lower prices than Printful—which means greater profit for you as the seller. However, after testing them out and receiving products produced by them, I found that their quality is inferior to Printful.
Nonetheless, they are still an option for dropshipping on Etsy.
How to start dropshipping on Etsy with Printful
Dropshipping on Etsy using Printful is super simple, so let's walk through how to get started.
Setting up your Etsy shop
You will need to start by setting up an Etsy account as a seller.
If you already have a shop, skip ahead to the information on setting up your Printful account.
I give a lot more detail on navigating Etsy in my post on how to make money on Etsy. I strongly suggest reading it to get more information on setting up your shop as I'll just give a brief overview here.
To set up your Etsy account as a seller:
Click here to start your seller's account and get 40 free listings (you'll want these, trust me!)
Sign in using an existing account or you can register with an email address, Facebook, or Google account.
Click 'Continue' and you will be guided through additional steps to begin setting up your shop.
Note that to get started with your shop, you'll need to have a listing ready. Again, I talk greater in-depth about this in my Etsy guide post.
Setting up Printful
To set up your Printful account, follow these steps.
Visit Printful.com to set up your account
You may create your account with an email address, Facebook, or Google account.
Click 'Sign Up' and you will be guided through additional steps to begin setting up your account.
Integrating Printful with Etsy
Once you have both your Etsy and Printful accounts set up, you can easily integrate the two with two clicks! Check out the video below on how to integrate your Printful account with your Etsy shop.
How to design a t-shirt to dropship on Etsy
In this section, I'll show you how to easily create designs to be printed on a T-shirt. The same process can be used for other items; however, I suggest reading the requirements for embroidery and engraving designs.
1. Create a design in Canva
There are tons of graphic design software available to do design work, but they're also very expensive and sometimes hard to navigate. That's where Canva comes in.
Canva is a free graphic design website that I use to create all of my designs and digital products. This tool allows you to upload fonts and other images that can then be printed on your shirts.
Canva's policy does allow for use of their free graphics for commercial use. This means that you can use them on items that you sell. However, you can always find additional fonts and graphics on Creative Market and purchase a version for commercial use to be on the safe side.
Each product in Printful has different dimension requirements. To find this, simply go to the product that you are designing for and scroll down to the file guidelines. There, you can download the print file template that specifies these dimensions.
Once you know the requirements, you can set those dimensions in Canva and create your design.
2. Upload your design to Printful
After creating your design, save it as a jpg or png file and upload it to Printful.

You can maintain a library of designs in Printful that you can use in different products. For example, t-shirts have the same dimension requirements, so you could use the same design on multiple T-shirt styles.
3. Choose your T-shirt & add your design
There are several shirt styles to choose from on Printful. The most popular is the Bella Canvas unisex shirts.
Choose the style that you want to use and upload your design to the shirt mockup.
You can adjust your design to be placed in the right location, increase the size, etc. Make sure that when you make edits that you stay within the print lines and maintain a quality print image. Printful will let you know if you are outside of print lines and if your quality is good or poor.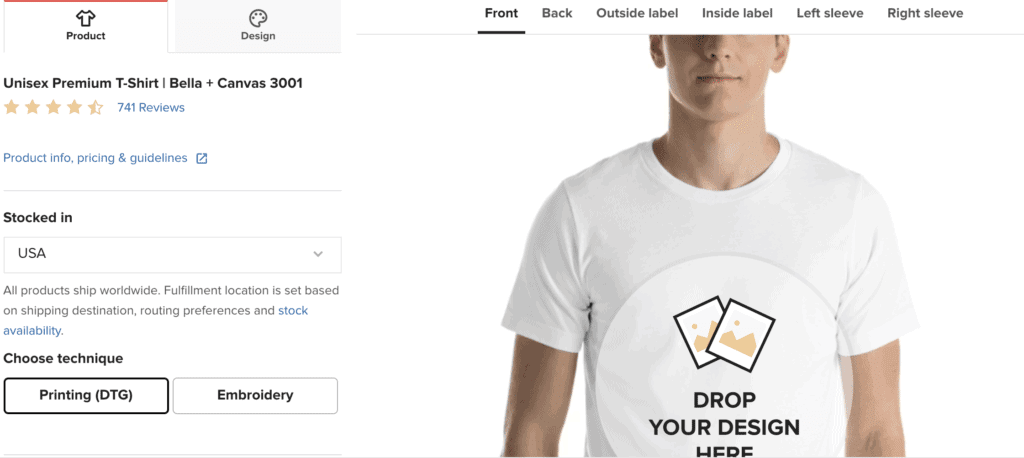 Once you've added your design, you can choose the colors and sizes that you want to offer in your Etsy shop.
4. Synch your t-shirt to your Etsy Shop
Now that you have your design, you can push it to your store directly from Printful.
You'll be prompted to add listing details—including a listing title, images, description, tags, and pricing.
The cool thing about Printful is that some of the information is pre-populated for you. You can even use their selection of mock-ups. However, you can always add your own custom descriptions and product images.
Once you've added everything, you can synch your listing to Etsy. This will save the product to drafts in your Etsy dashboard.
Simply log into Etsy to add any additional information to the listing or to make changes. Once you've done that, just hit publish for your listing to go live!
Best Items to dropship on Etsy
When it comes to dropshipping on Etsy, there are some items that sell very well. The great thing is that you can design all of these on Printful!
1. T-shirts
Shirts are always a great choice for items to dropship on Etsy. People are always searching for unique, one of a kind shirts to wear for special occasions. If you're able to create a great design, T-shirts can be a very profitable product choice.
2. Women's workout tanks
Along the same lines as tshirts are workout tanks. Women love having cute clothes to workout in, so it's worth designing a creative tank to sell.
3. Mugs
Mugs make for great gifts, especially in the holidays. That's why they are another great choice for product ideas. Lots of people drink coffee and would love a cook mug to use.
4. Stickers
Stickers are a huge hit in the planning community. Printful allows you to design and print stickers that you can sell for planners, laptops, cars, and more!
Is dropshipping on Etsy worth it?
As you can see, dropshipping on Etsy with Printful is pretty simple. But the real question is, "Is it worth it?"
Well, as someone who dropships on Etsy, I think it's worth it. I've sold tshirts online for years and can honestly say that this is the simplest way to do it.
When I sold my first shirt online in 2013, it definitely wasn't this seamless and finding customers took way more work than it does on Etsy.
But, don't just take my word for it. Here's a look at the pros and cons of dropshipping on Etsy.
Etsy dropshipping pros
Zero start-up costs – It costs you absolutely nothing to start dropshipping. Not only can you use the free version of Canva, but you can also snag free listings on Etsy so you don't have to pay fees. You don't have to worry about any start-up costs associated with a product-based business.
Built-in customers – Etsy is a marketplace, which means you have built-in customers. This takes away half the battles of selling!
Low hassle – Aside from customer service, you literally have nothing to worry about. Create your design, add it to your shop, and wait for the sales to come in!
Etsy dropshipping cons
Fees – Albeit it minimal, you do have to pay fees to Etsy for listing and selling your product. Etsy requires a $.20 listing fee plus a 5% transaction fee of the items sale price for products sold on the platform.
Costs make competitive pricing difficult – The downside of dropshipping is that it's usually hard to have competitive prices. Other resellers can buy their material in bulk and really reduce the cost per product. With dropshipping, you can only price so low because you have to pay for the product and services.
You don't control quality or shopping – You're essentially letting a middleman handle your production and fulfillment. This means that everything is out of your control. So, if they're late on shipping there's not much you can do about it. Either way, you still have to manage the customer service and take responsibility for any issues
Final thoughts on dropshipping on Etsy
If you're looking for an easy way to make money online, consider dropshipping on Etsy. It's an easy way to start a product business without the hassle of inventory, production, or shipping.
You don't have to be a graphic designer or artist to make designs. You can easily find ideas in Canva or just improve on designs that already exist.
This is definitely an online business idea that I would recommend!
Posts related to Etsy dropshipping