It may seem hard to enjoy your vacation when you have money worries in the back of your mind. But taking a break is important for both physical and mental health, making time off work so worthwhile. Still, only 50% of Americans planned a vacation in 2021, with lack of budget as the top reason to skip travel.
According to Credit Donkey, the average vacation costs $1,145 per person which is fairly costly. Our travel tips will show you how to have fun this summer, even if you're traveling on a lean vacation budget.
Why is it important to enjoy your vacation?
Taking a vacation isn't just time away from work. It is actually good for your physical and mental health. You gain a wealth of physical and emotional health benefits by opting to take time off.
Relieve stress and reduce cortisol
When we feel stressed, our body is flooded with elevated cortisol hormone levels. If you work in a stressful role, then heightened amounts of cortisol can be destructive to your body. Book that vacation to give you a chance to unwind and repair any damage caused.
Prevent physical health conditions
Stress has long been associated with heart disease and high blood pressure. But a study reveals that men who take a regular vacation are less likely to die from a heart attack, while women are even less likely. What better reason to enjoy your vacation this year?
Improved productivity when you return to work
This is a concept that many hard-working Americans struggle with, but taking time off can make you more productive when you return. Even better, more vacation time is linked to fewer sick days. And that's exactly what is going to impress your boss.
Enhance your sleep quality
People on vacation are more likely to get an hour extra of quality sleep each night after as little as two or three days of being away. This continues when you return from vacation and can improve reaction times too.
Strengthen relationships with family
Perhaps the best reason of all to take a vacation is to spend time with your loved ones. More important than any material possessions, including a vacation in your family budget will build those long-lasting memories and forge connections between family members. And a change of scenery can even make your kids smarter, too, by giving them a new, enriching environment to explore.
11 best ways to enjoy your vacation on a budget
So, you're on board with why you need to take a vacation, and you're excited to book a trip. But if you're still concerned about finances, here are some of the best ways to enjoy your vacation on a budget. Whether you want to stay local or take an affordable trip overseas, check out these ideas for inspiration.
1. Choose the right type of budget vacation
You don't need to book a luxury hotel and spend a fortune to enjoy a fantastic vacation together. Why not set off on a great family road trip in a rented RV? Or book a camping or glamping spot? It's not necessary to have a colossal vacation budget for these ideas, and they're a brilliant chance to connect with nature.
2. Travel at off-peak times
Peak vacation season for tourism usually runs from June through to August, but you'll notice prices are sky-high during these months. Prices tend to shoot up again over Thanksgiving and Christmas, so you may want to avoid the holidays. Book a vacation during Spring or Fall to take advantage of lower accommodation costs and fewer tourists.
3. Avoid organized tours
You might be tempted to book through a travel agency or join an organized tour with a fixed price, including your accommodation, travel, and sightseeing tickets. This can seem convenient if it fits with your schedule.
But the truth is: doing your research and booking the components of your vacation separately will usually save you money. Always shop around to see if you can save cash compared to a package trip. For example, pay once for a sightseeing pass to enter the best attractions.
4. Take a domestic vacation
You don't need to fly abroad to go on vacation. And perhaps you don't even have a passport. Stay at home and visit a National Park or two, relax on the beaches in Florida, spot wildlife in Sequoia, or go camping around the North Rim of the Grand Canyon. The options are limitless even if you stay close to home.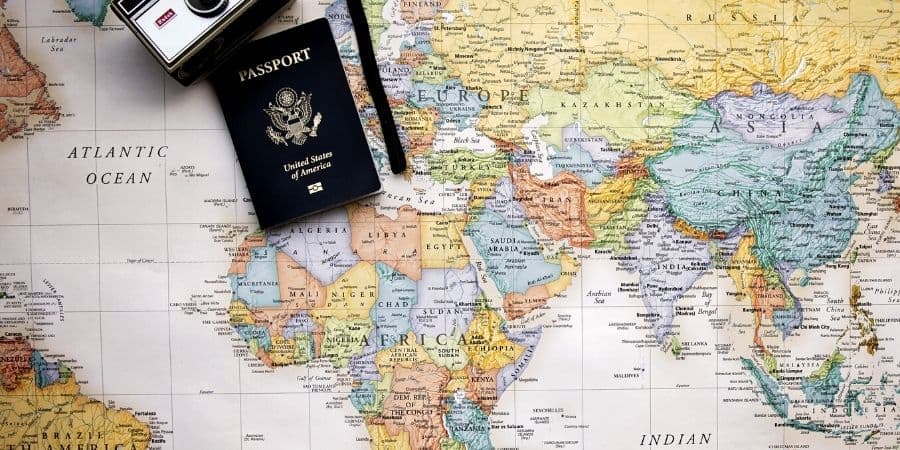 5. Choose destinations with low-cost accommodation
If you've got itchy feet and want to use your hard-earned time off work to travel overseas, make sure you choose an affordable destination with low accommodation costs. How about going on a safari in South Africa, taking a river cruise in Malaysia, or hiking a volcano in Nicaragua?
You'll find the flight is the most expensive part of your trip, but accommodation and daily costs should be very reasonable.
6. Choose self-catering accommodation
Where you choose to stay during your vacation can make a massive dent in your budget. Hotels are often the most expensive types of accommodation and may have meals worked into the room rate. If you prefer the flexibility of preparing your own food using low-cost ingredients, then self-catered accommodation could be a better fit for your vacation.
With heaps more privacy than a hotel offers, you might even enjoy your vacation more than forking out for a luxury room.
7. Take part in a vacation home exchange
How about entirely cutting the cost of accommodation from your vacation budget? This is possible by using platforms like Love Home Swap or Home Exchange. The idea is you take part in a reciprocal exchange, or you can rent out your home to accumulate points for you to use at a later date.
8. Prepare your own meals
Eating out on vacation can cost a fortune. So if you're booked into self-catering, why not use those charming kitchen facilities and eat breakfast before you head out, pack a lunch to go, then return home for a chilled family dinner or barbecue? Think about all the money you'll save on restaurant gratuities.
9. Choose free activities
If you're taking a vacation in a popular tourist spot, you can expect to pay top dollar for the attractions in the area. But there will often be entirely free activities to enjoy on your vacation too. If you're near the coast, why not head to the beach? Long hikes, bike rides, and trips to the park are all free too. If you're vacationing in the city, seek out free outdoor events or free museums and exhibitions you can visit.
10. Make a daily vacation budget and stick to it
Doing your research before heading off on vacation will stop you from overspending. Making a daily vacation will be a cinch if you follow frugal living tips at home. Work out how much you'll spend on travel to get to your destination and the cost of your accommodation, too. From here, you can create a daily budget, so you know exactly how much you have to spend on food, sightseeing, ice creams, and souvenirs!
11. Don't skimp on insurance
Taking out insurance may seem like an extra cost, but it's worth every cent, even if you're traveling domestically. You won't enjoy your vacation if you're stung with an emergency bill or if your plans change and you need to rebook using different dates.
Wondering how much travel insurance costs? Your cover will be customized depending on how many people need coverage and your individual medical histories. But you can often expect to spend less than a hundred dollars and be covered for:
emergency medical and dental expenses
roadside assistance
car rental collision coverage
trip cancellation
baggage delays
accidental death
Start planning your vacation budget
If you're looking for a sign to book your vacation, this is it. Taking time off work is important for your health, and spending time with your loved ones. If you're worried about money, then doing plenty of research before your trip will allow you to enjoy your vacation without spending a fortune.