Are you looking for the best digital products to sell this year?
In this post, I'm going to share over 15 ideas for digital products that you can sell with or without a website.
Selling digital products is a great way to earn passive income in your business and as a side hustle. In fact, it's one of the ways that I'm able to make thousands of dollars each year online.
Whether it's from my ebook sales or printables and spreadsheets that I sell in my shop, I'm able to easily make money in my sleep.
The great thing about digital products is that there is an endless amount of items that you can sell.
So if you are interested in knowing what kinds of digital products to sell, keep reading.
How to sell digital products
There's no point in knowing what digital products to sell if you don't know how to sell them.
First, know that you don't need a website to sell digital products.
There are websites and apps available (many for free) that will allow you to sell and even market your digital products.
Although having a website or blog is great to ensure that you have consistent traffic to your products, it's not necessary.
So if you don't have a website, don't worry. I've created a digital product starter tool list that includes all sites and apps that you can use to create and sell your products without a website!
Nonetheless, if you're interested in starting a blog, check my post on how to start a blog from scratch.
To sell your products, simply upload them to an eCommerce platform that allows you to sell digital products.
When someone makes a purchase, they will be able to download your product and you will get paid!
Easy enough, right?
That's the great thing about selling digital products. Because the delivery of your product is automatic and, well, digital, you can make sales at any time.
In addition, you don't have to worry about production, inventory, or shipments.
So let's talk about what products you can sell.
15+ Digital Product Ideas
Ebooks
Ebooks are digital versions of books that can be downloaded or viewed from an electronic device. This type of digital product is a great option for communicating educational content, like how to do something.
An example of an ebook would be my own, Dump Debt & Build Bank: The Everyday Chick's Guide to money. As you can see from the title, this book teaches women how to get out of debt and build wealth.
Though I sell this in physical copies, the ebook version is very popular because customers get immediate access to it.
The length of your ebook can vary, mine is about 150 pages since it is an actual book as well. However, 30 pages for an ebook is common. It just depends on the information that you're sharing.
I was able to create my ebook for $0 using the tools that I share in my digital product starter tool list. Grab it to learn how you can create your ebook for free!
Guided meditation audio
Guided meditation has become a huge trend over the years. So much so, there are apps that you can download and use to help you be more mindful.
If this is your cup of tea, why not create your own guided meditation audio?
It's so simple to do because you can record audio directly from your phone! It's a quick and easy product that you can create to make money online.
Goal sheets
We all know that January comes with a renewed zeal to accomplish new goals.
Why not take advantage of this wave of goal planning by creating printable or digital goal sheets?
These are a hit for the new year and can easily be created in Canva or even Google slides.
Digital planners templates & stickers
Digital planners are becoming more and more popular with apps like Goodnotes.
As a result, a whole new market has opened up for selling digital planner templates and stickers.
You can find templates and stickers on Creative Market that you can purchase a commercial license for. This type of license allows you to use the art to resell for your own use.
Printable planner sheets
There will always be a demand for printable planner sheets. That's why they're also a popular digital product to create and sell.
Here's an example of a printable planner sheet that I created a few years ago.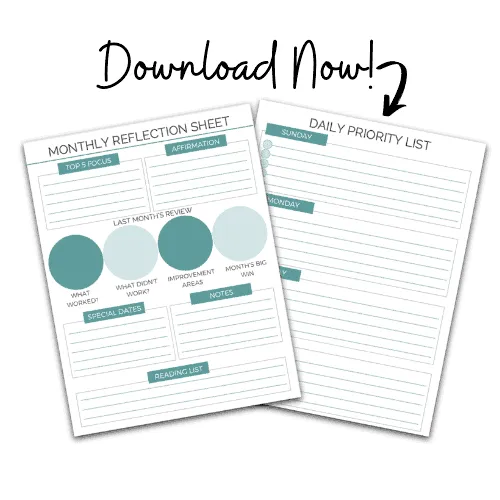 The great thing about this planner sheet is that it can be used over and over again since there isn't a reference to the year or dates.
Not only does that mean my customers can reuse it, but I can continue to sell it…forever!
Spreadsheets
Are you great in Excel? If so, creating spreadsheets is a great digital product to create and sell.
I have a background in engineering, so I live in spreadsheets. I leveraged this expertise to create two budget spreadsheets to sell.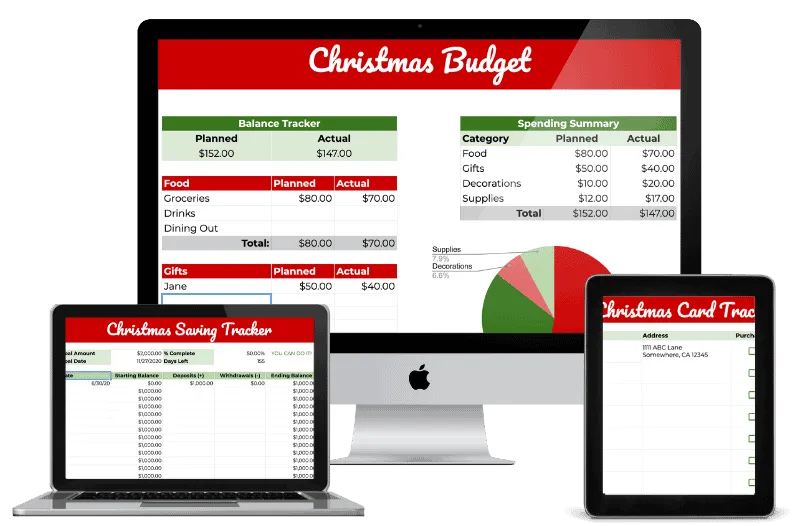 Because they can get complex and require a bit more technical skill, spreadsheets can sell for much higher than printables, for example.
My spreadsheets currently sell between $16-$19. The selling point with this product is that it can be used over and over again. So customers can see the value in their purchase.
You can make spreadsheets for budget templates, project management trackers, and more!
Printable templates
Some people enjoy plug and print templates that they can use. That's where printable templates come into play.
Some great examples of printable templates include:
Wedding planning templates
Labels
Certificates
Invitations
Recipe cards
Stickers
The list of ideas is literally endless! These are all things that can be modified digitally (if necessary) then printed for use.
My personal favorite to create is budget planning templates like the one below. These are great to sell year-round, but especially during the new year.
Checklists
This may come as a surprise, but checklists can also be sold as digital products.
Things like weddings, moving, baby registries, house cleaning, grocery shopping, and even packing have checklists.
Why not curate one and sell it?
The reason that people will purchase them is that it's already curated and it is one less thing that they'll have to think about.
I sell a baby registry checklist, among other things, in my Baby Bump Binder. This printable is for new moms who want guidance during their pregnancy.
The best way to do that is by providing a checklist of items that they'll need and things that they'll need to do before the baby arrives.
Social media templates
Keeping up with social media trends and graphics is a task. (Trust me, I know!)
That's why selling social media templates can be a lucrative digital product business.
This would include things like Instagram graphic templates and even photo filters–which has become a huge thing among social media influencers.
You can create templates in Canva and grant access to your customers to edit them with their own accounts.
You'll see many photographers selling Lightroom presets that you can use to edit your photos and make them a cohesive hue on your timeline.
You may need a bit more experience and expertise for this product, but it's still a really good product idea.
Social media content calendars
Another great product in the vein of social media is a social media content calendar.
Creating content for social media can be overwhelming. So, providing a tool that can make that easier for content creators and social media influencers is very valuable.
Of course, you'd need to know a bit about social media and strategies before creating this product.
Workflows/Project Management Boards
I'm all about systems and processes. In fact, it's what I do full time.
So imagine my excitement when I discovered that I could actually sell workflows online.
A workflow is a process (or flow) by which work is done.
Sites like Trello allow you to manage your project's workflow through its own unique project management boards.
The cool thing about these tools is that you can create templates that you can sell to others.
With Trello, specifically, you can create boards and provide a customer with a link to copy it to their own account.
Courses
Courses can be considered the creme de la creme of digital products. That's because they typically require the most time and resource investment, but can have the greatest return.
Online courses have become commonplace and many people have moved to self-paced education online.
You can literally create a course about anything.
Courses are a combination of videos, printables, and even templates.
I've seen courses sold for as low as $37 to as high as $2,500! The price truly depends on the value that you're able to offer to your students.
I've created several courses over the years. My most recent one is the Product to Profit course.
In this course, I teach moms how to create and sell their first digital products online. I go from ideation (where you are now) all the way to marketing, promoting, and receiving your first sale.
If you're interested in learning more about creating your own digital products, then I strongly suggest checking out this course for yourself!
Printable wall art
Who doesn't love printable wall art with cute sayings?
Well, you'd be surprised to know how easy it is to create these items and sell them on your own.
With the help of Canva and Creative Market, plenty of moms are selling wall art, mugs, T-shirts, and more in their shops and on Etsy.
Got a cute saying? Make it into printable wall art.
In this case, you're literally selling a picture (jpg or png) file as an instant download.
How simple is that?
Meal plans
Meal planning can really be a chore. Think about it…
Scouring Pinterest for hours for recipe ideas and then having to create a grocery list.
Eliminate every mom's headache by creating a pre-made meal plan with a grocery list!
You can provide different options for different diets and viola! You've saved the day.
These can be created in Canva or in Google Docs (if you want to keep it simple).
Workout plans
Thinking about what to do at the gym can be just as stressful as thinking about what meals to cook for the week.
Taking the guesswork out of exercising is so beneficial and valuable that people will buy it!
If you're a fitness expert or enthusiast, this can be a great option for you.
As a bonus, you can also sell videos of how the workouts should be done!
Patterns
Do you knit, sew, or crochet? If so, selling digital patterns is a great way to monetize your skills.
As a former DIY fashion blogger, I loved purchasing patterns from other makers.
The great thing about digital patterns is that they can be downloaded instantly and often come with much better instructions than mainstream patterns.
These may take a bit more work to develop; however, you can build a very profitable business from it.
Need an example of someone who has done it? Check out Erin from Style Sew Me Patterns!
Ready to create your first digital product?
Now that you have an idea of what you can create, it's time to create it!
Yep! It's time to go from idea to action.
Posts related to digital products to sell online