There is no shortage of business ideas for women! This is why women are the fastest-growing entrepreneur group in the US. We always find innovative ways to turn our expertise and knowledge into profitable businesses.
Not only that, but we've found a way to do so while raising families and, in some cases, leading our homes. So knowing that women-owned businesses are growing at a rapid rate shouldn't come as a surprise. The world thrives from small businesses that are led by women.
Now although this list is specifically small business ideas for women, that doesn't mean that you're bound to just these ideas. You can leverage any business idea out there and make it your own! These are just some of the best business ideas for women that I've come across.
If you're new to starting a business, you may be a bit apprehensive and have tons of questions. That's ok! So before we jump into the list of business ideas, let's talk about getting started in business…
What to know before starting a business
When you first start a business, there will be a ton of things that you won't know. That's completely normal, as you'll learn a lot along the way.
But here are some things that you should consider before opening your doors–virtual or physical–to customers.
1. Who your ideal customer is
Before getting started, you'll want to have an idea of the people that you plan on serving. Contrary to what you may think, your business shouldn't serve everyone. Instead, you should have an idea of the people that are the best fit for your product or service.
If you're not sure how to decide who your customer is, I recommend checking out this free guide that I created.
2. What product or services you'll offer
If you're in business, you'll either be selling a product or a service. The question is, what will either of those be? You don't have to know all of the products that you'll eventually sell or even the products, but have an idea of a few things that you can try and start out with.
3. How you plan on funding your business
Although you can absolutely start a business with zero investment (especially online), sometimes you'll need some upfront cash. In this case, you need to plan out how you'll fund your business. You may use your 9-to-5 income or you can even apply for business funding specifically for women. Either way, I encourage you to create a budget to determine how much you'll need to get your business off the ground.
4. What systems and tools you'll need to get started
Lastly, you need to have a list of the tools needed to start your business. If you're starting an online business, this is pretty simple. In fact, I have a list of all the business tools that I use for my online business that you can grab. If you plan on opening a brick-and-mortar business, this may require a little bit more research. Ultimately, start with what you need and scale as you go.
60 Business ideas for women in any industry
So now that you know a little bit about what to expect when starting a business, let's look into some business ideas that you can leverage. Remember that you don't have to actually work in these businesses to own them.
For some of the ideas mentioned, you can hire other people to do the tasks for you! That's the beauty of owning a business. You have options!
Online business ideas for women
Starting an online business is a low-cost option for getting started. In fact, in most cases, it doesn't take any investment to get started. All you need is internet service and a laptop or other device to get started. Here are some lucrative business ideas for women at home.
1. Virtual assistant
A virtual assistant is someone who provides administrative support to a person or business remotely.
Many moms have built five and six-figure businesses from their homes as virtual assistants. In fact, I share how Abbey Ashley of Virtual Savvy turned her VA business into a multi-seven figure business. (Yes, she makes MILLIONS)!
She is pretty much the go-to person for all things virtual assistance and starting a VA business. She helps other moms learn how to start their own VA business so that they can also have time and financial freedom.
I suggest grabbing her FREE virtual assistant checklist & starter kit to learn how you can start your own VA business. She also has a Become Booked Out Webinar that you can enroll in if you're really ready to get started.
2. Proofreading
Do you enjoy reading? Then proofreading can be the work from home job for you.
A proofreader is someone who ensures that written content is free of grammatical, punctuation, spelling, and other types of errors. They can also correct for proper formatting and word use.
You don't have to have formal training to do this, but there are courses that you can take to become proficient at it.
Proofreading and freelance associations offer an opportunity to network, find jobs, and have access to continuous education. You can also leverage Fiverr to market your services to potential clients.
My post on how to become a proofreader has a lot more details on how you can get started with this online business. You can also check out both the Art of Proofreading and Proofread Anywhere to learn more about starting a proofreading business.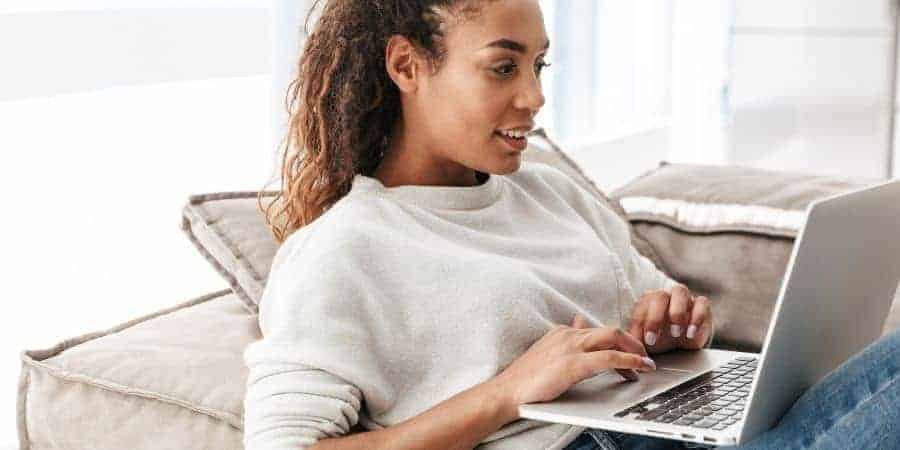 3. Freelance writing
Writing is another great way that you can make money from home.
I recently picked up freelance writing as a side hustle and have been able to make over $600/mo for writing services. This is just doing a few articles here and there for other blogs.
There are tons of people who have made careers out of freelance writing.
In fact, a fellow personal finance blogger, Holly Johnson, now makes over $200,000 a year writing. She talks about it in her free workshop on becoming a freelance writer.
Not only can you leverage writing to write for publications, but you can also write books to sell online. I talk about this and all the ways I leverage writing to make money online in my post on how to make money from writing.
4. Sell digital products online
Selling digital products is one of the top ways that I generate passive income in my business.
I've literally made thousands of dollars in extra income in a month from selling things like printables, courses, and digital downloads.
Selling digital products is a flexible option as a side hustle or full-time business. Because this is a virtual business, it gives you the option to be able to work from home or literally anywhere! The best part is you can start with $0.
I go into a LOT more detail in my post on post on how to start selling digital products.
5. Start an Etsy Shop
Another great way to make money from home online is with an Etsy shop.
I absolutely love selling on Etsy. It's another way that I'm able to make passive income and not even think about it.
I recommend Etsy specifically to moms who don't necessarily want to create their own website just to make money online. Etsy has a built-in audience and systems that allow you to sell products with ease.
There are so many things that you can sell on Etsy! My favorite things to sell on Etsy are digital products and I've also dropshipped t-shirts.
I have a video that you can check out where I talk about how to make money on Etsy. I also have several Etsy-related blog posts that will give you a ton more information.
6. Start a blog
You've probably seen a lot of articles citing blogging as a legitimate way to make money from home as a stay-at-home mom. I agree with this statement WITH a caveat…
Blogging can be a full-time income source. In fact, I make thousands of dollars from this blog each month.
However, it does take work and it does take time. Like most of the things that I mentioned, it'll take time to build into something that will bring in a full-time income.
Nonetheless, you can make money from home through blogging.
Check out these blog posts to learn more about becoming a blogger:
Pretty soon I'll be doing a series on how I grew my blog to become a significant passive income source for me.
7. Start a YouTube Channel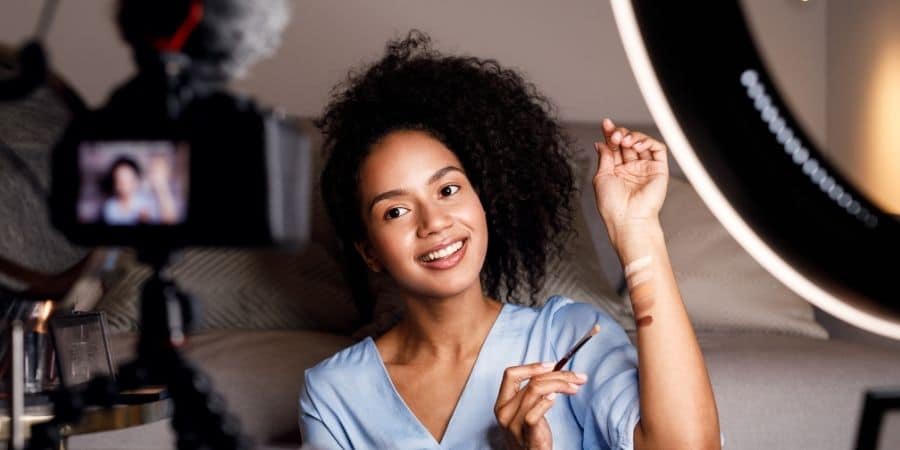 YouTube is almost akin to starting a blog. Instead of writing blog posts, you're making videos instead.
I've had a YouTube channel since 2011 and have been able to make consistent income from it in recent years.
Of course, there are influencers whose YouTube channel is their full-time job and they make significant money from it.
Not too long ago, I interviewed Shana from the Wealth Vibe who made $17,000 from YouTube PART TIME! I share here story in my post on how to make money on Youtube.
If you're not camera-shy and have some valuable content to share, it's worth giving a try. You can check out my YouTube channel to see the kind of videos that I post for inspiration.
I also have an article on how to start a YouTube channel from scratch.
8. Social media consulting
If you actively use and enjoy social media, then you might as well get paid for it. College students should consider offering social media marketing and consulting services to help local business owners grow their social media presence.
This is a highly sought-after business that has the potential to really grow into something very lucrative. The key is helping clients become successful and leverage it to gain more clients.
9. Grant writing
Schools and community organizations are always in need of funding. Oftentimes, they rely on grants to fund their programs and initiatives.
Grant writers are highly sought after and can make a substantial amount of money. In fact, I have several family members who do this as a side business.
Put your skills to the test and write grants that can not only help the community but afford you the opportunity to make some big bucks.
10. Affiliate marketing
In simple terms, affiliate marketing is getting paid if someone purchases a product or service that you recommend.
As an affiliate, you get unique affiliate links or codes that you can share with others that lead to a product or service. If they purchase the product or service using your unique link or code, you'll earn a commission from the sale at no additional cost to them.
If you're trying to find affiliate programs to apply for, simply do a quick Google search to find out. Type in '[ the brand's name]+ affiliate program' and if they have a program, their site to apply should show in the results.
Business Ideas for women in visual arts
Are you an artist looking for business ideas? Well, you might be elated to know that you don't have to be a starving artist. There are several business ideas that you can leverage to start making money from your craft. Here are some ideas to consider:
11. Commissioned artwork business
As an artist, you can start a business selling commissioned artwork. You can leverage social media to showcase your work and to advertise. Platforms like Etsy also make it easy for buyers to find your and request artwork. If you need an example of this being a viable business option, check out this artist who's done it.
12. Paint & sip studio (and mobile services)
A popular pastime among women is painting…while drinking wine! This is a great way for you to share your art, teach others, and also run a lucrative business. You can market to bridal parties or to those who just want to have a fun night out. This can be a low-cost business if you travel to a location instead of renting a building space. In the case of mobile paint & sip services, you won't have to worry about overhead costs and you can just show up with supplies.
13. Teaching art online
If you have an interest in teaching others about art or how to tap into their inner artist, then online teaching is a great idea. You can use a platform like Thinkific or Teachable to create and sell courses on things like watercolor painting (which is popular). This is a great way to make passive income while still being able to enjoy creating art.
Business ideas for women in food services
Do you have a knack for cooking and serving people? Are you known for your famous recipes and finger-licking good meals? If so, starting a business in the food services industry will be up your alley.
14. Food truck business
The food trucks industry is a $1.2 billion industry that continues to grow. That's because people are finding them to be adequate, if not better, alternatives to traditional restaurants.
You can always find food trucks at outdoor events and festivals. However, they've also become popular for birthday parties and even weddings. This means that there are plenty of opportunities for you to enter this market. Food trucks that sell nontraditional or very specific foods tend to draw large crowds—which can mean lots of money.
Having a food truck does require a financial investment. This means that you'll want to save up to purchase or rent one. Nonetheless, it is a great option that provides flexibility. You can learn more about starting a food truck business in this article.
15. Private chef
Whether it's a busy celebrity or a couple that wants to have a romantic night in, there's a market for personal and private chefs. So much so that there's a whole website dedicated to how you can start your own business. Check out this article to read more on how to start a personal or private chef business.
16. Catering
There's never a shortage of opportunities to cater for events. You can market your services for weddings, parties, and even corporate events. Aside from knowing how to cook, you will also need to have a sanitary place to cook food in large volumes. Be sure that you have the proper licenses and equipment to stay in business.
Home care & maintenance business ideas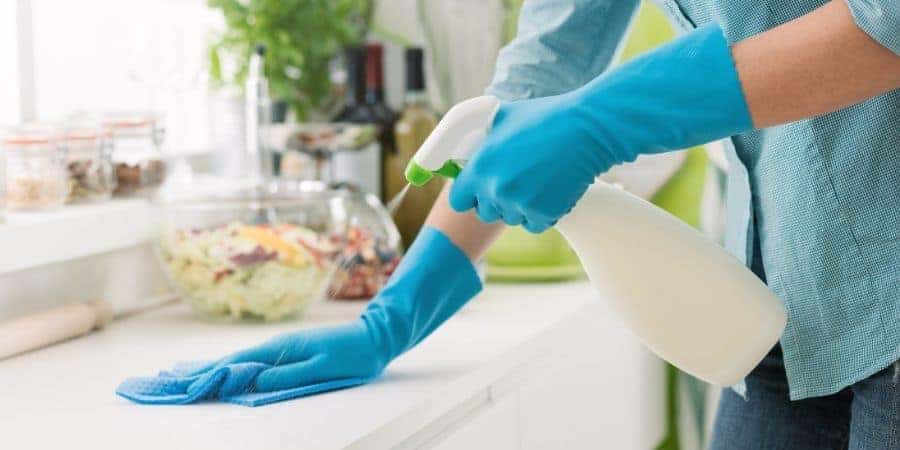 17. House cleaning business
For most people, cleaning isn't exactly a task that they want to do. That's why cleaning services continue to exist and thrive. For this business, you'll need to have cleaning supplies available for various surfaces and cleaning jobs. You'll also need to be physically able to do a lot of moving and bending to get the job done.
18. Lawn care services
Lawn maintenance is at its peak during the summer months. Though, for many homeowners, it can be an unwelcomed added responsibility after the lull of the winter season. This means that mowing and landscaping services will be in high demand as the temperature starts to warm up.
You can leverage this demand and offer services like lawn mowing, mulching, and general landscaping. All you need is a lawnmower and a few other tools to get going. Consider offering weekly subscription plans so that you get paid on a regular basis and secure recurring revenue.
19. Pool cleaning services
Running a pool maintenance business is a very low-cost business. You only need a few cleaning supplies to get the job done. Though it sounds simple enough, it's a good idea to take a class in spa and pool operations so that you know exactly what you're doing. Once you're certified, you'll need to also have the proper insurance for your protection. You're bound to make extra money with this type of business during the summer months
20. Exterior home cleaning
Pressure washing, window washing, and gutter & roof cleaning are all tasks that most homeowners don't want to do but know need to get done. That's why offering exterior home cleaning services is a great business opportunity.
This is another low-cost business option where you'll only need a few supplies to complete your tasks. Because this kind of business may require that you climb ladders and roofs, you'll want to also have the proper safety equipment and insurance.
21. Interior home painting
Painting simply requires that you have the right tools—brushes, ladders, tarp, tape, etc.—and some knowledge of how to paint evenly. You can learn some techniques to become more efficient on YouTube and from just practicing.
One way that you can cut down the time it takes to paint so that you can service more clients is by recruiting family members to help. You could also hire college or high school students who want to make some extra money during their summer vacation.
22. Moving & junk removal services
There will always be a need for movings and decluttering services. This can include helping to pack boxes, move furniture & household items, transporting items locally via a moving truck, and discarding trash from moves.
College students make great employees when it comes to moving businesses. You can usually pay around $13/hr, which would only be a small portion of your profits. Additionally, all that you need are your hands and good physical fitness.
Travel & real estate business ideas
Do you love to travel? Or perhaps you have an interest in real estate. Here are a few business ideas that you can try within these industries.
23. Airbnb Host
If you live in a high tourist city, you can rent out your empty bedroom or whole house to travelers through Airbnb. Of course, you should be comfortable with strangers in your home or rental properties before taking on this business venture. Make sure you fully understand the ins and out of Airbnb before you jump in. Otherwise, it can be a lucrative business that can even go year-round.
24. Travel agent
Travel agents handle the logistics of booking transportation, accommodations, and excursions for a traveler or group of travelers. If you're a travel connoisseur and can provide recommendations for various destinations, this is a great opportunity to make some extra money. This can also turn into a year-round business if you continue to get clients throughout the year.
25. Real estate agent
Being a real estate agent is another lucrative business that you can do from home. Although you will have to spend time doing home showings, it's a business that you don't have to do full time to make a lot of money. To become a licensed real estate agent, you must complete training and pass the real estate license exam.
26. Transportation services
You don't have to drive for Uber or Lyft to offer transportation services. You can have your own business with a target market that's catered to larger parties or even senior citizens.
You can assist the elderly by transporting them to grocery stores and other locations. Or, you may also want to consider families who may want transportation for the summer vacation. There are so many opportunities with this business and who you can serve.
27. Car rental business
Renting out your car while you're not using it is a unique business idea. This business model has become very popular over the years, with several sites facilitating the services. Leverage sites like Turo to learn more about car renting and how to get started in your city.
Health and wellness businesses
Interested in health and wellness? You don't have to be a doctor to contribute to making someone healthier. Here are some business ideas within health and wellness that you can consider.
28. Health coaching
If you have a serious interest in health and wellness, then become a coach may be a great option for you. As a coach, you can use various mediums to help others take control of their health and make more educated decisions.
29. Personal training
Translate your love for fitness into a personal training business. You can train at a local gym or service private clients one-on-one. With the right amount of clientele, this can stand to be a very profitable business. You can also expand your reach by offering services online.
30. Massage therapy
Massage therapy is always an in-demand business. Message therapists can set their own hours and you don't need a physical location. You can travel to your clients to provide in-home services. Requirements to become a massage therapist vary by state, but most require hours of training to become licensed.
Animal care business ideas
Do you love animals? If so, consider these business ideas that will allow you to make money loving on animals!
31. House & pet sitting
House sitters get paid to look after someone's home and pets and take care of maintenance duties while they're away. This makes it a perfect summer business idea. Sites like Trusted House Sitters allow you to create a profile to find house-sitting jobs in your area. According to HouseSitters.com, most house sitters charge $25-$45 per day, with some charging more based on responsibility.
32. Pet walking
If you're a dog owner or dog lover, this is a great problem for you to create a business solution for. In your free time, you can walk dogs in your neighborhood—giving them much-needed exercise and play while helping out their owner.
Sites like Rover.com make it easy for you to connect with other "pawrents" who need someone to check on, walk, feed, or board their dog while they're away. You can earn as much as $40 per day or more based on your area.
The great thing about this business is that you can service more than one client at a time. This means more money in less time!
33. Mobile pet grooming
Mobile pet grooming is another great option for a business idea. Pets have to be groomed, but you can make it more convenient by coming to them. Of course, you'll need to come equipped with all the tools you need for grooming, including access to water.
It doesn't take much to become a pet groomer. All you need is a high school diploma, and of course, some training—although a license is not required.
Event & entertainment business ideas
Do you enjoy entertaining? Or perhaps you like attending events. If so, here are a few options that you can use to start your business.
34. Party entertainment
The spectrum of what you can for party entertainment is endless. You can be a DJ, MC, or even do something as creative as face painting or balloon art. As long as you can keep guests entertained and enjoying their time, your efforts will be well rewarded.
35. Private bartending
Offering private bartending services is a great, premium service business. Not only can you charge a flat fee, but you can also make money from tips as well. Your event location will likely have a bar and alcohol so you won't have to worry about carrying a lot of equipment. If not, you can always invest in a mobile bar and some glasses that you carry with you.
36. Bounce house rental
Bounce houses are very popular for kids' outdoor parties. Depending on the size and features, bounce houses can range between $300-$2,000 in price. This is a one-time investment that you'll have to make for this business that can easily be made up from rentals.
You can advertise your services at local party stores and daycare centers. The more houses that you have, the more parties you can rent out to at one time. This means more revenue for your business.
37. Event decor
Whether indoor or outdoors, people will pay to have their events decorated. Professional decor adds a special touch to any occasion.
Weddings typically top the list for events that employ event decorators; however, baby showers and birthday parties aren't far behind. Anytime there's a celebration is an opportunity to secure business.
This business will require that you invest in some decor equipment that can be reused. This means that you'll need to have adequate space to also store it.
38. Tent & party rentals
Large tents are extremely popular for big outdoor events. Tents can range from a couple of hundred dollars to a couple thousand. This is a small investment for what you will be able to make up for rental fees.
Your fees can include set up and takedown, which also ensures that you keep track of inventory. Of course, you'll need a place to store your equipment. While you're also renting your tent you can add on to your business with other party equipment needs like speakers, decor, chairs, and more!
Business ideas for women in tech & digital media
Are you good with tech? If so, you can definitely use those skills to start a business. Here are a few business ideas to consider.
39. Professional photography
Although photography does require some skill, it is something that can be learned. Once you get the hang of it, don't hesitate to start your own photography business.
You'll want to limit the number of photos that you provide in your packages so that your time spent editing is minimal. Or, you can outsource your editing to a freelancer on sites like Upwork or Fiverr. You'll want to vet them and their work before making it a large part of your business plan.
40. Freelance graphic designer
There are thousands of people online offering freelance design services on Fivver and Upwork. Join the bunch! You can provide design services for things like logos, apparel, social media graphics, and more. You can even sell your custom designs on sites like Creative Market and even Etsy.
41. Web designer
Everyone has their own website these days. Why not be the person who builds them? Not everyone is tech-savvy. That's why I actually started a business for building a website or creating a website template.
My friend John Saunders has a course that teaches you how to start an agency building websites. He's made over 6-figures per year doing this for some really big companies. I recommend checking out his course, Web Design Studio Accelerator. It's currently on sale for 50% off!
42. Editing services
With the boom of podcasting and videos online, there is a huge need for editors. So if you have experience in audio and video production or can learn quickly, there is tons of money to be made. You can literally learn to do this by watching videos online and practicing. (That's how I learned!)
Once you've built up your skills and are confident in your ability to edit, promote your services on websites like Fiverr. I also recommend joining Facebook groups where you can interact with potential clients.
Child care & services business ideas
Do you have a gift for working with kids? Here are some ideas for businesses centered around childcare and other services.
43. Child care
Working parents are always in need of childcare, especially during the summer months. Offering childcare services are great for those who love children.
You can start by offering babysitting services or go directly into launching a full-fledged in-home daycare. Remember that you'll need the proper licenses and insurance to get started with a daycare versus simply babysitting.
44. Music lessons
If you play a musical instrument or sing, you can easily start a business offering music lessons. You can teach your students how to play instruments or even give singing lessons from your home. For an additional fee, you can also travel to their home to provide lessons as well. It all depends on what you're comfortable with.
Kids aren't the only ones who want to learn how to play musical instruments or hone their singing skills. Don't limit yourself to kids. Market your business to aspiring adult musicians as well.
45. Tutoring
Offer tutoring services to help kids get back on track or ahead of the next school year. You can tutor online or offer in-home services. Tutors can make upward of $45 per hour for high school students and even $85 or more if they're a teacher. If you niche down your tutoring can charge even more.
Don't forget that college students will be studying for the MCAT, LSAT, and every other entrance exam imaginable! Offer services just for them and up your fee.
46. Swimming lessons
Swimming lessons will be in high demand during the summer months. If you can swim then you can charge to teach others how to as well. You can host lessons at a local swimming pool.
This is especially popular for young children, but there are also adults who want to take swimming lessons. Perhaps carving out a niche specifically for adults will be even more lucrative.
Business and personal assistance services
Are you great at assisting others? There are many business opportunities that are centered around helping others.
47. Personal assistant & errand service
You can make a great business out of running errands and being a personal assistant. There are tons of busy people who just need good help to do things like pick up clothes from the dry cleaners, grocery shop, and even take kids to various activities.
For this business, you'll need a reliable mode of transportation and a cell phone to contact clients. If you're organized, this can make for an easy job where you can take on multiple clients.
48. Laundry services
Starting a laundry service can be a business that makes a lot of money. For business professionals and entrepreneurs, doing laundry is probably the last thing on a lot of people's minds. And, if they have disposable income, they're likely to pay someone else to do it for them on a weekly basis.
For this business, you simply need access to a washer & dryer and iron—all things that you probably have in your home. You can pick up clothes, wash, iron, and fold them and return them to your clients.
49. Parking lot cleaning
Ever wondered how some store parking lots stay so clean? It's because businesses hire people to clean them! Parking lot cleaning is another low-cost business idea that you can even continue throughout the year.
To be successful, advertise your services to local businesses and outdoor event organizers. You can work to secure ongoing contracts with these businesses so that you can ensure consistent income.
Best business ideas for women in fashion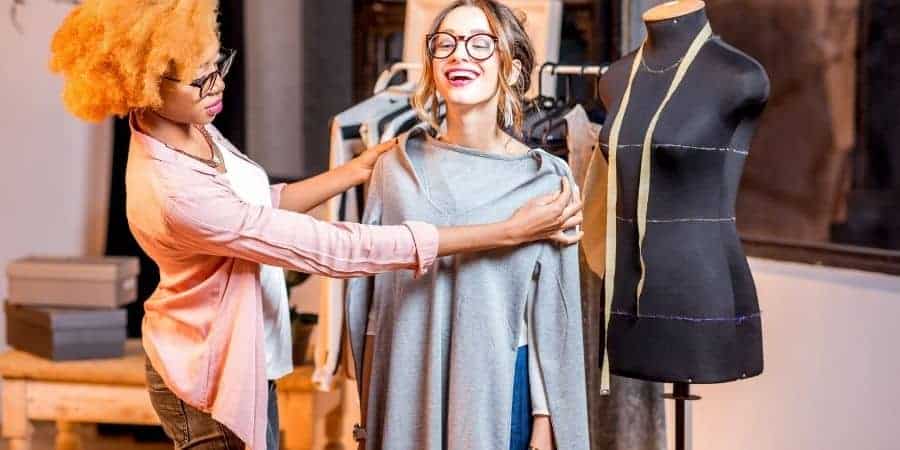 Are you a fashionista? Do you have an eye for fashion or maybe you can make clothes? Here's how you can turn those gifts into a business.
50. Fashion stylist
If you have a knack for fashion and styling, you may want to start a business as a fashion stylist. Celebrities aren't the only people who need to be styled. There are everyday men and women who would appreciate your fashion sense to style them for their next event or photoshoot.
51. Fashion boutique
Use your fashion sense to buy and sell fashion online. Sites like Shopify make it easy for you to set up shop and start selling merchandise online. You'll need to grab your wholesale/resale license and incorporate your business for this side hustle, so be sure to do your research.
52. Made-to-order garments
If you're ok with sewing for other people, this is a great way to make money. This business can range from making things like dresses and suits to creating costumes. You can decide what your niche will be and go with it!
53. Alterations
Alterations is a huge business. The need to modify clothing will never go away. Though it's a bit of a different skill than sewing a garment from scratch, it's one that can be learned and monetized. If you're up for the challenge, offer alteration services from your home.
54. Reselling clothes
The concept of reselling clothes is quite simple. You buy clothing items for a low price and then sell them for higher. Ideally, you'll want to get them for as low as you can sell them for as much as possible. The key to being successful with flipping items, including clothing, is to find things that will sell. This takes a keen eye and being up to date on the latest trends.
Business ideas for women in beauty
The beauty industry is ever-growing. This means that there is ample opportunity to create a business in this industry. Here are a few ideas that you can consider!
55. Hair & body care products business
Creating and selling homemade hair & body care products is always a great small business option. More consumers want natural and organic beauty products in lieu of chemical ladened commercial products.
Start with simple products like body butter, bath bombs, and body oils. You can add more products as you grow your business and learn more. You can always find recipes online for free! Need inspiration? Check out Lisa Price's story on how she started Carol's Daughter (valued at $27MM) doing exactly this!
56. Freelance makeup artist
YouTube has made many people freelance makeup artists. Hone your skills and grab your brushes and become one too. From everyday events, photoshoots, and weddings, there's always a need for freelance makeup artists. Leverage social media to market and show off your skills.
57. Cosmetic line
If you're going to do makeup, why not serve your clients with your own products? Owning a makeup line is easier than you think. Like many things today, there are companies who will produce and brand products for you and dropship them to customers.
DIY, crafts, handmade business ideas
Are you great at making crafts and doing things with your hands? Here's a diverse list of business ideas that may suit your skills and interests.
58. Sell crafts
If you have a knack for making wreaths, paper crafts, jewelry, furniture, or the like, you can definitely start a crafts business. In addition to selling your products in person, you can leverage Etsy to sell them online.
Craft shows, flea markets, and festivals will be in full swing during the summer months. They're also a great place to sell your homemade crafts to other locals or tourists in the area.
59. Furniture flipping
Furniture flipping can be both a fun and lucrative business venture. You can find items as flea markets and yard sales. This business will require a bit of work and time to find items and then to actually repair them. Vintage items can sell for hundreds of dollars more than you paid for them, which makes the flip worth it. Need help starting this business? Check out this ultimate guide to flipping items.
60. T-shirt design and printing
There's always a t-shirt for special occasions like a family vacation, family reunions, or birthdays. Since a lot of these events will be happening during the summer, t-shirt design & printing will be in demand.
You can purchase your own design software and printing press or you can leverage dropshipping for these items. Dropshipping allows you to have a third-party print-on-demand company handle the fulfillment of your orders so that you don't have to carry inventory.
61. Florist
Flowers are beautiful accents to any home and occasion. There's always an occasion that will require flowers. Why not sell them? If you're great at arranging flowers, this is a great business idea.
To become a florist, you'll need to know flowers and plants well. This doesn't mean that you need to go to school or get formal training. You'll also need to have the space to store flowers at the proper temperatures and to house your final arrangements.
More small business ideas for women
Don't stop with these business ideas. There are many more businesses that you can start throughout the year, whether it's a side hustle for a full-time business.
Need more business ideas? Check out these additional ways that you can make extra money.
40 Home based business ideas for moms
How to start an Etsy Business (making $30k part-time)
Make money in your sleep with these products