As a new mom, you're probably wondering what's going on with your body and your baby throughout your pregnancy. That's why having pregnancy apps to guide you through it is crucial.
Thankfully, pregnancy apps not only give you a quick reference guide to what's happening each week of your pregnancy, but you can find other valuable information.
But there are so many apps out there, it's hard to find which one is really worth it.
In this post, I'll share what I believe to be the best pregnancy apps for new moms– starting with my #1 choice.
5 Best Pregnancy Apps for New Moms
Before I jump into the pregnancy apps, there is one app that you should definitely have downloaded. That app is Rakuten.
Since you'll be buying lots of items for yourself and your baby, this app is perfect. It allows you to get cashback for your purchases when you go through their website or app.
This is huge because when you're expecting, every penny counts! I've gotten nearly $500 back just from exclusive shopping online through their app or site.
You can sign up here and when you spend $25, you'll get $10 free!
Now for the pregnancy apps!
---
After discovering that I was pregnant, I immediately went to the App Store on my phone to find a pregnancy app. It was my first pregnancy, so I had absolutely no idea what to expect or when.
I wanted a quick guide to help me feel knowledgeable and to know what to expect during my journey.
As you might imagine, the App Store is filled with pregnancy apps. So how do you know which one to choose?
After downloading a few, I found one that I feel is the most comprehensive, interactive, and easiest to navigate. That's the Pregnancy+ app.
The Features
The features of a pregnancy app can be overwhelming. Add to that the advertisements that help make it free, they get cluttered very easily.

What I enjoyed about Pregnancy+ is that it has a very sleek and clean design that's easy to navigate.

After inputting your estimated due date, the app will begin providing information based on your current week of pregnancy.
Each day, you're presented with an update on how your baby is developing, along with a new informative pregnancy article, your upcoming schedule of appointments and tasks, and what to expect from your body
My favorite feature is the interactive images and videos showing the baby's growth and development.
When you register, you have the ability to also choose the ethnicity of your baby, making it even more realistic.
Here is a list of all features:
Daily and weekly pregnancy info
Baby size visualizer (interactive video/images)
2D/3D color and ultrasound scan images
Personal Diary
Pregnancy weight log
Diet, exercise, and labor info
Kick counter
Contraction timer
Shopping list
Baby name lists
Baby's development timeline
Guides
Birth Plan template
To-do lists
Shopping lists
Hospital bag list
Pros
The best part that I enjoyed about this app is that you did not have to create an account to use it.
Each of the other high-rated apps required an email to use, which can be a bit annoying. This often leads to a spam flooded inbox, which we all hate.
This app allows you to register without an email. All you need is a name and a due date (if you know it).

The What to Expect app is the first app that I tried, as it was the top search result in my app store.
This app focuses on providing medically accurate articles on the stages of your pregnancy. As a result, I find the articles to be a little too technical for my interest.
What's unique is that the app comes with a community of parents-to-be that you can join based on different interests or due dates.

Some unique features from this app include its sleep guide and lullaby music for babies along with formula and breastfeeding tips.
It also includes real childbirth videos– which can be helpful or frightening.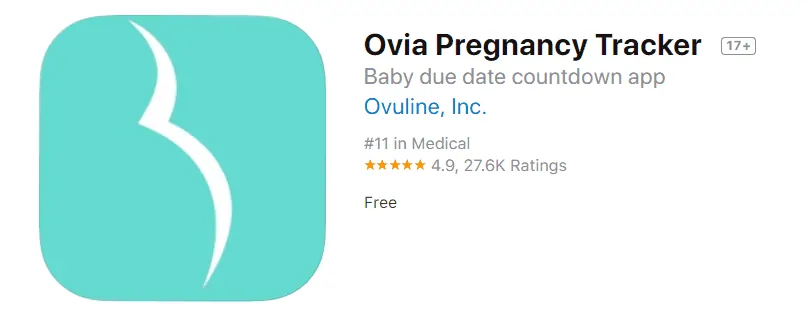 This app focuses on the health of mom and baby. Its features include ways to look up food safety, symptom, and medications.
Moms-to-be can track their weight, symptoms, medication, sleep, mood, and exercise. You can also find recipes with the essential vitamins and nutrients that you and your baby need.
Possibly the most life-saving feature of this app is its ability to track and combine your registries.
Additionally, its Planner+ features integrate with your phone's calendar and provide suggested questions to ask your physician during your visits.
Other Feminine Health Apps I Recommend
Trying to get pregnant? I recommended the Period Tracker by GP Apps. I've used this app for years without upgrading to the premium version and it has sufficed.
As my husband and I were attempted to get pregnant, this app provided us with dates and details on when to try.
This app comes in handy for those doctor's visits when they always ask, "When was the first date of your last period?"
Not only does it allow you to track your cycle within the app, along with symptoms, but you can do a manual or automatic backup to your email.
Related Posts to Baby Tracking Apps