As parents, there are always things vying for our time. Between work, businesses, and other activities, we run the risk of unintentionally absent parenting.
Without being present and connected, it can lead to issues at home and a life out of balance. With the right solutions, parents can find a balance between daily responsibilities and being there for the family while creating strong bonds.
The truth is, you want to be a good parent. Yet, while working hard to provide for our children's needs, we can sometimes run the risk of becoming uninvolved parents.
This has a profound impact on our children's development. The good news is that this post will provide insight into how to build a strong parent-child relationship and avoid being an absent parent.
What is absent parenting?
There are a few ways to define absent parenting. In some cases, it is the physical absence of a parent due to divorce or separation. In this case, the noncustodial parent is considered the absent parent because they are not physically present. This is also the case for single-parent households where there may be an absent father or mother.
Another way to define absent parenting is when there is there are emotionally distant parents within the home. So, although they are physically present, there is emotional distance. This means that the basic needs are met, but not the emotional needs of the children. This can also be referred to as uninvolved parenting.
We'll explore the latter.
Consequences of Absent Parenting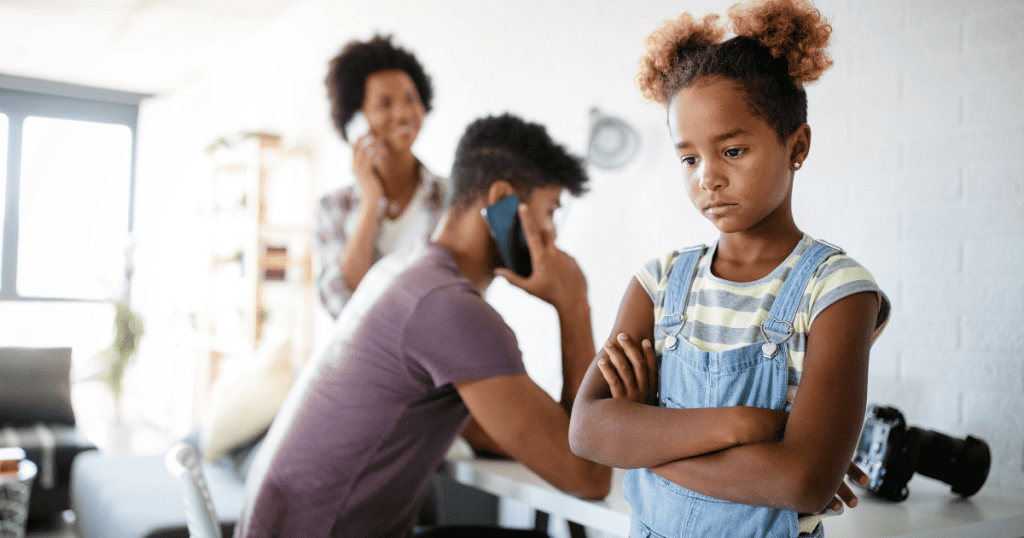 This lack of emotional connection can create various hurdles in a child's life. In the following section, we'll explore the different problems that might crop up due to absent parenting, spanning from emotional struggles to academic hurdles and social challenges.
Long-Term Consequences of Absent Parenting on Children
Absent parenting has both an emotional and physical impact on children. Here are some things that you can expect.
1. Emotional Impact
Children may feel neglected, fostering self-doubt and low self-esteem due to lack of emotional support, affecting trust and relationship-building.
2. Behavioral Problems
Difficulty in understanding and expressing emotions can lead to withdrawal or attention-seeking behaviors, reflecting in academic performance.
3. Substance Abuse
Some may resort to substance abuse to cope with the emotional void left by an emotionally unavailable parent, entering a dangerous cycle of addiction.
4. Physical Health
Lack of nurturing can escalate to physical abuse, or lead to stress-related illnesses due to lack of emotional attachment.
5. Developmental Stagnation
The absence of guidance can hinder the development of critical thinking and problem-solving skills, skewing their understanding of the world and real life.
Long-Term Effects of Absent Parenting
Absent parenting can shape adulthood, necessitating a healing process to amend past emotional distress, emphasizing the need for a balanced work and family life.
13 Ways to avoid being an absent parent
Building and maintaining healthy relationships, especially amidst the day-to-day hustle, requires a conscious and sustained effort. Building healthy relationships begins at home.
Children should never feel as though they are competing for attention with a parent's work. Make time to be present in your children's lives, be it attending a soccer game or a
school play, showcasing your love and affection towards them.
Here are some strategies that can be employed to foster a nurturing environment at home.
1. Scheduled family time
Dedicate specific times in the week solely for the entire family. It could be a meal, a movie night, or a weekend outing. Get
Having scheduled family time ensures that amidst busy schedules, there's always time set aside for family.
2. Have open communication
Encourage open communication within the family. Make it a safe space for everyone to express their feelings, concerns, and joys. Consider having one sit around the dinner table and share what happened in their day.
3. Prioritize quality over quantity
It's not always about the amount of time spent together, but the quality of that time. Make sure the time spent with family is meaningful and engaging.
Put down your phone—get away from work, phone calls, the television, and even social media, be present and enjoy your time together.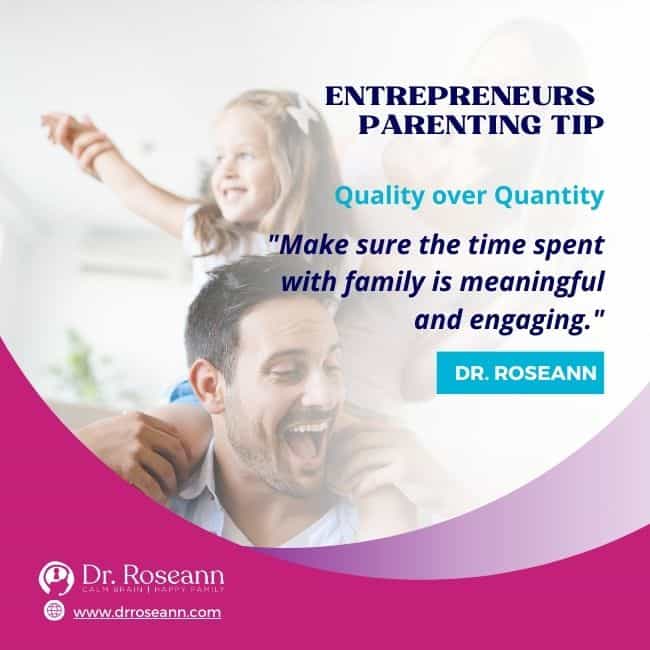 4. Engage in Shared Activities
Engage in activities that the whole family enjoys. It could be a hobby, a game, or a shared interest. Shared experiences foster closer bonds.
5. Practice Active Listening
When engaging with family members, practice active listening. Show genuine interest in what they are saying, and provide thoughtful responses.
6. Maintain a Work-Life Boundary
Have clear boundaries between work time and family time. When it's family time, avoid checking emails or engaging in work-related activities.
7. Seek to Understand
Sometimes conflicts arise. In such instances, seek to understand the other person's perspective before reacting.
8. Educate Family about your work
Share your work and business experiences with your family, let them understand the challenges, and celebrate the victories together.
9. Prioritize Important Family Events
Make an effort to be present at important family events. Your presence in significant milestones will be cherished.
10. Seek External Support if Necessary
Sometimes, managing the pressures of work, business, and family life can be overwhelming. Don't hesitate to get support, such as counseling or joining supportive communities, to navigate through the challenges.
11. Practice Patience and Forgiveness
Practice patience in understanding each family member's unique personality and circumstances. Forgiveness helps in mending bridges and moving forward positively.
12. Nurture Individual Relationships
Spend one-on-one time with each family member to understand them better and build a stronger bond.
13. Build Mental and Physical Health
When the whole family prioritizes physical health through diet, exercise, and supplements such as magnesium, it can support mental wellness.
Building healthy relationships is a continual process that requires empathy, understanding, and a willingness to grow together.
By incorporating these strategies, parents can ensure a loving and supportive environment at home, providing a solid foundation for their children to thrive emotionally and socially.
Dealing With Your Own Stuff: Building Mental Health
A household echoing with laughter is a sanctuary of mental health. Parents need to address their stressors or past trauma healthily, ensuring that home (work and business!) remains a haven of positivity.
Simply put, and what I always tell my clients, "The more you tend to your own mental guardian, the better your business and home will be."
Engaging in a healing process, perhaps through therapy or mindfulness practices, can significantly bolster mental health and calm the brain, creating a nurturing environment for children to thrive in.
Being A More Present Parent
The antidote to absent parenting lies in being present and connected. Transforming the quality of time spent with children can have a long-term positive impact, substantially outweighing the quantity of time.
Establish rituals, perhaps a daily dinner together or a weekend outing, instilling a sense of security and belonging in children.
With a conscious effort to be present, parents can foster a supportive and loving home, ensuring their children flourish both emotionally and intellectually.
As they say, it takes a village to raise a child. It also takes a parent with a heart full of love and a mind full of presence to raise a happy, healthy child while building a future for their family at the same time.
Disclaimer: This article is not intended to give health advice and it is recommended to consult with a physician before beginning any new wellness regime. *The effectiveness of diagnosis and treatment vary by patient and condition. Dr. Roseann Capanna-Hodge, LLC does not guarantee certain results.
Latest posts by Roseann Capanna-Hodge
(see all)